| | | |
| --- | --- | --- |
| | | Fini |
---
North Desoto sophomore Mack upsets defending Parkway champion in Sudden Victory
LHSAA State Wrestling Tournament
Division II, 138 Pounds
May 30th, 2018 | Written by: Editor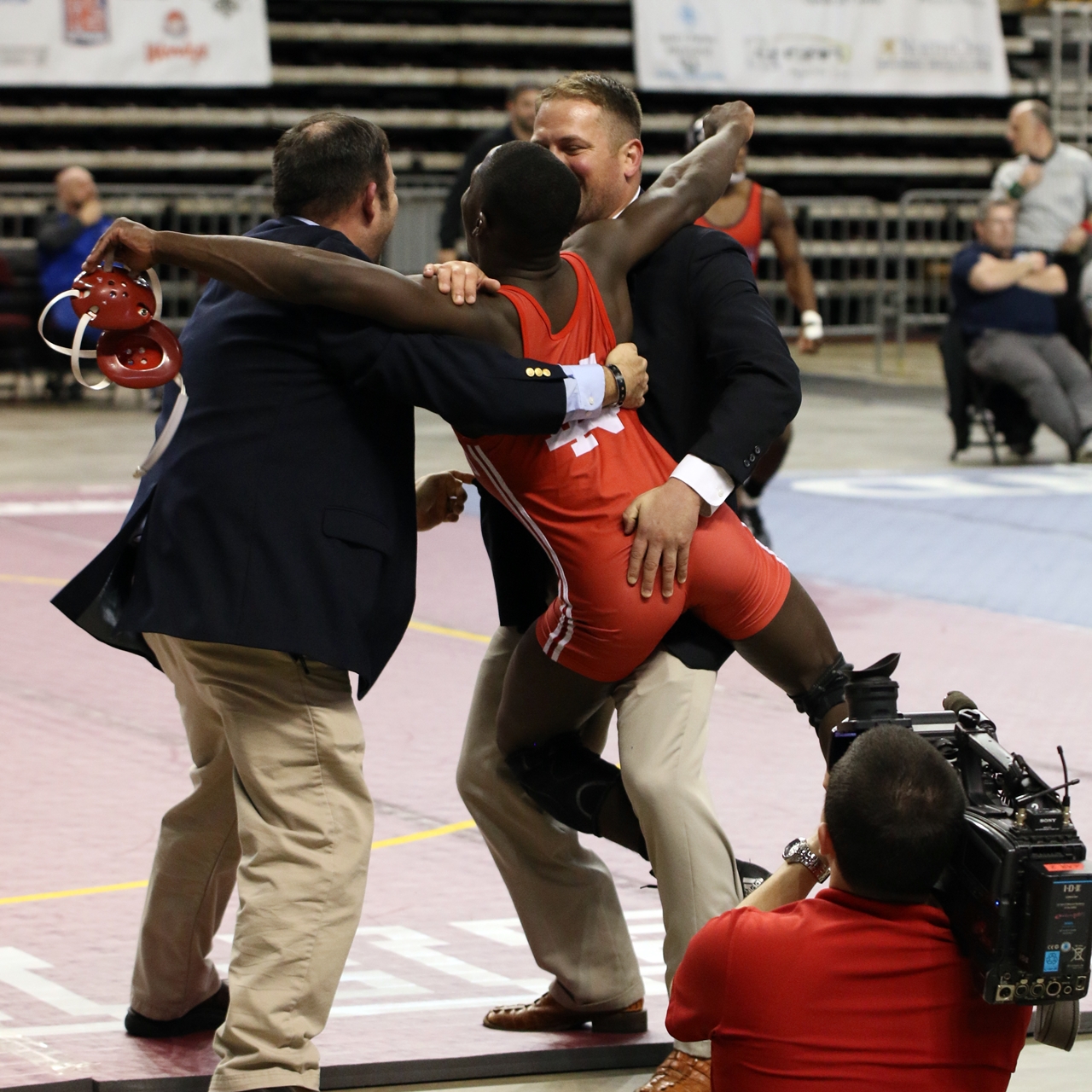 North Desoto's Richard Mack, III celebrates his Sudden Victory upset of Parkway's defending state champion Trevor Tamburo
| | | | | | | |
| --- | --- | --- | --- | --- | --- | --- |
| Place | 1st | 2nd | 3rd | 4th | 5th | 6th |
| Name | Richard Mack, III | Trevor Tamburo | Dylan Hezeau | Anthony Dodson | Kharman Small | Dylan LeBlanc |
| School | North Desoto | Parkway | Rummel | Live Oak | Bossier | Teurlings Catholic |
| Seed | 3 | 1 | 5 | 2 | 6 | 4 |
| Class | Sophomore | Senior | Senior | Freshman | Senior | Teurlings Catholic |
Parkway's defending state champion Trevor Tamburo looked to have one stumbling block to get over to successfully defend his title. That was Live Oak freshman Anthony Dodson. In the Division II State Duals Championships Dodson defeated Tamburo 3-1 in a Sudden Victory round. Later, however, in the Ken Cole semifinals, Tamburo avenged that loss 7-2. His only other losses were to Gavin Christ of Basile, a couple of out-of-state wrestlers, and Division I finalist Dyllon Bernard of Comeaux and Division I champion Adam Larriviere of Jesuit. He had defeated Teurlings Catholic's Brett Schneider three times, Airline's Thomas Barringer and Brother Martin's Fernando Diaz. Most telling in his 38-8 pre-state record were his three wins over North Desoto sophomore Richard Mack, III, whom Tamburo defeated 5-1, 8-2 and 5-3. Schneider advanced to the finals with falls in 4:58, 3:03 and a tough 5-3 win in Sudden Victory over Rummel's Dylan Hezeau in the semifinals.
Mack was 37 and 13. Five of those losses were to out-of-state competitors, three were to Tamburo, and he lost to Division I wrestlers Bernard, Larriviere, Barringer and Alex Duncan of Brother Martin. His best win was over East Ascension's Trent Mahoney in the quarterfinals of the Louisiana Classic in a 10-8 Sudden Victory match. After recording falls in 0:28 and 5:39 Mack upset the second-seeded Dodson 10-7 for a chance to meet Tamburo for a fourth time. In their three previous matches the senior Tamburo defeated the sophomore Mack 5-1, 8-2 and 5-3.
In the first period of the finals both wrestlers tried takedown shots, but the three most promising ones ended out-of-bounds, and the first round ended 0-0. On bottom to start the second period, Mack escaped in four seconds to take a 1-0 lead. Seconds later Tamburo scored the only takedown in regulation with a single-leg shot that turned into an ankle trip attempt but resulted in an ankle-pick. The Panther led 2-1 briefly, but 20 seconds later Mack stood up and escaped again, knotting the match at 2-2. Needing only an escape to take a third period lead, which might have well meant another championship as Mack had not managed any takedowns, Tamburo was very active. His standups, though, were countered by Mack taking a leg from behind and bringing Tamburo to the mat again. Switches did not work either as Mack tenaciously rode Tamburo for the entire third period. The match was 2-2 after regulation ended, and a Sudden Victory round was next.
Here, the odds finally favored Mack. He was 1-0 in SV matches via his win over Mahoney. Tamburo was, including his semifinals win over Hezeau, 1-2. Tamburo took the only shot, a single-leg attempt, but Mack thwarted it and as they both stood-up, Mack cross-faced Tamburo and tried putting him on the mat with a head-and-arm throw. To prevent Tamburo from rolling through the attempt, Mack inserted a leg between the Panther's legs, and was able to stop Tamburo on his back, pulling off a 4-2 victory and North Desoto's second state championship (Chase Bates - 2017).
Hezeau and Dodson had little trouble advancing to the consolation finals. Hezeau pinned Bossier's Kharman Small in 2:22 while Dodson defeated fourth seed Dylan LeBlanc of Teurlings Catholic via a 17-3 major decision. The Raider senior proved too much for the Live Oak freshman in an 8-0 major decision to place third. Small placed fifth over LeBlanc in a 10-4 match.
R1: Emile Richard (RAY) over (7) Markaylan Simon (CAR) in 3:00
R1: (6) Kharman Small (BOS) over Zachary Hrabar (NOMMA) 15-8
(1) Trevor Tamburo (PKY) over (8) Philip Schifflin (BC) in 3:03
(5) Dylan Hezeau (RUM) over (4) Dylan LeBlanc (TC) in 3:05
(3) Richard Mack, III (ND) over (6) Kharman Small (BOS) in 5:39
(2) Anthony Dodson (LO) over Emile Richard (RAY) in 2:52
(1) Trevor Tamburo (PKY) over (5) Dylan Hezeau (RUM) 5-3 SV
(3) Richard Mack, III (ND) over (2) Anthony Dodson (LO) 10-7
C1: Keith Bagent (LSH) over Hunter Seal (SHW) 17-8 MD
CSF: (2) Anthony Dodson (LO) over (4) Dylan LeBlanc (TC) 17-3 MD
Championship Consolation Rounds
(5) Dylan Hezeau (RUM) defeated (2) Anthony Dodson (LO) 8-0 MD to place 3rd
(6) Kharman Small (BOS) defeated (4) Dylan LeBlanc (TC) 10-4 to place 5th
(3) Richard Mack, III of North Desoto defeated (1) Trevor Tamburo of Parkway 4-2 in Sudden Victory
---
© 2017-18 by Louisiana Wrestling News
You may not make electronic copies of these copyrighted materials nor redistribute them to 3rd parties in any form without written permission.