| | | |
| --- | --- | --- |
| | | Fini |
---
Tyler Carriere wins Rayne's third title - joins Manuel and matches Simon's repeat
LHSAA State Wrestling Tournament
Division II, 195 Pounds
May 30th, 2018 | Written by: Editor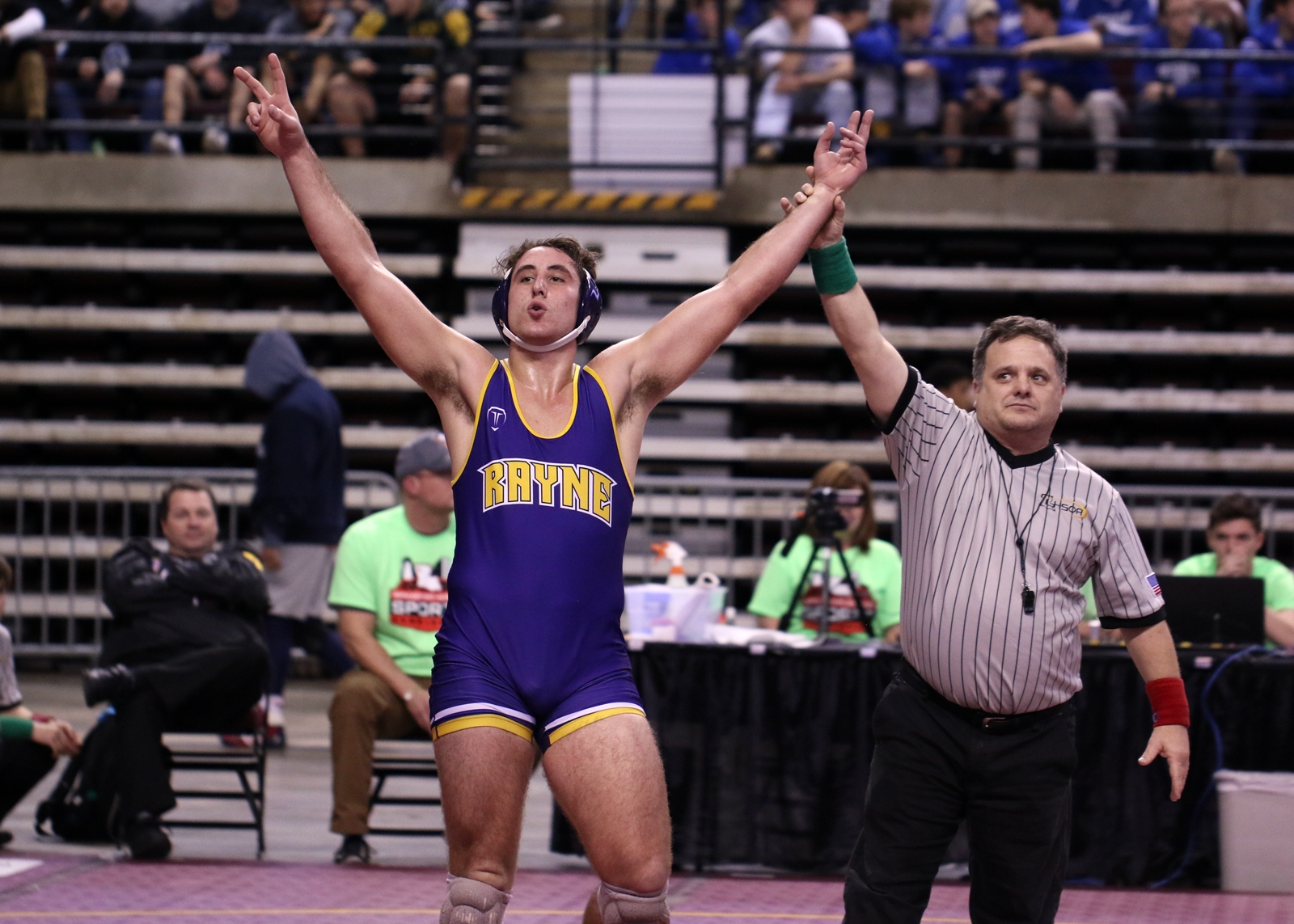 Tyler Carriere was undefeated at 1954 lbs. and won his second consecutive championship for the Rayne Wolves.
| | | | | | | |
| --- | --- | --- | --- | --- | --- | --- |
| Place | 1st | 2nd | 3rd | 4th | 5th | 6th |
| Name | Tyler Carriere | Peyton Miller | Sherod Manuel | David Bernard | Trey Winkler | Tyler Braun |
| School | Rayne | Parkway | Belle Chasse | Teurlings Catholic | Benton | Live Oak |
| Seed | 1 | 3 | 4 | 5 | 2 | 7 |
| Class | Senior | Sophomore | Junior | Sophomore | Sophomore | Sophomore |
Rayne senior Tyler Carriere brought a 24-1 record to Bossier City, which included wins over both Division I 195 lbs. finalists Gavin Bonilla of McKinley and Matt Salinas of Airline during the Louisiana Classic. His only blemish was an overtime fall to Haughton's D. J. Monroe, but that was at 220 lbs. Carriere only needed 91 seconds to get through his first two matches, but he was pushed by David Bernard of Teurlings Catholic in the semifinals, winning only by a 4-1 score. (Previously Carriere had pinned Bernard in 0:54.)
Parkway sophomore Peyton Miller was the third seed, and an unlikely finalist as he had 22 losses along with his 35 wins during the season. More importantly, three of those losses were by falls in 3:39, 4:37 and 2:51 to Benton's Trey Winkler, who was seeded second. After two first period falls before the semifinals, Miller faced Winkler again, who also had two first period falls and a forfeit. This time, however, it was Miller scoring a fall in 2:31 to upset the Benton wrestler.
Carriere scored the only points in the first period with a single-leg trip that led to a double-leg takedown with 1:45 remaining. Carriere rode out the round with a series of arm-chops, bar-arms, chicken-wings and cross-faces in efforts to turn Miller over, but the sophomore Panther resisted them all. After being ridden for 7/8ths of the first period, Miller chose to start the second period in the neutral position. But it was only a matter of time, in this case 29 seconds, before the senior Carriere dominated his opponent. He lifted Miller up with two underhooks and tripped him to his back. Carriere quickly went from holding down Miller in a parallel position to a perpendicular one. He used a half-nelson to secure his second consecutive Division II championship in 2:56.
Carriere's title marked the first time since 2011that the Wolves had three individual state champions. One of those was older brother and coach Trevor Carrier.
After a 9-4 quarterfinals loss to fifth-seeded David Bernard of Teurlings Catholic, fourth-seed Sherod Manuel of Belle Chasse took the long route to the consolation finals. He first scored a fall in 4:17 but was then pushed to the limit by second-seeded Trey Winkler of Benton in a 3-2 match. After another fall in 4:24 he found himself in the consolation finals. There, Manuel had another chance at Bernard, who had squeaked past seventh-seeded Tyler Braun of Live Oak 11-10. This time it was Manuel outscoring Bernard 11-8 for third-place honors. Winkler scored a fall over Braun in 2:11 to place fifth.
R1: (2) Trey Winkler (BNT) over Andrew Leite (NOMMA) in 1:02
(1) Tyler Carrier (RAY) over (8) Roland Okungbowa (STM) in 0:50
(5) David Bernard (TC) over (4) Sherod Manuel (BC) 9-4
(3) Peyton Miller (PKY) over (6) Dylan Olivier (ND) in 1:48
(2) Trey Winkler (BNT) over (7) Tyler Braun (LO) in 1:30
(1) Tyler Carriere (RAY) over (5) David Bernard (TC) 4-1
(3) Peyton Miller (PKY) over (2) Trey Winkler (BNT) in 2:31
CSF: (4) Sherod Manuel (BC) over (2) Trey Winkler (BNT) in 4:24
Championship Consolation Rounds
(4) Sherod Manuel (BC) defeated (5) David Bernard (TC) 11-8 to place 3rd
(2) Trey Winkler (BNT) pinned (7) Tyler Braun (LO) in 2:11 to place 5th
(1) Tyler Carriere of Rayne pinned (3) Peyton Miller of Parkway in 2:56
---
© 2017-18 by Louisiana Wrestling News
You may not make electronic copies of these copyrighted materials nor redistribute them to 3rd parties in any form without written permission.