| | | |
| --- | --- | --- |
| | | Fini |
---
Cortez makes Basile three-for-three in finals matches
LHSAA State Wrestling Tournament
Division III, 182 Pounds
May 30th, 2018 | Written by: Editor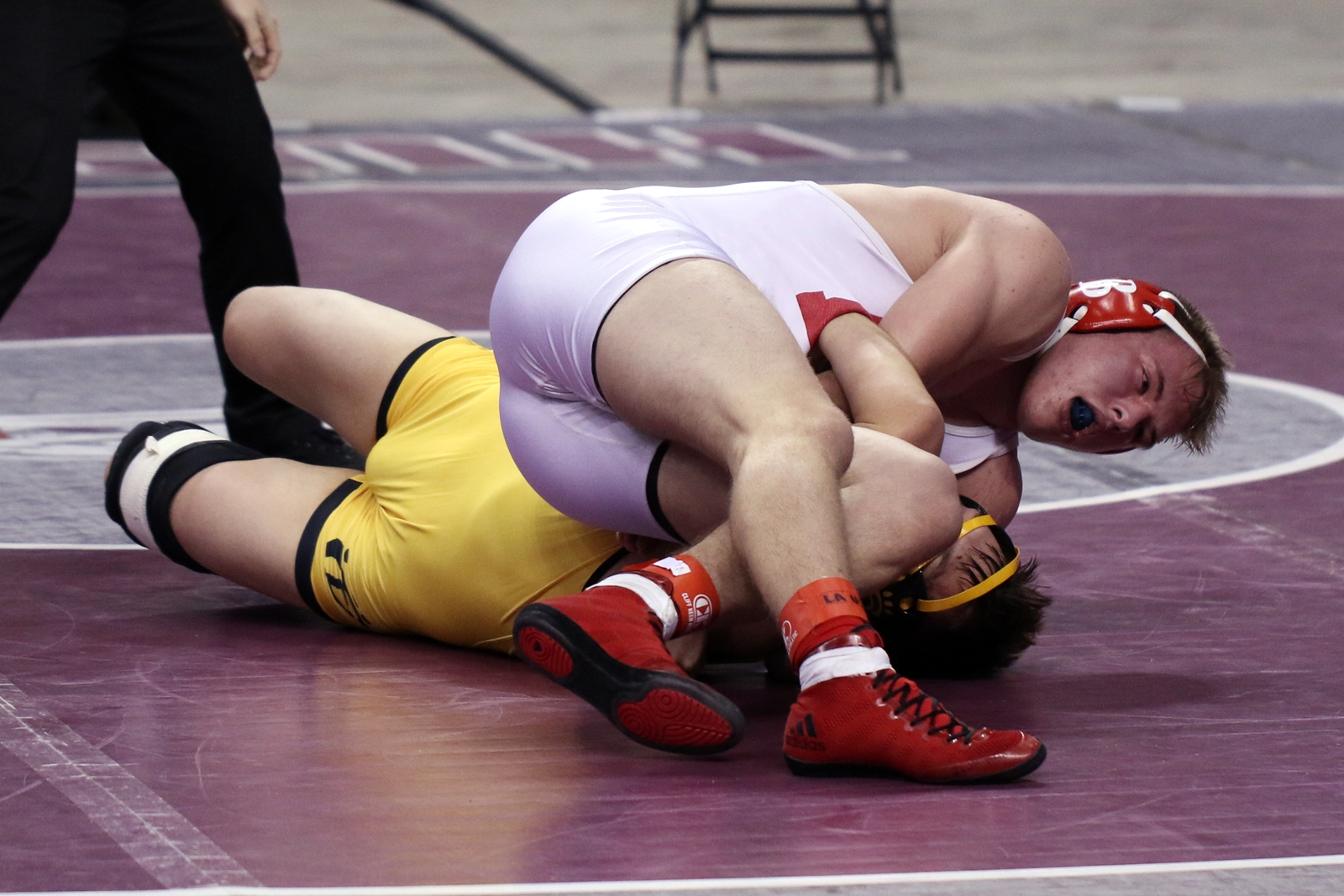 Basile sophomore Isaac Cortez pins Haven Dominguez, the #1 seed from Church Point, in 4:00
| | | | | | | |
| --- | --- | --- | --- | --- | --- | --- |
| Place | 1st | 2nd | 3rd | 4th | 5th | 6th |
| Name | Isaac Cortez | Haven Dominguez | Connor Costello | Brandon Young | Trae Case | Coedy Fonseca |
| School | Basile | Church Point | Ouachita Christian | Brusly | Kaplan | De la Salle |
| Seed | 2 | 1 | 3 | 4 | 5 | 7 |
| Class | Sophomore | Junior | Senior | Senior | Senior | Junior |
Church Point's Haven Dominguez was the second Bear wrestler to advance to a finals match. Seeded #1, he posted a record of 19-6, which included wins over Carencro's Billy Clay, Kaplan's Trae Case, East Ascension's Tyler Irvin and Zachary's Caleb Mickelson. He also had a very important 8-4 victory over second-seeded Isaac Cortez of Basile in an 8-4 Jacob McMillan finals. His losses were to substantial foes. Thomas Arseneaux of Jesuit and Kamryn Barton of Sam Houston only prevailed over Dominguez by two points each. He almost went six minutes with Brother Martin's Michael Clapp, and lasted longer than most people, 4:58, against Dane Harter of St. Michael. Dominguez had an actual loss to #3 Connor Costello of Ouachita Christian in the Louisiana Classic, and a win-by-forfeit over Costello in the Ken Cole. He was seeded over Costello due primarily because Costello lost to Clay. Costello was seeded third behind Basile's Isaac Cortez, which no doubt is due to following seeding criteria, but nothing obvious stands out to explain it. Had Cortez and Costello been seeded 3rd and 2nd, it really would not have mattered. In round one Dominguez scored a fall in 5:21. Against St. Louis' William Gage he had a much harder match, winning 8-5. In the semifinals, though, he pinned Brandon Young of Brusly in 2:47.
Isaac Cortez has wrestled in the Division III state champions since he was in 7th-grade. He was 1-2 in 2014 at 132 lbs., losing in the quarterfinals to this year's 160 lbs. champion Matthew Webre of Ouachita Christian. As an 8th-grader Cortez was seeded fifth and placed fourth at 132 lbs., losing a quarterfinals match against the fourth-seeded Rhett Maturin of North Vermillion, who went on to win the state title, his first of two. Last season at 138 lbs. Cortez placed third, exactly where he was seeded to finish. In that bracket Cortez defeated Church Point's Bruce Arseneaux and Ouachita Christian's Cole Ringle. Suffice to say, if anything does intimidate the young man, it is not a state championship wrestling tournament.
Cortez brought a 26-4 record into the CenturyLink Center. His only losses were to Alex Ormond of De la Salle, with whom he split matches, the one to Dominguez, and then to two of the best in the state, defending Division I state champion Matt Salinas of Airline and defending Division II state champion Tyler Carrier of Rayne. All of those matches, the wins and the losses, were at 195 lbs. The state championship was the only event in which Cortez dropped to 182 lbs. After a bye in the first round Cortez used falls in 4:20 and 2:29 (over Costello) to set-up a rematch with Dominguez.
Almost a minute elapsed before any points were scored in this match. Dominguez then tried a double-leg shot but did not make it deep and Cortez flattened him with a sprawl and spun behind for the first points of the match. The score remained 2-0 until the first period ended. Cortez was on the bottom to begin the second period, and he sat-out and turned to score an escape. Next Dominguez tried to throw Cortez, but the Bearcat sophomore ducked below Dominguez's arms, spun behind Dominguez and took him to the mat for another takedown and a 5-0 lead. Now on the bottom, Dominguez caught Cortez over-riding him. Cortez lost his balance on top and Dominguez stood up. Cortez fell to the mat and Dominguez fell on top of him, scoring his first points of the match via a reversal. Cortez, though, immediately stood up and turned to face Dominguez. Down 5-2 with time running out, Dominguez tried to lateral drop Cortez. Near the end of four minutes of wrestling, most wrestlers are sweaty, and arms are hard to grasp tightly. Dominguez slipped off Cortez, and the Basile wrestler planted himself on top of his opponent, maneuvered into a head-and-arm lock and scored a fall at 4:00, just before the buzzer sounded to end the second period.
Costello rebounded from his semifinals loss and scored a 17-6 major decision over Kaplan senior Trae Case. On the other side, Young got past De la Salle's Coedy Fonseca via a close 4-2 match. Costello confirmed his third-seed position by defeating Young 12-8. For fifth-place, Case required only 36 seconds to pin Fonseca.
R1: (1) Haven Dominguez (CP) over Henry Stater (EPI) in 5:21
(1) Haven Dominguez (CP) over (8) Wesley Maze (STL) 8-5
(4) Brandon Young (BRU) over (5) Trae Case (KAP) in 2:32
(3) Connor Costello (OC) over (6) Trenton Connor (NV) in 5:56
(2) Isaac Cortez (BAS) over (7) Coedy Fonseca (DLS) in 4:20
(1) Haven Dominguez (CP) over (4) Brandon Young (BRU) in 2:47
(2) Isaac Cortez (BAS) over (3) Connor Costello (OC) in 2:29
C1: Henry Stater (EPI) over Brendan David (HAN) in 3:00
CSF: (4) Brandon Young (BRU) over (7) Coedy Fonseca (DLS) 4-2
Championship Consolation Rounds
(3) Connor Costello (OC) defeated (4) Brandon Young (BRU) 12-8 to place 3rd
(5) Trae Case (KAP) pinned (7) Coedy Fonseca (DLS) in 0:36 to place 5th
(2) Isaac Cortez of Basile pinned (1) Haven Dominguez of Church Point in 4:00
---
© 2017-18 by Louisiana Wrestling News
You may not make electronic copies of these copyrighted materials nor redistribute them to 3rd parties in any form without written permission.