| | | |
| --- | --- | --- |
| | | Fini |
---
Jefferson High School, GA manhandles Pigeon Forge, TN 60-15 for Deep South Bayou Duals Championships
East Ascension places 4th, St. Amant 7th, Sulphur 8th, De la Salle 9th, Live Oak 12th, Hannan 13th, Lafayette 14th and Shaw 15th
January 3rd, 2018| Written by: Editor
Twenty-nine teams converged on the Lamar-Dixon Expo Center in Gonzales Louisiana for the 2017 Deep South Duals. The event, held on Thursday, December 28th, and Friday, December 29th, was a dual meet competition with pools on the first day qualifying teams for championship brackets on Friday.
Perennial Georgia powerhouse Jefferson High School of Jefferson, Georgia, dominated the competition. The Dragon won their pool rounds by scores of 75-3, 84-0, 84-0, 76-6 and 75-6. In Saturday's championship bracket, the Dragons received a first-round bye, and then defeated Sulphur 72-12 in the quarterfinals and Rockwall High School of Texas, 61-15, in the semifinals. In their last match they faced the team from Pigeon Forge, Tennessee, and won 60-15. While Pigeon Forge and Rockwall did not meet each other in the event, one can say Pigeon forge did fare the best against the Dragon, as six of Rockwall's 15 points were due to an injury forfeit. The Jefferson wrestler was not seriously hurt, but as the winner of the match was already a foregone conclusion, the Jefferson coaches forfeited the match for safety concerns.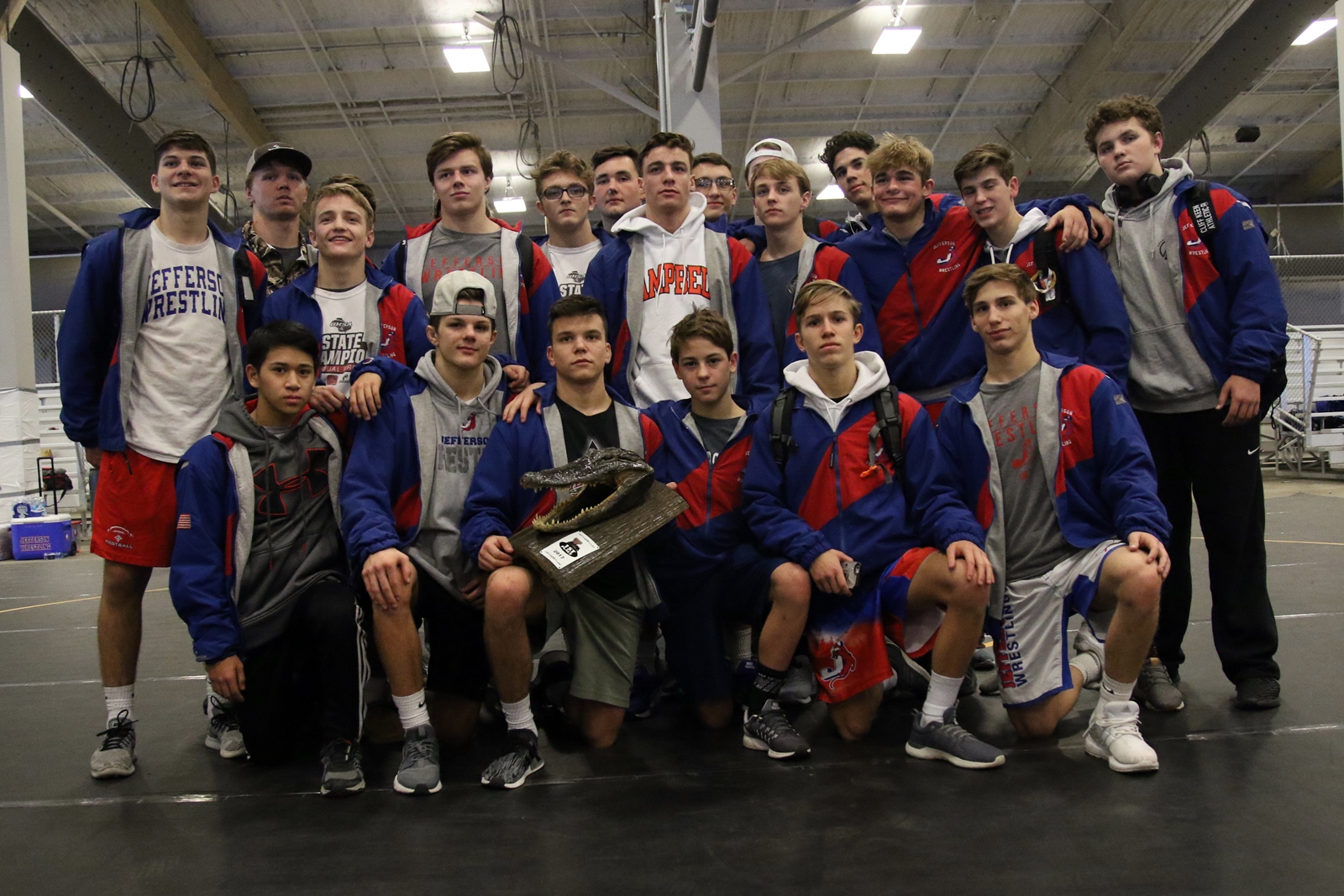 The Jefferson High School Dragons won their second Deep South Bayou Duals championship
OW Dawson Bates

Outstanding Wrestler Awards

The Outstanding Wrestler awards went to members of the teams that met in the finals.

In the lighter weight classes, Dawson Bates of Jefferson, at 132 lbs., won the award. Bates won seven of his matches via falls, with none lasting through the first period (1:27, 0:15, 1:31, 0:33, 0:24, 2:00 and 0:48). The only match in which Bates did not score a fall was in the semifinals against Rockwall's Chase Howerton, against whom Bates scored a 12-3 major decision.

In the heavier weight classes, Pigeon Forge's Ethan Olinger won the honors. Olinger wrestled eight matches, three at 182 lbs. and five at 195 lbs. He scored falls in all of them in times of 1:36, 1:14*, 2:39, 0:35*, 0:26*, 1:27*, 3:22 and 1:22*.

* Denotes matches at 195 lbs.

OW Ethan Olinger
The highest finish by a Louisiana team was by East Ascension, who placed fourth. The Spartans won their pools with victories of 60-22 over Acadiana, 52-18 over Niceville, FL, 39-35 over Arlington, TN, 52-22 over John Curtis and 75-6 over Hahnville.
In the championship brackets competition on Saturday, East Ascension defeated Lafayette 66-15, and, in the quarterfinals, got past St. Amant 45-31. In the semifinals, despite a one forfeit advantage, the Spartans fell to Pigeon Forge of Tennessee 45-29. In the consolation finals, Rockwall, Texas defeated East Ascension 56-24.
A second-string Brother Martin team placed fifth. Other Louisiana teams placing in the top-16 were St. Amant (7th), Sulphur (8th), De la Salle (9th), Live Oak (12th), Hannan (13th), Lafayette (14th) and Shaw (15th).
| | | | |
| --- | --- | --- | --- |
| | | | |
| Runners-up - Pigeon Forge, TN | 3rd Place - Rockwall, TX | 4th Place - East Ascension | 8th Place - Sulphur |
[Left] In his fifth season coaching the St. Amant Gators, Coach Brian Hess notched his 100th win in dual meet competitions at the Deep South Bayou Duals. Hess's St. Amant Gators went 6-3 in the event and finished in seventh place. The Gators defeated Fontainebleau 48-24, Hannan 56-21, North Vermillion 53-25, Ridgeland, GA, 41-28, De la Salle 40-36 and Sulphur 43-36.

[Right] Even injured Brendon Wilcox of John Curtis cannot take a bad photograph.
Miscellaneous Photos
Officials Brennan Taylor, Connor Stampley, Matthew Ashford, Paul-Stephen Schmidt, Stephen Rumney and Sage Nugent (pretty out of focus - best seen small!)
Southern Laboratory High School (Chris Welch pinning his opponent) team
[Left] Cuter than the Trent Mahoney match in the background.
[Right] Holy Cross coach Richie Dixon (toss-up with Mahoney match)
---
© 2018-19 by Louisiana Wrestling News
You may not make electronic copies of these copyrighted materials nor redistribute them to 3rd parties in any form without written permission.