| | | |
| --- | --- | --- |
| | | Fini |
---
Crusaders Dominate Trygg Memorial
December 7th, 2015 | Written by: Editor
Brother Martin won the 27th George Trygg Memorial tournament held at Grace King High School. The Crusaders' 243 points dwarfed runner-up St. Paul's 118.5 points. Covington placed third with 114.5 points.
Chase Scott, Quinn Williams, Riley Horvath, Seth Alfonso, Cameron Frederick and Kyle West won titles for the Crusaders. St. Paul's only had one champion, Sean Cripple. The remaining championships went to Sergio Maldonado of Bonnabel, Sasha Robinson of Benjamin Franklin, Rummel's Chris Montalbano, Covington's Avery Verret, Joha Anderson of John Curtis and Christian Moore and Jaden Ben of Chalmette. It should be noted that neither Brother Martin nor St. Paul's entered complete first-string teams.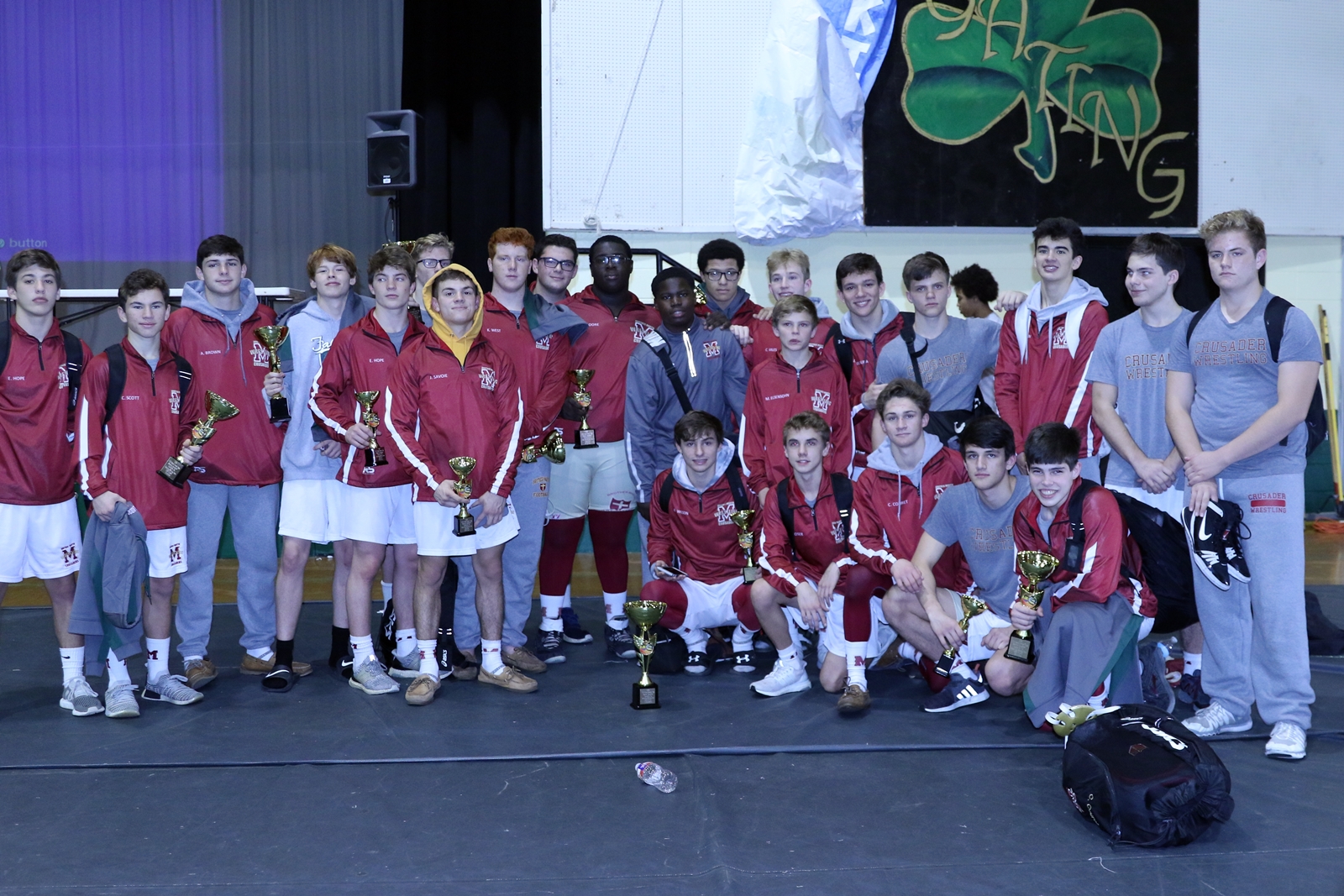 2018 Trygg champions - The Brother Martin Crusaders
Individual Winners
106 lbs.
113 lbs.
120 lbs.
126 l.s
132 lbs.
138 lbs
145 lbs.
Sergio Maldonado
Bonnabel
Chase Scott
Brother Martin
Sean Cripple
St. Paul's
Quinn Williams
Brother Martin
Sash Robertson
Ben Franklin
Christ Montalbano
Rummel
Riley Horvath
Brother Martin
152 lbs.
160 lbs.
170 lbs.
182 lbs.
195 lbs.
220 lbs.
285 lbs.
NO
PHOTO
Available
Avery Verret
Covington
Seth Alfonso
Brother Martin
Joha Anderson
John Curtis
Christian Moore
Chalmette
Cameron Frederick
Brother Martin
Kyle West
Brother Martin
Jaden Ben
Chalmette
| | | |
| --- | --- | --- |
| | | |
| Bonnabel's Sergio Maldonado of Bonnabel was voted by the coaches to wi the Phillip Romig "Courage" award the the event's Outstanding Wrestler | Tyrese Ellis of Riverdale was chosen by the officials to win the Brad Phollips Sprotsmanship Award | Coach Rod Cusachs of Rummel was chosed by tournament director Roberto Furtado to receive the Ray Gremmillion Coaches Award |
Finals Results

Sergio Maldonado (BON) pinned Trey Flaherty (StP) in 1:28
Chase Scott (BM) pinned Sam Davidson (StP) in 0:18
Mr. Scott nobly chose a quick win over Website fame
Sean Cripple (StP) pinned Zach Lauland (DLS) in 1:22
Quinn Williams (BM) defeated Jamar Brown (DLS) 6-0
Sasha Robertson (BF) defeated Cameron Ridhards (COV) 6-4
Chris Montalbano (RUM) defeated Gage Sonnier (EHR) 6-1
Riley Horvath (BM) defeated Jarreth Wheeler (COV) 13-5 MD
Seth Alfonso (BM) pinned Jackson Luscy (StP) in 5:18
18
Avery Verret (COV) Alex Lozano (EJ) 17-2 TF
Joha Anderson (JC) defeated Jarin Meyer (BR) 13-6 MD
Christian Moore (COV) oinned Thomas Gaffney (HAY) in 2:36
Cameron Frederick (BM) pinned DaiJon Bibbs (CHL) in 3:35
Kyle West (BM) pinned Jalen Ben (CHL) in 0:55
Jaden Ben (CHL) pinned Nasus Moore (BM) in 3:49
---
© 20119-19 by Louisiana Wrestling News
You may not make electronic copies of these copyrighted materials nor redistribute them to 3rd parties in any form without written permission.