| | | |
| --- | --- | --- |
| | | Fini |
---
Crusaders team Culotta win eclipsed by finals matches

Raiders win Jefferson Parish Championships; Brusly places 9th in Florida; Sarpy and Mack fare well in Delaware
December 26th, 2018| Written by: Editor
Jefferson Parish Championships
Archbishop Rummel bested nine other teams from Jefferson Parish to win the Jefferson Parish Championships, held Friday at Rummel. The Raiders scored 161.5 points, easily outdistancing runner-up John Ehret's 99 points. John Curtis placed third with 82 points.
The Raiders and the Patriots of John Curtis each had four champions. For Rummel, Isaac Suarez, Logan Bock, Jacob Ramirez and Kolbe Fields won championships. Sean King, Colton Kendrick, Brendon Wilcox and John Drake placed first for John Curtis. John Ehret's Elijah Lanigan, Alvin Diggs, III, and Jeff Fisackerly won consecutive titles, and Bonnabel's Fernando Mayorga and Danilo Cubas won their weight classes. Hayne's Thomas Gaffney won his first tournament title for the Yellowjackets.
The Brusly Panthers placed ninth out of 22 schools in the Beast of the Beach duals tournament in Destin, Florida over the weekend. The competition included schools from six states, with the majority hailing from Florida. Brusly posted a record of 6-3. The event was won by Florida's Wakulla High School, which placed fourth in the South Walton Border Wars on December 7th and 8th.
North Desoto's Joshua Sarpy and Richard Mack, III, a defending Division II state champion, participated in the Beast of the East tournament in Newark, Delaware, over the weekend. Sarpy went 1-2 while Mack, who was seeded sixth, went 3-2.
Josh Sarpy and Richard Mack; University of Delaware Bob Carpenter Center: Josh Sarpy and Coach Dustin Burton
Sarpy's first match was against 9th-seeded Caleb Edwards of North Carolina. In Sarpy's 113-pound weight class, eight nationally ranked wrestlers competed (including the #1 ranked 113-pound wrestler), and hence, a 9th-seed was no easy task. Sarpy lost that match via a fall in 3:03 but rebounded after that loss to win his first consolation bracket match via a fall in 1:25 over Gavin Paolone of New Jersey. He lost his next match 8-4 to Dierre Clayton of Ohio.
Mack started the event strong. He won his first two matches over opponents from Pennsylvania and Connecticut 16-9 and 16-0 before falling to 11th-seeded Connor Strong of Maryland 6-1. After a 6-4 win over a New Jersey opponent, he was eliminated from the event by Tyler Martin of Maryland in a 7-2 match.
[NOTE: Any records listed below for this season or last season are those against Louisiana competition only, and do not include forfeits or byes.]
I beg the reader's indulgence re my remarks on the 2018 Trey Culotta Invitational. Aside from editorials I rarely write in the first-person in order to maintain my secret identity. I could protect that identity further by employing the first-person plural, "We," (also referred to as the "Editorial 'We'") which might lead readers to think the old guy with the photography equipment writes this tripe. And there is precedent in an antiquated journalistic adage for my legitimate use of "We." (I say "antiquated" not because I just learned this from my mother, but because I just learned it at 56-years-of-age.) The verbiage of the maxim has been altered since its first use in the 1850s, but the gist of it is "Only monarchs, editors and people with tapeworms have the right to use the editorial 'We.'" When interpreted loosely, that includes me. But I will spare the reader such grandiosity and simply use "I."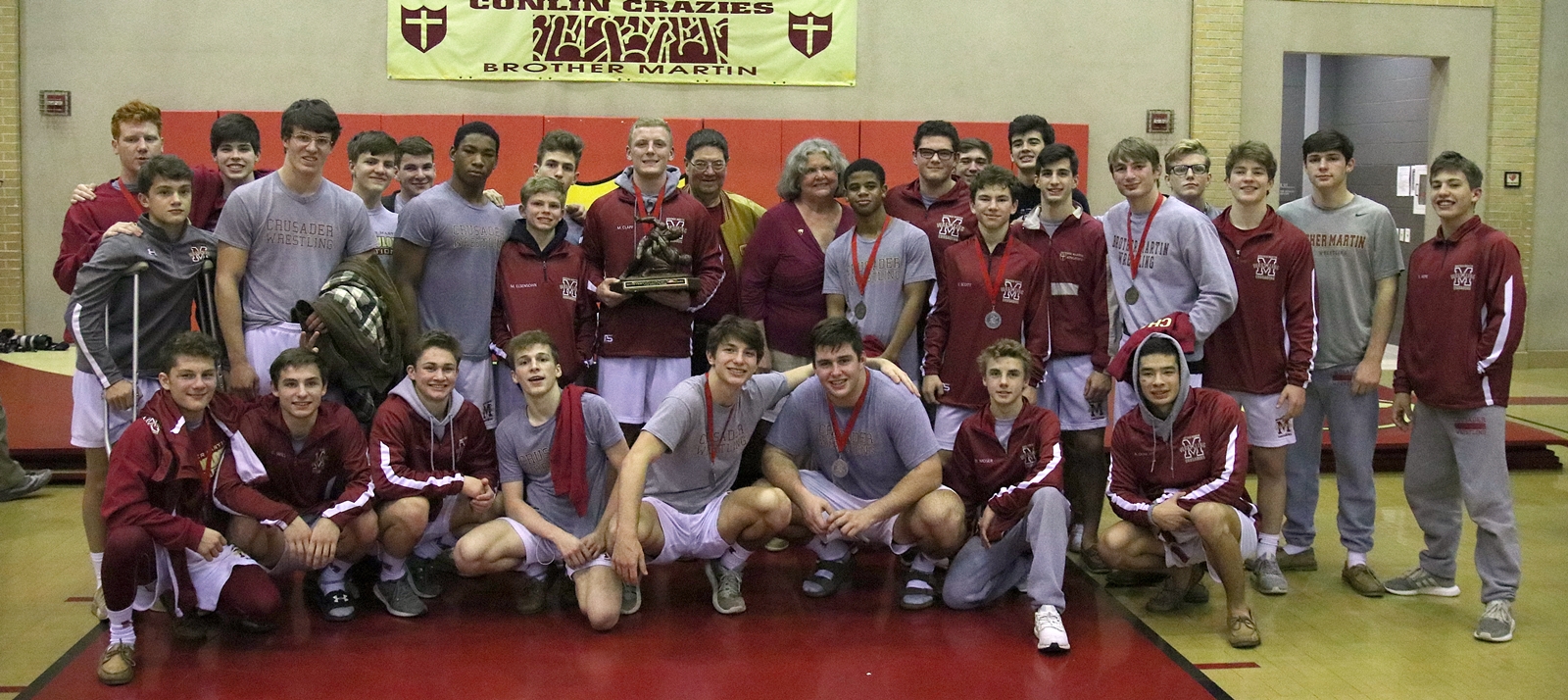 The Brother Martin Crusaders won their eighth consecutive Trey Culotta Invitational tournament on Saturday.
The team championship winner of the 2018 Trey Culotta Invitational, held December 21st and 22nd at Brother Martin High School, was never in doubt. Vestavia Hills of Alabama always brings a strong team, and they did place second. Yet, in 2017 the Crusaders scored over 300 more points than the Rebels. Vestavia Hills would have had to dramatically improve to beat a Crusader team that appears stronger, on paper at least, than the 2017-18 Crusader team. Had Holy Cross participated things might have been different. Gauging the effect the Tigers will have when mixed-in with the other better Division I teams in a tournament format will have to wait until the Louisiana Classic, or possibly the Ken Cole, which is scheduled prior to the Louisiana Classic this year.
The tournament did reinforce the parity in Division II between Teurlings Catholic and Parkway, the teams that tied for the 2018 Division II championship. Teurlings Catholic placed third, 32 points ahead of the Panthers, but things might have been different. Succumbing to an injury in his match against St. Paul's Grant Nastasi, Parkway's Trey Fontenot had to forfeit two pool matches and could only vie for ninth-place on Saturday, which he won. But similar woes were had by the Rebels' Colten Sonnier. Three wrestlers were 4-1 after the pool round. Sonnier was left out of the championship bracket because he lost a match by three points, whereas the other two only lost matches by two points. Sonnier could also only finish as high as ninth, which he did as well. Division II will be very fun to watch again come February in Bossier City.
I noticed Fontenot's forfeits as I, and I am sure many other were as well, was keenly interested in the 132-pound weight class. Attempting to recuperate from a fortnight-old head cold, I spent Thursday and Friday in bed in order to make the Saturday matches. Hence on Friday, along with my indifferent cat, I scanned the pool results and watched the TrackWrestling "Dashboard" for several hours. There I saw that East Ascension's Trent Mahoney also started forfeiting matches after the second pool round. I asked his father what happened, and Coach Mahoney told me Trent broke his third metatarsal bone and would be "out" for four weeks. My first thought was that Trent would have to "kiss this season goodbye," as takedown prowess takes a long time to regain after injuring a foot. I will admit that I was somewhat perplexed as to how Mahoney broke his middle toe bone. On Saturday I learned that Coach Mahoney had meant "metacarpal" rather than "metatarsal." Trent will have to miss a month's-worth of competition but recovering from a hand injury is much easier than recovering from a foot injury. Hence, to any 152-pound wrestlers who thought the weight class may have become a little easier may want to think twice about that. Trent should return for the Greater Baton Rouge Championships and will have three weeks on the mat to regain his form prior to the state championships.
The finals included some outstanding match-ups. Three pitted 2018 state champions against each other. One of those, arguably only to those who have been watching "Chrisley Knows Best" reruns for the last three years, would determine who is the best wrestler in the state. Titles were won by wrestlers in all three Louisiana divisions, by two wrestlers from Florida and one from Alabama. Brother Martin wrestlers won five championships. Jesuit, Division III Basile and Division II Teurlings Catholic each won two championships. The remaining titles went to wrestlers from South Walton, Florida, Pace, Florida and Vestavia Hills, Alabama.
The event produced its share of injuries, but none that were "season ending." The most potentially dangerous injury actually occurred in the parking lot when Jesuit 113-pounder Henry Ehrhardt was pinned between the trunk of a car and the back of a parking pick-up truck. After a trip to the emergency room Ehrhardt was diagnosed with just bruises on his knees and shins, which, if one can forgive the pun, was a very lucky break. After a little time off Ehrhardt should be back on the mats in January.

106 Pounds: Sam Dreuil of Jesuit defeated Glenn Price of Shaw 7-5
Jesuit's Sam Dreuil doesn't get a lot of column inches, or, well, bytes, and looking at the media that provides such coverage I guess I am to blame for that. Last year he was a bit overlooked due to the success of Holy Cross eighth-grader Jacob Frost and his matches with Brother Martin's Connor Hoffman. Yet he won the Ken Cole over Teurlings Catholic's Matthew Carrier, who had previously beaten the Blue Jay 12-2. At 106 pounds this season people are noticing Evan Frost, Jacob's twin at Holy Cross (and, well, in life overall) and the freshman phenom from Shaw, Glenn Price. Eric Devenport of Brother Martin has raised eyebrows, albeit he did not compete at the Culotta and it is hoped that was not due to a serious injury or other event.
Prior to the Trey Culotta Dreuil's only losses have been to Evan Frost, at the Holy Cross @ Jesuit dual meet and the finals of the South Walton Border Wars. Price joined that list with a 4-2 win over Dreuil on Friday. On Saturday Dreuil appeared to face his toughest 106 challenger in the field, Bonnabel's Sergio Montalbano. At 113 pounds Montalbano only had losses to Ethan Castex and Raheem Bonnet, but after dropping to 106 pounds he had yet to be challenged and pinned his 11 opponents. His closest match on Friday was a 13-point win. Dreuil faced Maldonado in the semifinals, and Dreuil schooled the Bonnabel senior to the tune of a 17-5 major decision. In the other semifinals, Price fell behind Parkway's Joshua Keeler early, but worked his way back to a 7-7 tie after regulation. Price won the match 8-7 in Sudden Victory after Keeler was cited for a technical violation.

Dreuil does not seem to be affected much by previous losses, even ones just the day before. The finals was a close affair. Each wrestler scored two points in the second round and three points in the third round. One of Dreuil's second period points was a penalty point, but that would not have made a difference as Dreuil scored the match-winning points in the first period with a two-point takedown, and the final score was 7-5 in Dreuil's favor.

Division I 106-pounders should be very wary of Dreuil come February. Last year he placed fourth, one spot ahead of his seeding. Senior Blue Jays are dangerous at the state championships. They are known to feed on the seeds of others.
113 Pounds: Ethan Castex of Brother Martin defeated Chase Scott of Brother Martin 6-1
Sophomore Ethan Castex of Brother Martin won his second Trey Culotta championship with a 6-1 victory over fellow Crusader sophomore Chase Scott. Castex's only loss this season was a 1-0 decision to Shaw's Raheem Bonnet in the Mandeville Open finals. It looked as if Castex would have a chance to avenge that loss, but Scott did not let him. Bonnet soundly defeated Scott 8-2 at the Crusader Duals on December 8th, but Scott returned the favor with a 9-7 semifinals win over the Shaw junior.

It might have seemed to some that Castex "took it easy" on Scott by allowing the match to go the full six minutes. But I do not believe that is Coach Robert Dauterive's style. I have seen several Crusader vs. Crusader matches over the years, and if a pin were to be had, it was. Scott had not been pinned in his previous three losses, so it was probably a valid 6-1 match. And that means both will just get better as the season progresses, and if one of them can secure a spot at 106 pounds in lieu of freshmen Eric Devenport or Mason Eisensohn, the Crusaders may be more formidable than they are already.
120 Pounds: Connor Hoffman of Brother Martin defeated Clayton Hill of Live Oak 7-1
This was the first final to match 2018 state champions. Junior Crusader Connor Hoffman won the Division I 106-pounds championship, and fellow junior Clayton Hill of Live Oak won the Division II 106-pounds championship.

Hoffman entered the tournament 8-0, which included impressive wins over St. Louis' Alex Yokubaitus (3-1) and Teurlings Catholic's Colten Sonnier (13-4 MD).

Hill was 32-4 entering the Culotta. He had a 13-6 loss to Yokubaitus at the Live Oak 8 but had wins over Sonnier and Shaw's Raheem Bonnet. His other three losses were to St. Amant junior Corey Brownell. He had two wins over Brownell, however, and after Saturday's quarterfinals, a 10-5 win by Hill, the two were knotted at 3-3. If Hill and Brownell remain at 120 pounds, then they should be a fun pair to watch as regard the seeding of the Greater Baton Rouge Championships. Before the GBRCs, however, they will still have to face the likes of Yokubaitus and Hoffman. And Hoffman looks very hard to beat.

In the finals Hoffman simply shut down Hill's offense. Hill shot deep into Hoffman several times, but the Crusader junior was able to fend him off and score takedowns via defense. Hoffman scored three such takedowns, including one after an escape, to score seven points. Hill only managed one escape point. Hoffman became the second of three wrestlers to defend a 2017 Culotta championship.
126 Pounds: Logan Bertot of Brother Martin defeated Darryl Nicholas of Parkway 6-0
This was a very interesting weight class. Logan Bertot was 8-1, but the favorite was probably Comeaux's Hunter Broussard who was 18-0 with wins over defending Division I state champion Luke Romano of Catholic, St. Amant's Jacob Cardwell and Parkway's Darryl Nicholas, all of whom were present in the 126-pound weight class at this event. It also included non-scoring Crusader Quinn Williams, who was 20-0 on the season. Williams suffered his first two losses in the event, but to no slouches. One was to Bertot and the other to the seasoned veteran Brandon Stein of St. Paul's. Two of his six wins, however, were major decisions over Romano. Romano may not be displeased with his sixth-place finish, however. For one thing, he probably will not see Williams again this season if Bertot remains healthy. And while no doubt he was disappointed in an overtime loss to Nicholas, Nicholas is in Division II and Romano will not see him at the state championships. Ashton Surrency of Shaw nipped Romano 3-2 in a consolation semifinals match, but Surrency is in Division II as well. Romano can claim this event a success as he found he was capable of beating Broussard. In a November dual meet Broussard pinned Romano in 51 seconds. In Saturday's Culotta semifinals, Romano defeated Broussard 6-5. Romano did not have a stellar record last season until the Louisiana Classic, at which a third-place finish merited Romano the top seeding at the state championships. And as anyone who saw the 2018 Division I 113-pounds finals match will say, one cannot count Romano out until a final whistle is blown.
Logie Bear (he can thank his father for that one) was 8-1 entering the Culotta, with his only loss coming from Defending Division I state champion Michael Lundin of Holy Cross. That record included a tough win over St. Amant's Seth Signorelli and two over Shaw's Ashton Surrency. His route to the finals included another win over Surrency and then a 13-4 major decision over sophomore teammate Quinn Williams.

Parkway's Darryl Nicholas was 9-2, with his losses coming from Airline's Peyton Bass (a 2018 Division I runner-up) and Comeaux's Hunter Broussard, who was undefeated prior to the Culotta. Nicholas had a much harder road to the finals than Logie Bear. His first win was over fellow senior Brandon Stein of St. Paul's 4-1. His second was an 8-6 Sudden Victory win over Romano.

Like Hoffman before him, Bertot shut down Nicholas' offense, not even allowing an escape point. The Parkway wrestler also had some deep double-leg shots, but Bertot would not let him finish them, and the Crusader junior cruised to a 6-0 win.
132 Pounds: Gavin Christ of Basile defeated Daniel Croy of Brother Martin 9-4
There were several very good wrestlers in the 132-pounds weight class. Luke Eccles of Jesuit was a runner-up in the 2018 Division I state championships. Parkway's Trey Fontenot was a 2016 Division II state champion and placed third in 2018. Eccles brought a 10-0 record into the Culotta while Fontenot brought in a record of 11-0. C.E. Byrd junior Demetri Teddie has only lost to Fontenot, Airline's Peyton Bass and Basile's Gavin Christ at 132-pounds. Catholic's Peter Kelly's three losses all came at the hands of two 2018 state runners-up and a 2018 state third-place finisher. In this event Eccles finished in third place and Teddie placed fourth. Fontenot was kneed in the nose in his second pool match and taken to an emergency room to stem a nosebleed and check for concussion symptoms. He was declared OK to wrestle again and returned in time to win his last pool match. But he had to forfeit the match in which he was injured and another match while he was at the hospital, and thus did not qualify for the championship bracket. The best he could finish was ninth, and he did that with two quick wins before and after a 4-2 Sudden Victory match with Seth Signorelli of St. Amant.
There was little doubt, however, that everyone in the gymnasium and those across the state following the event on TrackWrestling, bet on the finals match consisting of Basile's Gavin Christ and Brother Martin's Daniel Croy. That match would determine the best wrestler in the state (again, arguable to only a very few, and they are wrong).
Croy is a two-time defending Division I state champion. His last loss against Louisiana competition was to senior teammate Daniel Varnado in the finals of the 2015 Trey Culotta Invitational. He won the event in 2016 and 2017. He won Louisiana Classic titles in his sophomore and junior seasons also.

Christ is a three-time Division III state champion. He was undefeated in his junior year, winning the Trey Culotta, the Louisiana Classic, the Ken Cole and numerous smaller tournaments. His last loss was as a sophomore in the Louisiana Classic finals to defending state champion Cole Houser of St. Paul's. He lost one other time as a sophomore to St. Amant senior Briar Babin. Christ avenged that later in the Ken Cole finals. As a freshman his only loss was to Comeaux senior Seth Oubre in the Ken Cole finals.
The crowd was not disappointed. Croy had three matches in his pool and pinned his three opponents in a combined time of 8:27. Christ had five matches in his pool and he pinned all five in a combined time of 6:23. Croy won his quarterfinal match on Saturday with a fall in 3:19 and his semifinals match via an 11-2 major decision over Eccles. Christ scored major decisions of 10-0 and 14-1 in his quarterfinal and semifinal matches against opponents from Florida.

Make no mistake - Daniel Croy is one of the best wrestlers ever to come out of Louisiana. It is highly likely he will finish his senior season with his third Division I state championship. On Saturday afternoon, however, Christ simply wrestled on a higher level. He was faster than Croy, and his takedown attacks were crisp and clean. It is doubtful he had coffee prior to the match, so one could also add "with no caffeine," and could thus call him a Sprite. (Stick with the upper-case "S" for the soft drink rather than a lower case one, as calling him that might be harmful to one's health.) Christ used low single-leg shots to take Croy down three times, twice after letting Croy escape. Croy's sole offensive points came in the third period when he scored a reversal, but that only cut Christ's lead to 7-4, and Christ scored a reverse of his own to end the 9-4 match literally on top.

Christ's win gives him some options. Should he want to, he can compete the rest of the season at 138 pounds and be favored in every match in that weight class. Or he can elect to compete at 132-pounds in the Louisiana Classic (or Ken Cole, depending on which event the larger Division I schools want to use for state tournament seeding) and give Croy another shot. He may very well do that, even knowing Croy may be more troublesome as he will have nothing to lose in a second match. The last things Christ is going to do, however, is relax. Defeating Croy made the target on his back much larger, and he will work harder to make sure nobody hits it.

138 Pounds: Ethan Pickren of South Walton, FL, defeated Alex Duncan of Brother Martin 7-6
One of Daniel Croy's toughest matches last season was in the finals of the Louisiana Classic against South Walton's Ethan Pickren. Croy won 3-2 in a match in which Pickren came close to match-winning takedowns twice but did not get the nod of the officials. In this event Pickren, who never backs down from a challenge, wanted a rematch with Croy or a match with Christ, but he was not sure of which weight classes those two would compete, and he opted to compete in the 138-pounds class. Pickren was 13-0 and had won the South Walton Border Wars over St. Paul's Peyton Ward and followed that with a win in Tallahassee's Capital City Classic. Pickren pinned his four pool opponents on Friday and eased into the finals with a quarterfinal 13-2 major decision over Cody Comeaux of St. Amant and a fall in 3:35 over Byrd's Jacob Yawn.

Missing the opportunity to meet Croy or Christ was not needed, as Crusader junior Alex Duncan proved to be a formidable opponent. Duncan was 8-0 with wins over East Ascension's Brad Mahoney, St. Amant's Cody Comeaux and Division III state champion Michael Gordy of Ouachita Christian. Duncan recorded four falls and a 7-2 decision to go undefeated in his Friday pool. To advance to the finals he received a forfeit from Peyton Ward in the quarterfinals, and then when he only required a point in an overtime rounds to extend his match against Comeaux's Dyllon Bernard, he managed a reversal in the final 10 seconds to win at the end of that round.

Duncan scored the only points in the first period of the finals with a takedown. In the second period Duncan added an escape and another takedown for a 5-0 lead after four minutes had elapsed. In the third period, however, with Pickren starting on bottom, the South Walton wrestler managed to reverse Duncan to his back to score five points and tie the match. Duncan escaped for a 6-5 lead but Pickren was able to get behind Duncan, with both wrestlers on their feet, and secure enough control to be award a takedown and a 7-6 win.
145 Pounds: Charles Travasos of Teurlings Catholic received a forfeit from Patrick Evans of Brother Martin
If Charles Travasos of Teurlings Catholic does not think he earned his 145-pounds gold medal for winning the Trey Culotta, he is wrong. He did everything he was able to do prior to and during the event. He was 21-0 entering the tournament, with some quality wins over Division II state champion Morgan Manuel, St. Paul's Ben Davidson, Anthony Dodson of Live Oak and Brad Mahoney of East Ascension. Travasos was 4-0 in his Friday pool matches, and beat Davidson again in the quarterfinals before winning a tough 3-2 match over Jesuit's Colby Queyrouze to reach the finals.

Patrick Evans of Brother Martin also went 4-0 on Friday and had little trouble dispatching teammate Eli Hope in 23 seconds in the quarterfinals on Saturday. His semifinals match was against Manuel, and it was not an easy 10-6 win as Evans injured a knee that was already supported with a brace. Though he did win the match and reach the finals, it was decided it was too early in the season to risk any further damage, so he opted out of the finals match, giving first place honors to Travasos.

Had Evans not been hurt then the odds are he would have defeated Travasos, but in such a case Travasos should still have held his head very high based on his accomplishments by placing second. He should feel very good about his performance, and getting the championship medal and sweatshirt should be considered lagniappe. Then again, now at 27-0, one does not know if Travasos might have won or not.
152 Pounds: Kishmu Davis of Pace, FL, defeated Seth Alfonso of Brother Martin 5-2
The unfortunate departure of East Ascension's Trent Mahoney after the Spartan broke a finger on Friday may have made this weight class a little easier, but that is not "written in stone." Two very good "unknowns" were in the weight class: Kishmu Davis (9-1) of Pace, Florida, and Alex Jacobs of St. Thomas Catholic of Houston, Texas. Benefitting from Mahoney's injury was St. Amant's Alex Simoneaux, who finished second in the pool that included Mahoney and thus made it to the championship bracket with Jacobs. Perhaps benefitting from Mahoney's injury as well was Brother Martin's Seth Alfonso. Had Mahoney not been injured, it is highly likely that he, Davis or Jacobs would have been in Alfonso's half of the bracket, and Mahoney and Jacobs had already defeated Alfonso earlier in the year. As things worked out though, Davis and Jacobs were in the top half of the championship bracket, while Alfonso was in the bottom half.

Alfonso made the finals easier than people might have expected. He scored an unexpected 9-1 major decision over St. Michael's 2018 Division II runner-up Lance Robinson and then pinned Vestavia Hill's John Edwards in 5:13.

Davis had a harder time as he won the quarterfinals via an 8-4 decision over Carlos Femmer of Teurlings Catholic and then needed 5:14 to pin Jacobs in the semifinals. And Davis knew he had another tough match for the championship, as he had only narrowly squeaked by Alfonso 5-4 on Friday.

Davis controlled Alfonso throughout the six-minute finals match. He took a 2-0 lead after a first round takedown and was warned for stalling later in the period. Alfonso escaped to begin the second period, but Davis took him down again to increase his lead to 4-1. In the third period Davis escaped to increase his lead to 5-1. Later in that period he was cited for stalling again and Alfonso was awarded a penalty point, making the final score 5-2 in Davis' favor.
160 Pounds: Mason Massicot of Brother Martin defeated Sam Willoughby of Vestavia Hills, AL, via a 14-5 major decision
Before last summer's Jazz Town Duals, I thought 2018 Division I runner-up Mason Massicot might have placed higher than he should have. After the Jazz Town Duals I began to think I was wrong. After seeing Massicot win the Trey Culotta, the depth of my "wrongness" has increased, and anyone who knows me knows I hate that. Massicot has handled the best Division I competition available at 160-pounds so far by defeating Holy Cross' Mason Macaluso 12-7. Yet, I still think he is a couple of matches short of being known as the 160-pound wrestler to beat in Division I. Of his 20 wins, and this time including out-of-state wins, only eight have been against competitors from Louisiana. In this tournament five of his six matches were against out-of-state competition. I expect a few very talented wrestlers will drop to the 160-pound weight class come January. Massicot, however, will still be the favorite until someone beats him, and nobody from Louisiana has come close to doing that yet.

Massicot pinned all three of his pool opponents on Friday and used a 10-0 major decision and a 15-0 technical fall to reach Saturday's finals. His opponent, Sam Willoughby of Vestavia Hills, used a fall, a major decision and a technical fall to win his Friday pool, but was somewhat tested on Saturday's path to the finals. He defeated Hahnville's Allen Mire 14-7 in the quarterfinals but had a hard time with the 2018 Division II runner-up from Parkway, Kaleb Garcia, prevailing by only one point in an 11-10 decision.

In the finals Willoughby was a little problematic for Massicot in the first two rounds as the Crusader only scored two takedowns and an escape for a 5-1 lead (Willoughby scored an escape near the end of the second period). By the third period, however, Massicot knew that takedowns could put this match away. He allowed Willoughby to escape four times and subsequently scored four takedowns. With the addition of a stalling point, Massicot scored nine points in the third period and won via a 14-5 major decision.
170 Pounds: Peter Dazzio of Vestavia Hills, AL, defeated Hunter Hawkins of St. Amant 8-5
Hunter Hawkins brought a 30-0 record into the Trey Culotta. Only Holy Cross' Cameron Frost was really troublesome for him in the finals of the Brusly 8, in which Hawkins won 6-4 in a Sudden Victory period. Three weeks later he soundly defeated Frost 11-6. In Friday's pools he scored three falls, a technical fall and a major decision to win with a 5-0 record. In Saturday's quarterfinals he scored a 13-3 major decision over Catholic's Andrew Evans and then pinned Parkway's Carson Sanders in 1:15 to make the finals.

Peter Dazzio of Vestavia Hills scored three falls and a technical fall on Friday to win his pool with a 4-0 record. In the quarterfinals he scored a technical fall over Reginald Barnes of East Ascension and then scored a 12-4 major decision over Zachary's Caleb Mickelson.

Hawkins started off well by scoring two takedowns and allowing one escape by Dazzio in the first 90 seconds of the first period. But with about 30 seconds remaining, Dazzio reversed Hawkins to his back for two nearfall points, and the round ended with Dazzio ahead 5-4. In the second period Dazzio quickly scored an escape point, and it appeared the third round would begin with Dazzio ahead 6-4 and Hawkins on the bottom. Dazzio dashed that possibility by scoring a takedown with seven seconds remaining in the second period and took 8-4 lead into the third period. Hawkins scored a quick escape, but neither wrestler would score any more points, and Dazzio claimed the title with an 8-5 win.
182 Pounds: Isaac Cortez of Basile defeated Carter Gill of Vestavia Hills, AL, 5-4 after an Ultimate Tie-breaker period
Over the last couple of years Basile's Isaac Cortez has generally brought his "A" game to wrestling events. When he did not bring his "A" game, he agreed with my conclusion that hhis only other "game" was a "D-" one. Most of the time Cortez would destroy his competition, but every so often he would lose to someone he shouldn't. Cortez brought his "A" game to the 2018 state championships when he defeated top-seeded Haven Dominguez of Church Point in the Division III 182-pounds finals. Since that time his "D-" game has not reared its head. Cortez fared very well in the 2018 Jazz Town Duals and was 8-1 upon entering the Culotta. His sole loss came in a 3-2 decision to Acadiana's Jeremiah Brooks. Brooks' only loss came from Sam Houston's Mataius Lavine, and Cortez has a win this season over Lavine. He also has one over his 2018 state finals opponent, Dominguez. One may not see any "D-" games in Cortez's repertoire this season.

Vestavia Hill senior Carter Gill finished fourth at the 2018 Alabama 7A state championships and entered the Culotta with a 13-5 record. Cortez and Gill were in the same pool on Friday, and Cortez won their first meeting 8-5. Cortez advanced to the finals with a 1:15 fall and an 8-1 decision. Gill used a pin in 3:56 and a 6-3 decision for a second opportunity to face Cortez. This match would be much harder on both combatants.

Neither wrestler could score in the first period. Opting for the bottom position to start the second period, Cortez escaped to take a 1-0 lead but less than 30 seconds later Gill scored a takedown to assert a 2-1 lead. It appeared that would be the score at the beginning of the third period, but with two seconds remaining Cortez scored a reversal and took a 3-2 lead into the third period. Cortez rode Gill for a minute-and-a-half before Gill managed to escape and tie the match 3-3. Neither wrestler could score a takedown in the Sudden Victory period, and the two exchanged escapes in the following 30-second tie-breaker rounds. In the Ultimate Tie-Breaker round, Cortez had the position option and chose to start on the bottom. With 12 seconds remaining Cortez had stood up, and with Gill trying to take him out of bounds, managed to free himself in bounds and secure a 5-4 championship.
195 Pounds: David Bernard of Teurlings Catholic defeated Devon Clark of East Ascension 7-4
East Ascension senior Devon Clark and Teurlings Catholic junior David Bernard each entered the Culotta with only one loss on their 2018-19 records. Clark, who had won 23 matches, lost 3-2 to defending state champion Gavin Bonilla of McKinley. Bernard, however, with 16 wins to his credit, lost 9-6 to Clark. Clark won his Friday pool matches via a quick fall, a major decision and a 6-0 decision. Bernard won his with two second period falls and a 7-2 decision. Clark advanced to the finals with a 5-1 quarterfinal win over St. Amant's Alex Newman and a 9-4 decision over Bryce Littleton of Vestavia Hills. Bernard defeated Jesuit's Jack Grady in the quarterfinals via a third period fall and used a second period fall in the semifinals to get past Live Oak's Austin Cook.

In the finals Clark struck first with a takedown but Bernard reversed him and the round ended tied at 2-2. On top for the beginning of the second period, Bernard rode Clark the entire two minutes and managed to score two nearfall points to take a 4-2 lead into the third period. The third period belonged to Bernard as he quickly scored an escape point and less than a minute later scored a takedown for a 7-2 lead. Clark managed a reversal as time ran out and Bernard successfully avenged his only loss of the season via a 7-4 win.
220 Pounds: Kyle West of Brother Martin pinned Wes Brady of Zachary in 3:25
Kyle West was another Crusader I thought might be a weak link. The junior changed my mind in this tournament. Entering the Trey Culotta, West was 9-2 with losses to Holy Cross' Ryan Doody and Belle Chasse's Bryce Manis. In Friday's pool rounds he defeated some tough opponents in Basile's Gabe Duplechin and Jesuit's Jacob Kieff. Earlier in the season he defeated St. Amant's Nicholas Fuselier and Chalmette's Jalen Ben. One could not tell the caliber of wrestlers he defeated Saturday to make the finals as they were both non-Louisiana wrestlers. He beat Houston's Deion Harris in the quarterfinals 9-3 and pinned Grant McLean of Vestavia Hills in 2:07.



Zachary senior Wes Brady needed no introduction. A 2018 Division I runner-up at 220-pounds, Brady was the only wrestler to defeat Jesuit's then one-time defending state champion Perry Ganci. (Ganci won the 2018 finals match against Brady for his second state title.) Granted, this was Brady's first wrestling event of the season as his Zachary Broncos were busy winning the 5A state football championship two weeks before the Culotta, but based on his three pins (including Brother Martin's Jason Evans and Bonnabel's Malik Smith) and a 7-1 decision over Fuselier in Friday's pool rounds, he looked pretty ready to wrestle. He pinned Duplechin in 0:57 in the quarterfinals but had a hard match with Michael Cox of Holy Innocents in a 7-6 decision.

I could say I was not surprised at the results of the finals match, but prevarication is rarely a vice of mine when money is not at stake. I was very impressed with West's three matches on Saturday, particularly in the finals. In the first minute he took Brady down to his back for a 4-0 lead. Brady recovered to escape and score a takedown of his own, but West still led 4-3 after the first two minutes. West was allowed to escape to start the second period and Brady took him down again for a 5-4 lead. West evened the score at 5-5 with an escape 10 seconds later, and a minute later took Brady to his back again, this time scoring a fall in 3:25.

For a while this weight class may be subject to the first competitor to fall on his back getting pinned. But those types of matches should become rarer for the better wrestlers as the season progresses. Brady will be in that "club," but so will West, and for now, West has the edge.
285 Pounds: Perry Ganci of Jesuit pinned Mack Brown of Brother Martin in 5:16
While there were three undefeated Louisiana 285-pound state champions in this weight class, most people believed the finals would consist of a match between Jesuit's two-time defending 220-pound state champion Perry Ganci and Brother Martin's defending 285-pound state champion Mack Brown. Teurlings Catholic's defending Division II state champion Miles Santiago was not taken lightly, as well he should not have as Ganci escaped with a 3-2 semifinals win over Santiago, who easily won his next two matches to place third. After last season I thought Brown might be a weak link for the Crusaders, but my mind was changed after the Jazz Town Duals. Brown looked to be the most mobile 285-pound Division I wrestler since Brother Martin's Ross Brister in 2013. I found the general consensus of those I spoke with thought this would be the match that would convince Ganci to go back down to 220-pounds, as did I. I was wrong again.

Brown pinned each of his four Friday pool opponents in an average of 50 seconds. Dawson Ray and Douglas Thompson, both of Vestavia Hills, fell to Brown in the quarterfinals and semifinals on Saturday. Ganci pinned his four opponents on Friday also. Two were in the first period, one in the second and one in the third. He needed 1:45 to get past Parkway's Dezrel Eloph in the quarterfinals prior to his 3-2 semifinals win over Santiago.

The first period ended as a lot of 285-pounders first periods do - with a 0-0 score. There was a lot of movement to my recollection, but just enough, I thought, to tire-out both wrestlers, which easily could result in a one-point match, most likely in an overtime period. Instead, though, Ganci "opened up a big can of -------" (fill in the blank with what you deem appropriate) on Brown in the second period. The Blue Jay reversed Brown to his back to score three nearfall points and take a 5-0 lead. Brown managed a reversal but four seconds later Ganci escaped, took down Brown again and scored two more nearfall points, accumulating a 10-2 lead upon entering the third period. Brown reversed Ganci 15 seconds into the third period, but he needed a pin as he was still down 10-4. Ganci escaped and Brown scored a takedown, reducing the margin to 11-6. But Ganci escaped again and took Brown down to his back , scoring a fall in 5:16. Ganci showed an agility I had not seen out of the young man before and I believe any thoughts of dropping to 220 pounds are currently on life support.
Outstanding Wrestlers, Wrestling Royalty, et cetera...
Basile's Gavin Christ won his second Trey Culotta Outstanding Wrestler award. He won his first last season after he defeated Brother Martin's Luke Cotton in the finals. In the first five photographs Christ is shown with Mrs. Culotta, his mother Cassie Christ, his father Chris Briscoe, fellow Basile Trey Culotta champion Isaac Cortez and Rayne stand-out Cooper Simon. At the lower right is Jesuit's Perry Ganci receiving the Trey Culotta Award from Mr. Culotta.
More photographs from the 2018 Trey Culotta Invitational will be published at a later January 6th.

(Left): Former Acadiana and current Oklahoma City University wrestler Raven Guidry with Monica Langley, the mother of Basile wrestlers Brenan (class of 2017), Ethan (freshman) and Hunter (junior); (Center): Brother Martin legend Paul Klein with yet another injury to his knee. Yet this one was caused during a flag football game, so he earned little pity in the gymnasium. (I think it is a pre-med school experiment gone horribly wrong.); (Right): Acadiana coach Brandon Wheatley and Comeaux coach Glenn Bernard flanking South Walton High School trainer Jessica.
December Butcher's Bill and Free Meat
December's Butcher's Bill*
(Wrestlers who lost their first match to a Louisiana opoonent between December 2nd and December 26th)
Division I
Division II
Division III

| | | | | |
| --- | --- | --- | --- | --- |
| Wrestler | School | Record | First Loss | January 6th |
| Hunter Broussard | Comeaux | 22-3 | Luke Romano (CAT) | 12-22 |
| Daniel Croy | Brother Martin | 11-1 | Gavin Christ (BAS) | 12/22 |
| Quinn Williams | Brother Martin | 25-2 | Brandon Stein (StP)** | 12/22 |
| Luke Eccles | Jesuit | 18-1 | Daniel Croy (BM) | 12/22 |
| Connor Oviedo | St. Paul's | 11-1 | Clayton Hill (LO) | 12/21 |
| Logan Bertot | Brother Martin | 13-1 | Michael Lundin (HC) | 12/05 |
| Darryl Nicholas | Parkway | 13-4 | Hunter Broussard (COM) | 12/15 |
| Dyllon Bernard | Comeaux | 20-2 | Gavin Christ (BAS) | 12/15 |
| Peyton Ward | St. Paul's | 11-1 | Jacob Yawn (BYR) | 12/21 |
| Brady Butler | Holy Cross | 9-1 | Patrick Evans (BM) | 12/05 |
| Mason Macaluso | Holy Cross | 10-0 | Mason Massicot (BM) | 12/05 |
| Cameron Frederick | Brother Martin | 11-2 | David Bernard (TC) | 12/08 |
| Jace DuFresne | Sulphur | 9-1 | Connor Cloinger (PKY) | 12/15 |
| Mack Brown | Brother Martin | 10-1 | Perry Ganci (JES) | 12/22 |




** Prior to his loss to Stein, Williams also lost to Crusader teammate Logan Bertot.

| | | | | |
| --- | --- | --- | --- | --- |
| Wrestler | School | Record | First Loss | January 6th |
| Morgan Manuel | Rayne | 16-2 | Charles Travasos (TC) | 12/15 |
| David Bernard | Teurlings Catholic | 21-1 | Devon Clark (EA) | 12/08 |
| Miles Santiago | Teurlings Catholic | 21-2 | Mack Brown (BM) | 12/08 |

| | | | | |
| --- | --- | --- | --- | --- |
| Wrestler | School | Record | First Loss | January 6th |
| Alex Yokubaitis | St. Louis | 18-1 | Connor Hoffman (BM) | 12/08 |
| Hunter Langley | Basile | 13-1 | Trey Fontenot (PKY) | 12/15 |
* Albeit making the Butcher's Bill means one is a good wrestler, one can only make the Butcher's Bill once per season.

Free Meat
(Undefeated wrestlers as of 12/26/18 with at least eight matches against Louisiana competion or who are returning state champions)
Division I
Division II
Division III

| | | |
| --- | --- | --- |
| Wrestler | School | Record |
| Evan Frost | Holy Cross | 14-0 |
| Jacob Frost | Holy Cross | 16-0 |
| Connor Hoffman | Brother Martin | 9-0 |
| Michael Lundin | Holy Cross | 11-0 |
| Alex Duncan | Brother Martin | 13-0 |
| Patrick Evans | Brother Martin | 9-0 |
| Mason Massicot | Brother Martin | 8-0 |
| Hunter Hawkins | St. Amant | 35-0 |
| Caden Mumme | Holy Cross | 14-0 |
| Perry Ganci | Jesuit | 10-0 |

| | | |
| --- | --- | --- |
| Wrestler | School | Record |
| Trey Fontenot | Parkway | 16-0 |
| Charles Travasos | Teurlings Catholic | 27-0 |
| Richard Mack, III | North Desoto | 0-0 |
| Camdyn Ingram | Live Oak | 6-0 |
| Kaleb Garcia | Parkway | 15-0 |
| Connor Cloinger | Parkway | 11-0 |




| | | |
| --- | --- | --- |
| Wrestler | School | Record |
| Gavin Christ | Basile | 23-0 |
| D.J. Harvey | Lakeside | 10-0 |
Knell
Cete
Adage
Maxim
Precedent
Fortnight
In lieu
Column inches
Sprite (not the soft drink)
Prevarication
---
© 2018-9 by Louisiana Wrestling News
You may not make electronic copies of these copyrighted materials nor redistribute them to 3rd parties in any form without written permission.