| | | |
| --- | --- | --- |
| | | Fini |
---
Tigers win Deep South Bayou Duals, Teurlings Catholic and Parkway "too close to call


Evangel placed fourth in Arkansas, North Desoto places second and third, Day One results at Prep Slam XI
January 5th, 2019| Written by: Editor
Deep South Bayou Duals
Holy Cross became the first Louisiana team to win the Deep South Bayou Duals since Brother Martin in 2014. The event was held on December 29th and 30th at the Lamar-Dixon EXPO Center in Gonzales. In Friday's pool round the tigers defeated Bentonville, Arkansas 67-7, Dutchtown 74-6, Shaw 69-3, John Curtis 77-3 and Comeaux 71-1. In Saturday's championship round the Tigers defeated Sulphur 74-6 in the first round, St. Amant 53-9 in the quarterfinals and Wakulla, Florida, 54-12 in the semifinals. In the finals the Tigers faced the defending champion Jefferson, Georgia team, which also won the event in 2015. Holy Cross won eight of the 14 matches in a 31-27 match to claim the championship. Wakulla defeated Jesuit 51-18 to place third.
| | | |
| --- | --- | --- |
| | | |
| Michael Lundin with the 1st-Place trophy | The 2018 Deep South Bayou Duals champion Holy Cross Tigers | St. Amant's Corey Brownell went 7-0 and was voted the Outstanding Wrestler in the lower weight classes |
With three champions Teurlings Catholic outscored Parkway 346-339 to win the 2018 Lone Survivor tournament held at Parkway High School in Bossier City, LA, on December 29th-30th. North Desoto placed third while C.E. Byrd and Rayne tied for fourth.
Rebels' champions were Carlos Femmer, David Menard and Miles Santiago. The Panthers had four winners in Joshua Keeler, Trey Fontenot, Carson Sanders and Kaleb Garcia.
Other winners were Joshua Sarpy of North Desoto, Airline's Peyton Bass, Demetri Teddie and Jacob Yawn of Byrd, Morgan Manuel of Rayne, Mataius Lavine of Sam Houston and Dwight Johnson of Iowa.
Trey Fontenot of Parkway and Morgan Manuel of Rayne won Outstanding Wrestler awards.
| | | | |
| --- | --- | --- | --- |
| | | | |
| Runners-up Parkway Panthers | Parkway champions Caleb Garcia, Caron Sanders, Joshua Keeler and Trey Fontenot (with OW Award) | Rayne's Morgan Manuel with his OW award | 4th-place C.E. Byrd Yellowjackets |
The Evangel Eagles placed fourth at the Catholic High School Holiday Rocket Rumble, held on December 29th in Little Rock, Arkansas.





Datremecious White and Chris Reed placed first, Kaden Dean and Skylar Jarvis placed second and Michael Brame placed third for the Eagles.
North Desoto placed third at the Wyie East Tounament in Dallas, Texas. Griffin winners were 113 Josh Sarpyat 113 pounds, 120 Cam Davis at 120 pounds and195 Dylan Olivier at 195 pounds.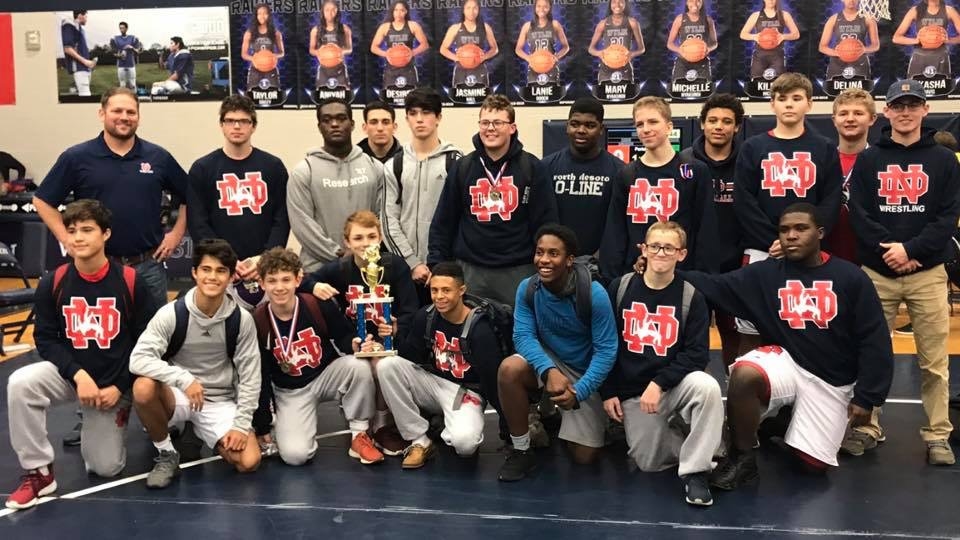 North Desoto placed third at the Wylie East Invitational in Dallas, Texas, on Decmber 15
North Desoto placed second at the Bring the Hammer tounament in Cabot, AR, finishing only 14 points behind the winning team from Madil, Okahoma

| | |
| --- | --- |
| | |
| Andrew Gonzalex, Joshua Sarpy and Richard Mack, III, placed 1st | Joshua Sarpy won the Outstanding Wrestler Award |
Brother Martin holds a 19 point lead after the first day of Prep Slam XI, held at Holy Innocents High School in Atlanta Georgia. Holy Cross is currently in fourth-place, St. Paul's in 8th-place and Jesuit in 9th place.
Crusaders in the semifinals are Chase Scott, Daniel Croy, Alex Duncan, Mason Massicot, Michael Clapp, Kyle West and Mack Brown. Brother Martin had nine wrestlers competing in Saturday's competition.
Holy Cross has three semifinalists, and they all share the last name of Froth. Twins Evan and Jacob, and older Brother Cameron are each one win away from a finals match. The Tigers also have nine wrestlers alive for Saturday's matches.
Peyton Ward is the sole semifinalist for St. Paul's, but they have 10 other wrestlers remaining in the hunt for third place.
Jesuit has semifinalists in SamDreuil and Perry Ganci. Six other Blues Jays get to compete on Saturday.
Two semifinals matches include only Louisiana wrestlers. At 106 pounds Jesuit's Sam Dreuil will vie aganst Crusader Chase Scott. At 132 pounds Daniel Croy of the Crusaders will face-off against Peytoon Ward of St. Paul's.
---
© 2018-9 by Louisiana Wrestling News
You may not make electronic copies of these copyrighted materials nor redistribute them to 3rd parties in any form without written permission.