| | | |
| --- | --- | --- |
| | | Fini |
---
Crusaders and Panthers repeat; Bearcats add a team championship to Gavin Christ's resume
February 13th, 2019 | Written by: Editor
For the fourth consecutive year the LHSAA State Wrestling Championships were determined at Bossier City's CenturyLink Center on February 8th and 9th. And once again the event was run in a spectacular manner by Tracie Sonnier, Jennifer Macha and Isabelle Macha, representing the best of Teurlings Catholic High School (aside from, but in a different "league" as, the Rebels' wrestlers), the LHSAA, the Shreveport-Bossier City Sports Commission and by the perennial presence of former East Jefferson state champion, and 10-year president of USA Wrestling, Jim Ravannack. Attendance was, as it has been every time the event has been held in Bossier City, an issue for some coaches who felt their teams were lacking the fan bases they preferred. The wrestlers, however, showed no ill effects between the whistles on the mats. In the end, the three championship teams represented the southeastern, southwestern and northwestern parts of the state.

The competition was fierce, and little respect was given to defending 2018 state champions. Of the 23 who competed, only 14 successfully defended their titles. That number might have been 16, but two 2018 state champions did not compete in the event.
Holy Cross held the Division I lead by eight points after Friday's wrestling, and increased it early on Saturday with semifinals victories by Evan and Jacob Frost. But the depth of talent brought by Brother Martin caught-up and surpassed the Tigers to win the team championship by 25 points. Jesuit, the Division I runner-up for the last six seasons, placed a distant third. The St. Amant Gators placed sixth and were the highest placing Louisiana public school.
Five Crusaders won individual championships. Seniors Daniel Croy and Patrick Evans won their third and second titles respectively, and were joined by juniors Logan Bertot, Alex Duncan and Mason Massicot.
The Tigers won four individual titles, three of which were by the Brothers Frost, freshman twin's Evan and Jacob, and senior Cameron. Caden Mumme won the other championship for the Tigers.
The Blue Jays won two titles. Senior Luke Eccles, a runner-up in 2018, joined his older brother Jake as a state champion, and senior Perry Ganci, who was unbeatable all season, won his third Division I title. The remaining championships were won by East Ascension junior and defending 2018 state champion Trent Mahoney, sixth-seeded junior Cole Ulfers of St. Paul's, who was voted the Division I Outstanding Wrestler, and Wes Brady of Zachary.
Research and this year's tournament yielded only three other times when brothers won state championships in the same years. Austin and Trevor Schermer of Brusly won Division III titles in 2-11 and 2012. Much earlier, in 1962, Basile's Jimmy and Clarence Vidrine won state championships. And Alex and Blake Menier won titles for Basile in this event. But never have three brother won titles in the same year, as the Frost boys did in these championships. Many people have asked when the twins started wrestling. It is feasible, if asked, their mother might say "in the womb."
The Brother Martin Crusaders started a new championship streak in defending their 2018 state championship. Cole Ulfers of St. Paul's, a sixth-seed, emerged victorious in a 9-4 finals over East Ascension senior and top-seed Devon Clark.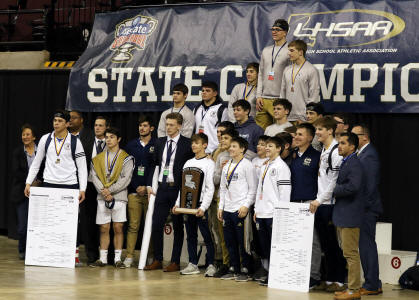 The Holy Cross Tigers did not make another Crusader championship easy, as they finished only 25 points behind Brother Martin.
| | | |
| --- | --- | --- |
| Place | Team | Points |
| 1 | Brother Martin | 331.5 |
| 2 | Holy Cross | 306.5 |
| 3 | Jesuit | 184.5 |
| 4 | Catholic | 180 |
| 5 | St. Paul's | 178.5 |
| 6 | St. Amant | 144 |
| 7 | East Ascension | 134.5 |
| 8 | Comeaux | 133.5 |
| 9 | Zachary | 130.5 |
| 10 | Fontainebleau | 101.5 |
The Parkway Panthers may have thought "it's nice to share" in 2018 when they tied Teurlings Catholic for the Division II team championship. (Granted, none of their parents were even born when that slogan came out in the 1950's for Good 'n Plenty candy.) Not so, this year, however, as the Panthers scored 46 more points than the Rebels to win their first team title since 2006. Earning championships for the Panthers were senior Trey Fontenot, who also won in 2017, and fellow seniors Daryl Nicholas and Connor Cloinger. Ten other Panthers made it to the podium as well, placing 2nd-6th.
The runner-up Rebels won two individual championships. Junior David Bernard sealed his spot as the best wrestler in all divisions at 195 lbs., and senior Miles Santiago won his second title.
Rayne's Morgan Manuel defended his 2018 state championship by defeating top-seeded Charles Travasos of Teurlings Catholic and was awarded the Division II Outstanding Wrestler award for his efforts.
Carencro had two champions as senior Taylor Clay successfully defended his 2018 title and was joined by sophomore Kendrall Williams.
Sam Houston wrestlers Christian Satchell and Mataius Lavine, both seniors, became the Mustangs' third and fourth state champions.
Glenn Price became Shaw's first freshman state champion, and North Desoto's Joshua Sarpy avoided late-season injuries to win a title in his first appearance at a state championship tournament. Sophomore Anthony Dodson won a championship for Live Oak, albeit another one should prove a little harder as Live Oak will compete in Division I next season. St. Michael's 2018 runner-up Lance Robinson had to get past North Desoto's 2018 state champion Richard Mack, III, in the semifinals. He had to do that in the Louisiana Classic also, and both times won by only one point.
Parkway won its first state championship since 2006, out-pointing rival Teurlings Catholic by 67.5 points. Rayne senior Morgan Manuel, the second seed at 145 lbs., defeated top-seed Charles Travasos of Teurlings Catholic 8-6 to win his second individual title and the Division II Outstanding Wrestler award.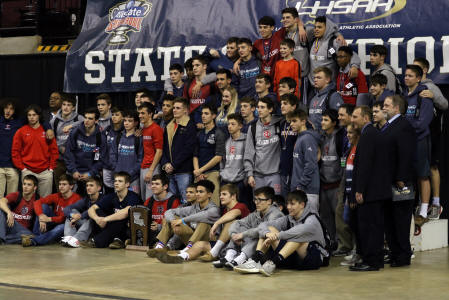 Teurlings Catholic placed second in Division II, which they have done only once since 2011. In the last eight years the Rebels have finished in 1st-place, albeit they tied for the championship with Parkway in 2018.
| | | |
| --- | --- | --- |
| Place | Team | Points |
| 1 | Parkway | 288 |
| 2 | Teurlings Catholic | 242 |
| 3 | North Desoto | 201 |
| 4 | Live Oak | 184 |
| 5 | Rummel | 157.5 |
| 6 | Carencro | 156.5 |
| 7 | Rayne | 150 |
| 8 | Sam Houston | 136 |
| 9 | Shaw | 135 |
| 10 | Belle Chasse | 133 |
No more fitting an end could have been arranged for the conclusion of Basile's Gavin Christ's high school wrestling career than adding a Bearcat team championship to his resume. The Bearcats had one previous state championship, a Division II title in 1991. They won that title by five points over Buras and had two individual champions (as well as a runner-up in Chris Briscoe, who somewhat later sired Gavin). They won the 2019 Division III team championship by 47.5 points over St. Louis Catholic and four Bearcats won individual titles. Christ won his fourth, joining only a select few who have done that in any LHSAA Division. Sophomore Alex Menier is halfway there, having won in 2018 as well as this year. Isaac Cortez is one year away from his third championship, and juniors Blake Menier and Logan David can win two should they repeat in 2020.
Nobody was surprised when Christ won his third Division III Outstanding Wrestler award.
Brusly, a perennial Division III powerhouse, crowned two champions, Andrew Trahan and Calep Balcuns.
Church Point's first state championships went to sophomore Timothy Routon and senior Bruce Arceneaux.
St. Louis junior Alex Yokubaitus is one-year removed from joining Christ and the others in winning four state titles. Hannan crowned their first state champion when senior Deionesio Talbot won. Dunham senior Robert Grant Rabel won his third championship, adding to the titles he won in 2015 (as an eighth-grader) and 2018 and to his runner-up finish in 2016. He very well might have won four championships but for a football injury that kept him out of the 2016-17 season. Iowa High School, whose sole wrestler was Dwight Johnson, formerly a Sulphur Golden Tornado, is one-for-one re state championship possibilities, as Johnson won at 220 pounds. And Evangel junior Datremecious White reversed his Sudden Victory loss in 2018 to Lakeside's D.J. Harvey with a 3-2 Ultimate Tie-breaker victory.
The Basile Bearcats won their first Division III state championship to go along with their Division II team title in 1991. It was a fitting end for Bearcat senior Gavin Christ's high school career. Aside from being the best wrestler in the state for the last two seasons, Christ took home his fourth Division III individual title.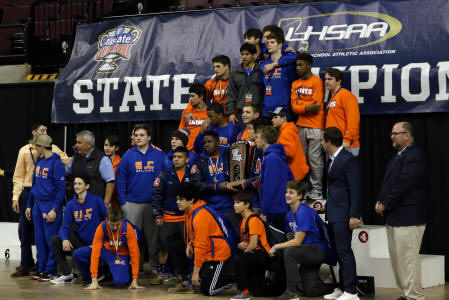 In a program started in 2010, St. Louis Catholic of Lake Charles has fast become a Division III powerhouse. In 2017 the Saints placed third, and they won the Division III state championship in 2018.
| | | |
| --- | --- | --- |
| Place | Team | Points |
| 1 | Basile | 282 |
| 2 | St. Louis | 224.5 |
| 3 | Brusly | 193.5 |
| 4 | Hannan | 151 |
| 5 | Church Point | 120 |
| 6 | Evangel | 92 |
| 7 | De la Salle | 84 |
| 8 | Kaplan | 74.5 |
| 9 | Lakeside | 73 |
| 10 | North Vermillion | 69 |
More on the 2019 LHSAA State Wrestling Championships will be published at a later date (hopefully before the Frost twins receive their Masters degrees in Twinology).
---
© 2018-19 by Louisiana Wrestling News
You may not make electronic copies of these copyrighted materials nor redistribute them to 3rd parties in any form without written permission.