| | | |
| --- | --- | --- |
| | | Fini |
---
Another excellent state championship provided by the LHSAA, the SBSC and the CenturyLink Center
May 8th, 2019| Written by: Editor
"A sergeant came over, had some Websites in his hand, handed them to us and said
'Kid...
Thiswebsitehasfiftythreepages,fourthousandfivehundredpictures,41,000words,258,000charactersdecribingwhowonwhatin
whatweightclassinwhatdivision,asummaryoftheweightclassovertheseasonandasummaryoffinalsmatchescoverstoriesoneachteamwinningchampionship
sandplacingcecond,picturesofplacers,wrestlers,coachesandofficials,tidbitsaboutpaststatechampionships,alistofrocketscientistsandotherwrestlinginformation...'
and he talked for 45 minutes, and we didn't understand a word that he said, but we had fun playing on the website and looking at the pictures there..."¹
¹ "You can get anything you want at Alice's Restaurant."

For the fourth consecutive year the Louisiana High School Athletics Association (LHSAA), the Shreveport-Bossier Sports Commission (SBSC) and the CenturyLink Center teamed-up to host an excellent LHSAA State Wrestling Championships tournament.
Special thanks go to LHSAA Tournament Director Adam MacDowell, SBSC Executive Director Kelly Wells and past/present LHSAA Directors of Communication and Media Relations, Tiara Gibson and Kate Adams.
Just as important were Tracie Sonnier, Jennifer Macha and Bella Macha, who kept the tournament flowing impeccably.
Ten mats easily fit on the floor of Bossier City's CenturyLink Center
As in the previous year the awards ceremonies were held at the end of the 145 lbs. finals and the end of the 285 lbs. finals. This year, a new time-saving method was utilized, including wrestling on Friday not only through the quarterfinals, but through the consolation quarterfinals as well. Hence, on Saturday, after a few matches, call them "appetizers," which were not possible late Friday due to the "45 minutes between matches" rule, the semifinals were "soup", allowing the consolation semifinals to be "salad." The "main courses" were the consolation finals (3rd-6th places), not the finals as one might guess with this analogy, as the finals were "desert à la Commander's Palace." (The food motif works as these matches were held on Saturday, on which, after their morning weigh-ins, the wrestlers could eat.)
Swell, nifty, keen, neato and kewl other changes included the placement of media stands at the short ends of the mats, with another added on one side during the finals. The stands were great for photographers and people taking video.
Division I Champion:
Brother Martin Crusaders
Division II Champion:
Parkway Panthers
Division III Champions:
Basile Bearcats
Division I Runner-up:
Holy Cross Tigers
Division II Runner-up:
Teurlings Catholic Rebels
Division III Runner-up:
St. Louis Saints
Division I Outstanding Wrestler:




Cole Ulfers - 195 lbs. St. Paul's

Division II Outstanding Wrestler:




Morgan Manuel - 145 lbs. Rayne

Division III Outstanding Wrestler:




Gavin Christ - 145 lbs. Basile

St. Paul's junior Cole Ulfers was seeded only sixth but, due to a round-one loss by second-seeded Cameron Frederick of Brother Martin, only faced two seeded wrestlers on his way to the finals. He had not faced third-seeded Logan Heffner of Holy Cross, whom he defeated by a 19-3 Technical Fall in the quarterfinals. He breezed through his semifinals match in 0:23 and waiting for him in the finals was top-seeded Devon Clark of East Ascension. Clark defeated Ulfers in the consolation semifinals of the Louisiana Classic 3-2. But Ulfers dominated this match, winning 9-4.
Senior Morgan Manuel of Rayne won the 2018 Division II title as a #2 seed to Brett Schneider of Teurlings Catholic in a 12-7 finals. This year he was a #2 seed to Charles Travasos, also of Teurlings Catholic. The two were 2-1 prior to the state tournament. Travasos beat Manuel 5-3 in the Jacob McMillan finals. Manuel beat Travasos 7-1 for 3rd-place at the Ken Cole. Travasos broke the tie in the semifinals of the LA Classic, 6-2. After a forfeit Manuel recorded two falls to reach another state final, this one against Travasos. The result was the same, as Manuel defeated Travasos 8-6 for his second Division II title.
Basile senior Gavin Christ, aside from winning four consecutive Division III state championships, now also has three Division III Outstanding Wrestler awards. He won as a freshman in 2016 and again as a junior in 2018. This time, wrestling at 145 lbs., which was two weight classes above the 132 lbs. at which he competed in events including Division I and Division II wrestlers. No matter - Christ score falls in the first and quarterfinals rounds, scored a 17-1 Technical fall in the semifinals and scored a fall in 3:48 in the finals, against Ouachita Christian's Mikey Gordy, who was a 2018 state champion.
Chalmette's DaiJon Bibbs and Kyle Boell of Fontainebleau were competing for third place in the Division I 195 lbs. weight class when Bibbs accidently used an illegal move, injuring Boell to the extent he could not continue. In an example of outstanding sportsmanship Bibbs pushed Boell to the awards podium, at which time the other placers helped Boell get on the podium to receive his metal. Afterward, Bibbs pushed Boell to the post-awards area.

Photograph taken by Miss Anna Tedesco of Shreveport, for the

Louisiana Wrestling News

.
The ISC recognizes student-athletes who maintain excellent Grade Point Averages (GPAs) throughout their high school years. 2018-19 All-Academic Class has three members who maintained 4.0 GPAs. The remaining student-athletes maintains GPAs of 3.5 or higher.
Brody Gray of Northside, Ryker St. John of Haughton and Christian Satchell of Sam Houston maintained prefect 4.0 GPAs throughout high school. Gray (left two photos) placed 6th in the Division II 138 lbs. weight class. Satchell (right two photos) placed 1st in the Division II 132 lbs. weight class. Haughton's Ryker St. John (center photo, far right in red) went 1-2 in this event in the Division II 152 lbs. weight class, but posted a 10-5 during the 2018-19 season.
The entire ISC 2018-19 All-Academic Class of rocket scientists
| | | | | | | | | | |
| --- | --- | --- | --- | --- | --- | --- | --- | --- | --- |
| Name | School | Name | School | Name | School | Name | School | Name | School |
| William Broussard | Fontainebleau | Patrick Evans | Brother Martin | Hunter Hawkins | St. Amant | Daniel Tran | John Ehret | Brody Gray | Northside |
| Luke Eccles | Jesuit | Darren Ferrier | Jesuit | Lodge Fortenberry | Sulphur | Matthew Algero | St. Paul's | Christian Satchel | Sam Houston |
| Kevin Vicknair Jr. | St. Paul's | Logan Heffner | Holy Cross | Devon Teer | Dutchtown | Justin Mercantel | Fontainebleau | Ryker St.John | Haughton |
| Michael Lundin | Holy Cross | Brennan Sturm | Comeaux | Jack Grady | Jesuit | Caleb Mickelson | Zachary | Joe Houston | Teurlings Catholic |
| Andrew Wurtzel | Mandeville | Peyton Bass | Airline | Preston Barze | John Ehret | Wesley Brady | Zachary | Colton Sonnier | Teurlings Catholic |
| Hasham Warrich | Grace King | Alvin Diggs | John Ehret | Austin Firmin | Covington | Chance Jackson | Zachary | Conner Cloinger | Parkway |
| Gavin Bonilla | McKinley | Trey Aubert | Fontainebleau | Michael Clapp | Brother Martin | Luke Romano | Catholic | Zach Jenkins | Benton |
| Caleb Jackson | Zachary | Cameron Frost | Holy Cross | Severo Bernal | Grace King | Darren Holloway | McKinley | Juan Flores | Haughton |
| Omar Ibrahim | Caddo Magnet | William Teppenpaw | Bossier | Alex Lozano | East Jefferson | Ethan Bairnsfather | Rummel | Andrew Schifflin | Belle Chasse |
| Nicholas Warden | N. O. Military & Maritime | Zachary Toups | Haynes | Will Gage | St. Louis | David Duplechain | Hannan | Noah Berryhill | St. Louis |
| Michael Gordy | Ouachita Christian | Hassen Al Hassani | Haynes | Thomas Gaffney | Haynes | Gavin Burns | Haynes | Taner Morgan | Episcopal |
| Brad Boulet | Notre Dame | Bruce Arceneaux | Church Point | Jamar Brown | De La Salle | Gage Johnson | Basile | Kyle Guidry | St. Louis |
Color Guard and National Anthem
Prior to the finals a United States Marine Corps color guard was presented, and Evangel's Maya Kimmel sand the "Star Spangled Banner" to a very appreciating crowd.
For the first time in Louisiana wrestling history three brother won state championships in the same year. Freshman Evan, senior Cameron and freshman Jacob Frost pulled off the "hat trick" for Holy Cross in Division I. Honorable mention goes to Basile's Menier brothers, sophomore Alex and junior Blake, who each won championships in Division III.
As many state champions from all divisions were asked to pose for a photograph. Granted, not all were there, but nevertheless the ones who were seemed to be enjoying themselves.
Currently there are four wrestlers who have the possibility to win four state championships.
Freshman Evan Frost of Holy Cross - Division I

Frost, only a freshman, went undefeated this season in Louisiana and Florida. Evan defeated Jesuit senior Sam Dreuil 7-3 to win his first Division I state championship at 106 lbs.
Freshman Jacob Frost of Holy Cross - Division I

Frost, another freshman (he and Evan are twins), went undefeated in Louisiana As an eighth-grader Frost was a Division I runner-up. This season he defeated Brother Martin's Ethan Castex 5-0 in the finals.
Freshman Glenn Price of Shaw - Division II

Price surprised a lot of people with two wins over Parkway's Jacob Keeler. Of his five losses, one was a two-point decision by Jesuit senior Sam Dreuil, whom he also defeated twice. Two were to Brother Martin's Eric Devenport, 3-2 both times. One was a 9-8 loss to Division III state champion Alex Menier of Basile.
Sophomore Alex Menier of Basile - Division III

Menier is two-for-two re high school state championships. This season he defeated Bonnabel's Sergio Maldonado, Comeaux's Seth Menard and Shaw's Glenn Price.
Junior Alex Yokubaitis of St. Louis - Division III

Yokubaitis is well on his way. A senior this year, he won as a freshman via an 11-2 Major Decision, as a sophomore 12-5 and this year via a 15-0 Technical Fall.
Robert Dauterive
Brother Martin Wrestler and Coach
| | |
| --- | --- |
| | |
| In 2012 the New Orleans Times-Picayune chose Dauterive as the GNO-Metro Coach of the year. | Coach Robert Dauterive in a rare quiet moment. |
With 19 Division I state team championships, Brother Martin only trails Jesuit's 22 in the modern era (starting in 1971 when only one wrestler per team could participate in the state championships). Robert Dauterive coached 10 of those teams. He won three from 2000-2002 before retiring for the first time. He came back in 2012 and won seven more, only losing once in 2017. Dauterive expected the most out of his wrestlers, and usually he got it. Not one to hide his emotions, he was booted from his own Trey Culotta Invitation at least once. No matter though, as he always hired a great staff of assistants to help him. When the Louisiana Wrestling Hall of Fames gets new batteries to at least get back on life-support, Dauterive is a "lock."
Dauterive was also formidable on the mats for the Crusaders in the 1982-83 and 1983-4 seasons under coach Ray Charboneau.
In the 1982-83 season he pinned assistant Brother Martin coach Carlos Bertot on December 1st. He won the De la Salle "Big 8." He placed 6th at the Lee High Invitational and placed second at the 11-5A District tournament, qualifying him for the state championships, in which he placed 4th.
In the 1983-84 season Dauterive defeated De la Salle's Mike Leblanc 3-2, although Leblanc went on the win the state championship. He defeated Jesuit sophomore Chris Gasser 3-1, who would win a Blue Jay state championship two years later. He placed second at the De la Salle "Big 8" and won the Tiger Invitational.
Gavin Christ
Four-time State Champion for Basile
(Left): Basile's Gavin Christ accepts the 2019 Division III Outstanding Wrestler award. It was his third such honor, having won as a freshman in 2017 and a junior in 2018. He has been considered the best wrestler in the state during the last two seasons. (Center): Christ receiving the Outstanding Wrestler award at the Trey Culotta Invitational. (Right): Christ accepts the Outstanding Wrestler award at the Louisiana Classic
Wrestling for Basile since the seventh-grade, Christ won state championships in each of his high school years, from 2017 to 2020, while losing only three matches. In the last two seasons, Christ has been undefeated in Louisiana and in other states during the high school wrestling "off-season."

Generally very modest, Christ cannot be blamed for exhibiting a little bravado after his last high school tournament due to the psychological effects of winning as many events and awards as he has in his career.

Christ will attend Campbell University in Buie's Creek, North Carolina, about 30 miles south of Raleigh.
| | |
| --- | --- |
| | Gavin's father and the editor successfully plotted to get Mr. Jimmy Vidrine to come to the finals of the Ken Cole Invitational, where he was overwhelming welcomed by Comeaux coach Keith Bergeron and the entire crowd. Mr. Vidrine was a five-time state champion for the Bearcats, winning consecutive championships from 1960-1964 over wrestlers from Holy Cross three times and Jesuit once (the 1960 runner-up is not known). |
Mr. Vidrine deserves more photos on this Website, but at least one of the photographs below were published just for the vanity of the other(s) in the photographs.
| | | | | |
| --- | --- | --- | --- | --- |
| | | | | |
| With Kevin Bushnell and Gavin Christ | With the LWN editor | Doffing his hat to the crowd | Coaching the future of wrestling | With current Bearcats |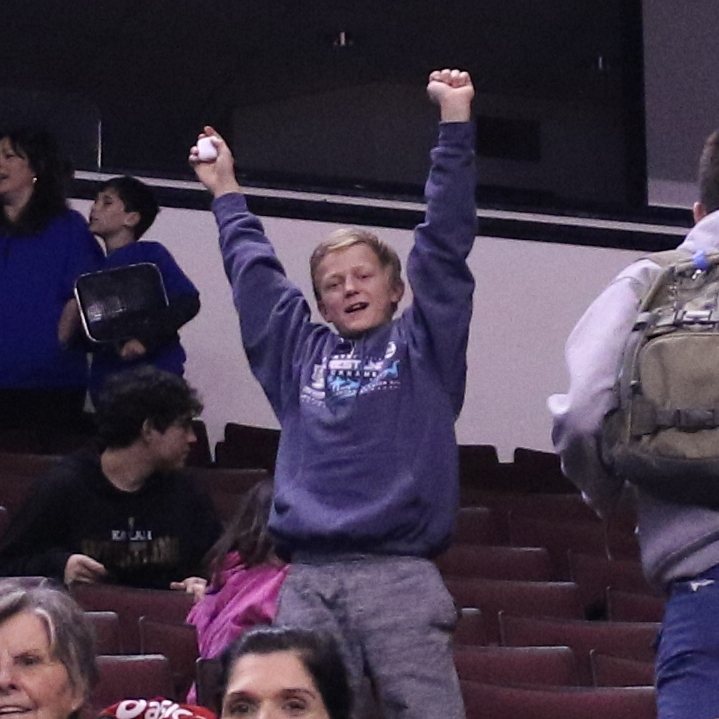 GABE IN THE HOUSE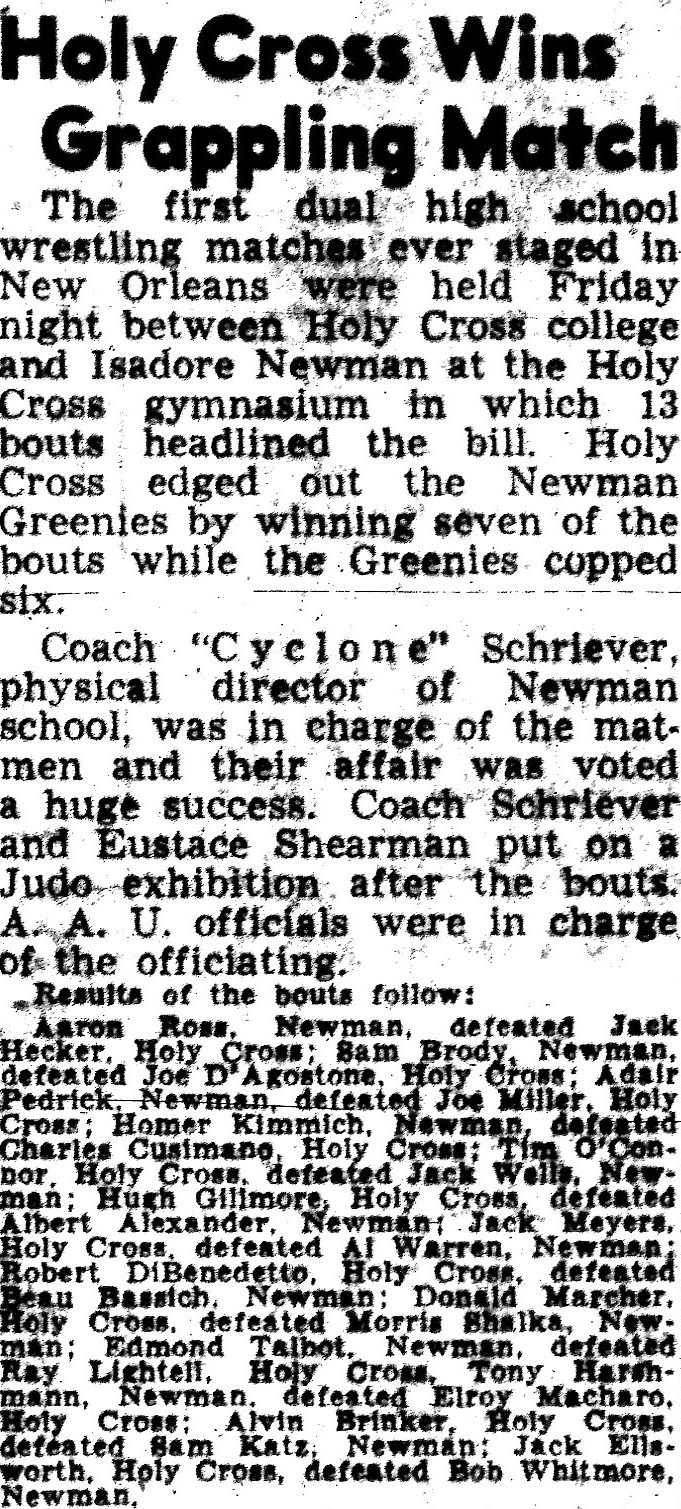 03/04/1944
Thirteen matches took place. Holy Cross won seven and Newman won six.

| | | |
| --- | --- | --- |
| | | |
| 03/07/1969 | 03/08/1969 | 03/09/1969 |
1969 was the first of three De la Salle Division I state championships under coach Pat McArdle

| | | |
| --- | --- | --- |
| | | |
| 02/13/1994 | 02/13/1994 | 02/13/1994 |
This was Jesuit's 15th Division I state championship

Saturday, February 14, 2009
Sunday, February 15th, 2009

| | | | |
| --- | --- | --- | --- |
| St. Paul's | Jesuit Lurks | Shaw Inspired | Fine Print |
| 02/14/2009 | 02/14/2009 | 02/14/2009 | 02/14/2009 |
| | | | |

Jesuit Wins

Holy Cross &




Brusly Win

Notes
Fine Print
02/15/2009
02/15/2009
02/15/2009
02/15/2009
Jesuit won their 23rd Division I title, Holy Cross won their 1st Division II title and Brusly won their 7th Division III title to go with their two Division II titles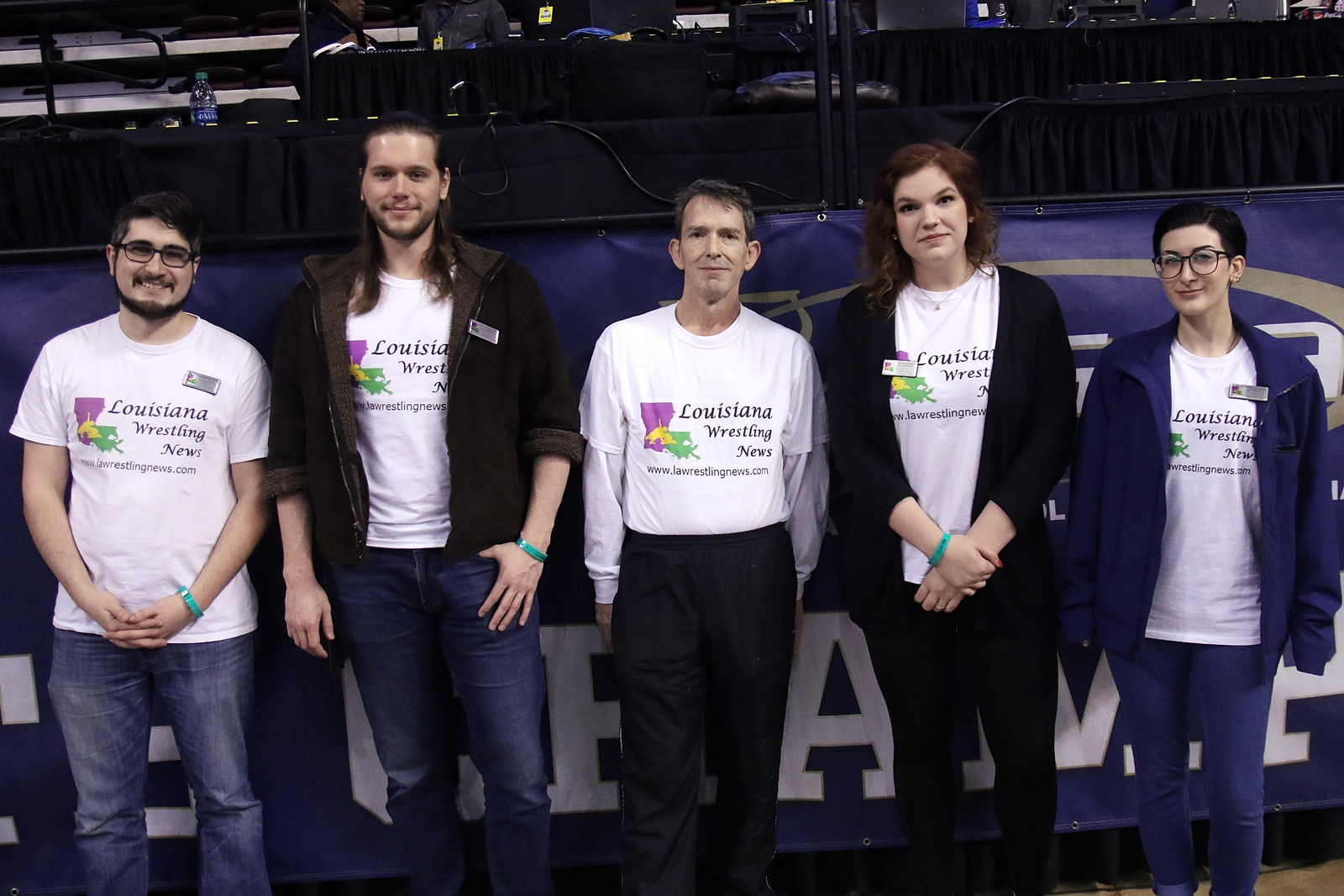 | | | | |
| --- | --- | --- | --- |
| | | | |
| Emily Hamman - 4th year and fearless leader | Jonathan Belaire, 1st year and Anthony Benedetto - 2nd year | Anna Tedesco - 3rd year | Still does not read manuals |
This Website would not be possible without the 15,000+ photographs these people send home with the editor. They are tireless, sometimes devious, but committed to getting the best action and candid shots they can find. Go Caddo Magnate Mustangs!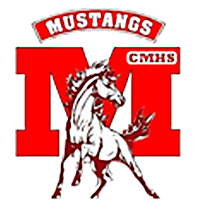 ---
© 2019 by Louisiana Wrestling News
You may not make electronic copies of these copyrighted materials nor redistribute them to 3rd parties in any form without written permission.