| | | |
| --- | --- | --- |
| | | Fini |
---
USMC Sunday Junior freestyle results
June 14th-15th, 2019 | Written by: Editor
| | |
| --- | --- |
| The tournament brackets and standings may be found on | |
The freestyle events will start on Sunday, July 14th, and finish on Wednesday, July 17th. The Greco-Roman events (boys only) start on Wednesday, July 17th and end on Friday, July 19th.
Please click on this line to view the tournament schedule in PDF format
With apologies, the editor thought Rummel's Jacob Ramirez was wrestling in the Cadet class in the freestyle competition. As such, he proved difficult to find in that category. He actually competed at 138 lbs. on Sunday along with Peyton Bass and Trent Mahoney.
Ramirez lost his first match 12-2 TF against Oklahoma's Cade Manion, who placed third in the Class 6A Oklahoma state championships. Next he faced Elijah Marques, a 2019 Class 2A eighth-placer from Washington. Leading 12-10, Ramirez gave up a fall to Marquez in 2:31. Sunday's updated results may be found below.
On Tuesday the Women's Junior Nationals tournament will begin, and C.E. Byrd's Kylie Davis, who will enter her senior year in August, will be wrestling for Team Arkansas.
On Thursday the Junior Greco-Roman event will commence, and will include former Live Oak wrestler Camdyn Ingram, who placed second in the Cadet Greco-Roman Nationals in 2018.
Monday, June 15th, 2019
Trent Mahoney's run in the 145 lbs. freestyle Junior Nationals came to an end Monday morning against Payne Carr of Kentucky via a 12-2 TF. Mahoney's tournament record was 3-2, and along the way he defeated state champions from South Carolina and Nebraska.
Wrestler
Weight
Year
Last School Attended
Day 1 Results
Day 1 Record
Day 2 Results
Day 2 Record
Tournament
Record
Trent Mahoney
145
Senior
East Ascension

Win: Ryan Dobbs - South Carolina 12-2 TF




Loss: Blake Saito - Ohio 27-17


Win: Jose Cervantes - Oklahoma 21-21
Win: Kaleb Canoyer - Nebraska injury at 0:37
3-1
Loss: Payne Carr - Kentucky 12-2 TF
0-1
3-2
The USMC Junior Nationals freestyle competition began on Sunday at the Fargo Dome in North Dakota. Representing Louisiana were Airline High School stand-out and twice Division I runner-up Peyton Bass at 126 lbs. and two-time defending Division I East Ascension High School state champion, Trent Mahoney, competing at 145 lbs.
After four tough matches, in which he was outscored 56-55, Mahoney notched a 3-1 record and will compete again on Monday.
Bass had a tough opponent from the start in Washington's Chase Randall, whom he lost to 12-1 TF. Bass next faced Ty Moose of Greenwood High School in Arkansas. Moore, who won a 5A Arkansas state championship in 2019, defeated Bass in a 12-2 TF. Moose once a Live Oak Wrestling Club member. In the photo below are, from left to right: Moose, Jared Rupert and Christopher Marson.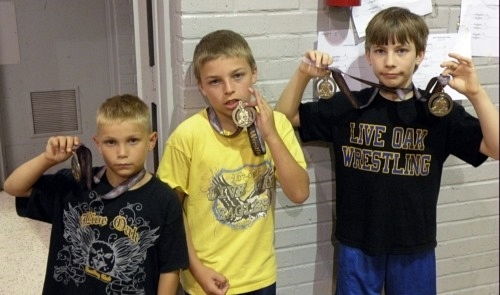 (Photo compliments of Mike Marson.)
Mahoney also started against a 2019 state champion, Ryan Dobbs of South Carolina. But Mahoney gave little credence to the caliber of his opponent and defeated Dobbs via a 12-2 TF. In the "Round of 64" Mahoney met Blake Saito of Ohio. Saito placed third in the Division I Ohio state championships. The match was tied 17-17 with about two minutes remaining, but it appeared Mahoney might have been winded as Saito took him down and rolled him over three times to get eight points, leading to a 25-17 win.
In his first consolation match (Consolation Round 64 #2) Mahoney faced Jose Cervantes, a 6th-place finisher at the 6A Oklahoma East Regionals. Nobody can afford to take any successful Oklahoma wrestler lightly. Cervantes scored 21 points against Mahoney. Luckily, Mahoney scored 21 points against Cervantes, and won via criteria. Mahoney may give away a lot of points at times, but he can also score a lot "in the blink of an eye."
Next up for Mahoney (Consolation Round 32 #1) was Nebraska's Kaleb Canoyer, a 2019 state champion, like Mahoney, at 152 lbs. Canoyer scored a takedown first but Mahoney countered with a one-point reversal and turned Canoyer for a 3-1 lead. On the restart Canoyer scored on a very strong double-leg and exposed Mahoney's back, netting the Nebraska state champion four points and a 6-3 lead. Mahoney dived for an ankle on the next restart, catching Canoyer and causing him to twist as he fell to the mat. Mahoney was behind on 6-5 now, but during Canoyer's fall, he twisted a knee and was unable to continue. Only 37 seconds had passed, and with 11 points being scored in that amount of time, there is no way to tell which wrestler may have won a full six-minute match. Regardless, Mahoney moved the next round (Consolation Round 32 #2). There he will face Kentucky's Payne Carr, who placed third in the 2019 Kentucky state championships.
Sunday's Junior Freestyle Results
Wrestler
Weight
Year
Last School Attended
Day 1 Results
Record
Peyton Bass
126
Graduated
Airline

Loss: Chase Randall - Washington 22-12 TF




Loss: Ty Moore - Arkansas 17-6 TF

0-2
Jacob Ramirez
138
Junior
Rummel

Loss: Cade Manion - Oklahoma 12-2 TF




Loss: Elijah Marquez - Washington Fall in 2:31

0-2
Trent Mahoney
145
Senior
East Ascension

Win: Ryan Dobbs - South Carolina 12-2 TF




Loss: Blake Saito - Ohio 27-17


Win: Jose Cervantes - Oklahoma 21-21
Win: Kaleb Canoyer - Nebraska injury at 0:37
Next: Payne Carr - Kentucky (match # 1715)
3-1
Trent Mahoney during and after his 21-21 criteria win over Oklahoma's Jose Cervantes.
Trent Mahoney over Kaleb Canoyer of Nebraska via an injury default.
---
© 2019-20 by Louisiana Wrestling News
You may not make electronic copies of these copyrighted materials nor redistribute them to 3rd parties in any form without written permission.