| | | |
| --- | --- | --- |
| | | Fini |
---
Central High School of Baton Rouge seeking new head coach
July 8th, 2019 | Written by: Editor

Central High School in Baton Rouge is seeking a new head coach to lead the Wildcats in the 2019-20 season. The Wildcats have been competing on the mats since 1995 and produced three-time Division II state champion Austin Gouedy (2015-17). Gouedy had a runner-up finish in 2014, as did Tyler Fontenot in 2017. The Wildcats joined Division I in 2018.

Whomever ascends to the head coaching position will start off with two distinct advantages. Assisting will be 2018 fourth-place finisher Brayden Wilson, who should be well known by existing Wildcat wrestlers. However, their "ace in the hole" is Mark Moreau, the former Zachary head coach, who will also be an assistant coach. Moreau coached Zachary from 2000 to 2017. In that period, he led the Broncos to three Division II runner-up finishes and coached 12 Broncos to 21 Division II state championships. In 1979 Moreau placed third in Division I for Redemptorist.

Last season the Wildcats had 24 wrestlers on their roster and only lost two to graduation. Eight Wildcats will be returning this season with state championship experience, and the Wildcats will be a fairly young team. If the 2018-19 roster returns, it will include seven seniors to provide leadership. But it will also have seven juniors, eight sophomores and an undetermined number of freshman from the Central USA Wrestling club, which will give the new head coach plenty with which to work.

Interested parties should contact Athletic Director, Sid Edwards at eedwards@centralcss.org, Assistant Athletic Director Frank Fresina ffresina@centralcss.org

or P

rincipal Brandon Lagroue at blagroue@centralcss.org.

Central High School is located at: 10200 E Brookside Drive, Baton Rouge, LA 70818

. The telephone number is: (225) 261-3438

.

Click on the image below for a larger map: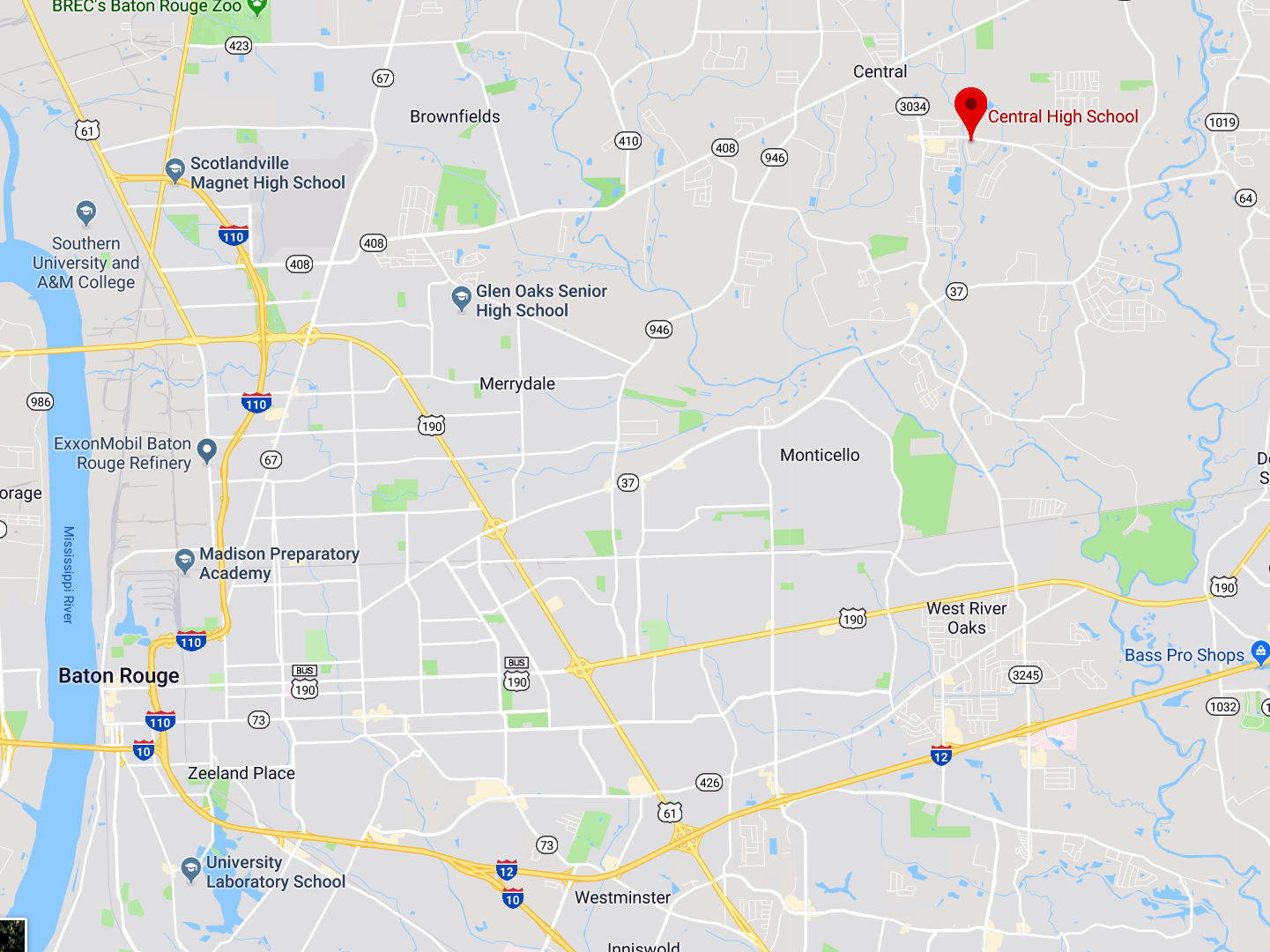 ---
© 2019-20 by Louisiana Wrestling News
You may not make electronic copies of these copyrighted materials nor redistribute them to 3rd parties in any form without written permission.