| | | |
| --- | --- | --- |
| | | Fini |
---
Brother Martin's Patrick Evans wins coveted 2019 Dave Schultz High School Excellence Award
July 5th, 2019 | Written by: Editor
[Information in quotation marks and the official photograph originated on the Brother Martin Website]
"Information derived from National Wrestling Hall of Fame Press Release.
Patrick Evans '19, a two-time State Champion, received this year's Dave Schultz High School Excellence Award for the state of Louisiana.
The National Wrestling Hall of Fame on Thursday announced the state and regional winners of the Dave Schultz High School Excellence Award (DSHSEA). The DSHSEA recognizes and celebrates the nation's most outstanding high school senior male wrestlers for their excellence in wrestling, scholastic achievement, citizenship, and community service.
The state winners are evaluated and selected on the basis of three criteria: success and standout performances and sportsmanship in wrestling; review of GPA and class rank, academic honors and distinctions; and participation in activities that demonstrate commitment to character and community.
Congratulations to Patrick for this outstanding honor! We are so proud of your hard work as a top-level student and athlete with our Wrestling program, but most of all your representation of Brother Martin High School and the state of Louisiana. Patrick will attend the University of Virginia in the fall to continue his academic and wrestling career."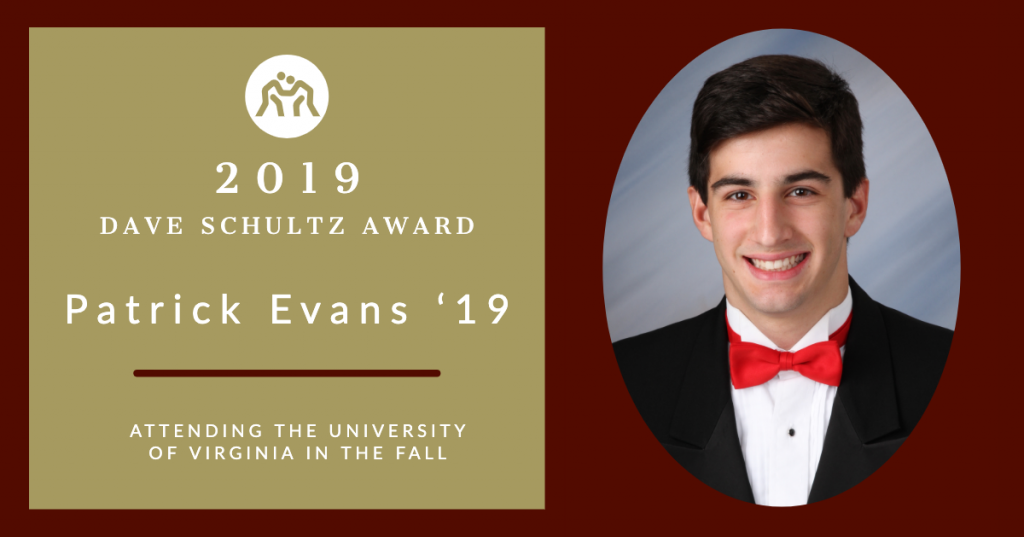 The following is from research on the Louisiana Wrestling News and TrackWrestling Websites:
Evans is the sixth Crusader to win the coveted award, joining Richie Dixon (2001), Joe Gulotta (2002), Nick Shields (2008), Paul Klein (2015) and Steven Shields (2017).
Evans is a three-time Division I finalist and two-time Division I state champion. He won the Louisiana Classic in 2017 as a sophomore and 2018 as a junior.
His senior year was cut short via an injury at the Trey Culotta Invitational on December 22nd, 2018 and Evans settled for a runner-up finish as he could not compete in the finals. At that point he was 9-0 against Louisiana competition and 17-0 overall, having won the Cinco Ranch "Big 12" in Katy, Texas. Evans did not compete again until the 2019 LHSAA State Wrestling Championships on February 8th, 2019. In the first round of the state tournament Evans opened with a first-period fall in 1:36, followed by a second round 17-2 technical fall. He scored a 15-0 Technical fall in the quarterfinals and advance to his third consecutive Division I finals match with a fall in 5:27. In the finals he defeated St. Paul's junior Ben Davidson 7-1.
In his junior year Evans went 27-0 against Louisiana opponents and defeated his Division I state finals opponent by an 11-2 major decision. That year Evans won the Mandeville Open, the Cinco Ranch "Big 12", placed second to an out-of-state opponent in the Trey Culotta, won the Blackhorse Invitational in Tennessee and the GNO Catholic League Championships prior to winning his first Louisiana Division I state championship.
As a sophomore Evans was 33-2 against Louisiana competition and was a Division I runner-up in the state championships. He won the Cinco Ranch "Big 12," Trey Culotta Invitational, the Blackhorse Invitational and the Louisiana Classic.
He went 19-2 as a freshman and won the Dale Ketelsen Memorial tournament. He did not compete in his freshman year at the Louisiana state championships.
Like his brother Daniel before him, Patrick Evans was nothing if not a "class act" on and off of the mats. He will be competing for the University of Virginia Cavaliers, an NCAA Division I school, during his freshman year as a in 2020-21.
| | | |
| --- | --- | --- |
| | | |
| 2017 Trey Culotta | 2017 Louisiana Classic | 2018 Trey Culotta |
| | | |
| --- | --- | --- |
| | | |
| 2018 Louisiana Classic | 2018 State Championships | 2018 State Championships |
---
© 2019-20 by Louisiana Wrestling News
You may not make electronic copies of these copyrighted materials nor redistribute them to 3rd parties in any form without written permission.