| | | |
| --- | --- | --- |
| | | Fini |
---
Excellent wrestling weekend in Louisiana, Oklahoma and Arkansas
December 16th, 2019 | Written by: Editor
December 13th-14th, once days the editor would spend in bed after his birthday (but still time enough to buy a third birthday cake this year), were something else in 2019 as far as Louisiana wrestling goes. Louisiana wrestlers won in Oklahoma and Arkansas. One team learned they were fallible and another learned they really were February contenders. And a kid set a wins record which, to match, would have required the editor to spend 7.2 years in high school
St. Paul gave the Brother Martin Crusaders only their first dual meet loss to a Louisiana team since a January 11th, 2017, 33-28 loss to Jesuit. Prior to that it was 2011 when Brother Martin last lost a dual meet to a Louisiana team (also to Jesuit).

Until the photo editing is finished and a larger article comes out, one should default to Louisiana's top-two teams do not disappoint: St. Paul gets the best of Brother Martin 34-29 for more information on this match.
In a match with several unexpected results it was St. Paul junior Carter Duet who gave the Wolves the sole point they needed to ensure at least a tie with the defending Division I state champion Brother Martin Crusaders. Duet, who did not place in the 2019 state tournament, albeit it took a soon-to-be and a former state champion to "knock him out," scored a 10-0 major decision over Brother Martin's Jake Spellman, giving the Wolves the one extra point they needed to prevent, after an expected pin by Michael Raider for the Wolves, very possible pins by the Crusaders' Ethan Castex and Connor Hoffman to tie the match.

Kudos also go to Grant Nastasi (photo far right) who, after Castex pinned his St. Paul opponent, took Hoffman to a Sudden Victory period before falling to the 2018 Division I state champion 9-7. A pin by Hoffman would have tied the score 33-33, albeit St. Paul would have won via winning eight matches to six and the reduction of a team point due to unsportsmanlike conduct attributed to Brother Martin.
St. Amant breaks the Zachary Big Horse while Chalmette flexes their muscles
Ty Didier (113 lbs.), Jacob Cardwell (132 lbs.) and Corey Brownell (138 lbs.) led the St. Amant Gators to an 8.5 point victory over runner-up Chalmette at the 2019 Zachary Big Horse tournament. Cole Comeaux and Jace Chenevert placed second as the Gators scored 179.5 points for the win. Chalmette, who scored 171 points and was a week removed from winning the George Trygg Memorial, had "bookend" champions in Anthony Perez at 106 lbs. and Jaden Ben at 285 lbs. East Ascension, who placed third, had three champions: Josiah Wakefield at 145 lbs. and the Mahoney brothers, Brad at 145 lbs. and Trent at 170 lbs. Baton Rouge champions were Jarin Meyer at 182 lbs. and Axel Encalada at 220 lbs. Live Oak's champions were Clayton Hill at 126 lbs. and Anthony Dodson at 152 lbs. while David Cuccia was the sole winner ate 120 lbs. for Fontainebleau.
Clayton Hill and Jaden Ben were voted the outstanding wrestlers of the tournament.
| | |
| --- | --- |
| | |
| 2019 Zachary Big Horse tournament champions: the St. Amant Gators | St. Amant champions (left-to-right in light blue sweat tops) Jacob Cardwell, Corey Brownell and Ty Didier |
(Photos stolen from Ashley Nagin via Facebook.)
Trent Mahoney breaks Cody Hill's Louisiana wins record at Big Horse
East Ascension senior and two -time Division I defending state champion Trent Mahoney set another Louisiana record on Saturday, his second in three weeks.
On November 20th Mahoney set a new Louisiana High School pins record of 148, besting the previous record of Ben Willeford of St. Michael, set in 2010.
Saturday, in his first match of the Zachary Big Horse Tournament, Mahoney surpassed Live Oak's Cody Hill's mark of 242 wins set in 2014 with the 243rd of his career. Cody's father Norv Hill was there to represent the Hill family since Cody's recent passing to Rummel.
| | |
| --- | --- |
| | |
| Video with Zachary coach J.P. Pierre and Live Oak coach Norv Hill (Cody Hill's father). | Trent Mahoney broke the all-time Louisiana high school wrestling wins record with his 243rd. |
The video above is an MWP file. Below are other video file formats which may play the video or download the video to your device:

Heading into a dual meet Wednesday against Terrebonne and then the Beast of the East tournament in Delaware this weekend, Mahoney now has 244 wins and 162 falls. Currently he has a record of 31-0 and has won the St. Michael Warrior Open, the Lakeshore Invitational, the Dutchtown Griffin Open, the Spartan Invitational and the Zachary Big Horse.
Brother Martin wins their eighth consecutive Jefferson/Billy Duplessis Invitational
The Brother Martin Crusaders were pushed by Hahnville but survived to win their eighth consecutive Jefferson/Billy Duplessis Invitational by one point, 147 to 146. Crusader champions were Kent Burandt at 113 lbs., Evan Hope at 145 lbs. and Rocco Horvath at 152 lbs. Of the remaining five Crusaders wrestler entered, one placed second and the other placed third.
| | | |
| --- | --- | --- |
| | | |
| 1st Place Brother Martin Crusaders | Runners-up Hahnville Tigers | OW Logan Brimmer |
Hahnville entered 11 wrestlers and had champions in Shannon Summers at 170 lbs. and Logan Brimmer at 220 lbs. The Tigers had three runners-up and three third-place finishers. Brimmer was chosen the tournament's Outstanding Wrestler after pinning his opponents in 3:26 and 0:53.
In the other nine weight classes. Mandeville had three champions: Cameron Prejean (scion of Brusly state champion and long-time official Alan Prejean) won at 106 lbs., Patrick Rowan prevailed at 132 lbs. and Roman Davis won at 160 lbs. Third-place finisher Lakeshore also had three champions in Hunter Williams at 120 lbs., Dominic Spizale at 126 lbs. and Zachary Bernard at 285 lbs. Winning a second title for Hahnville was Shannon Summers at 170 lbs. Grace King also had two champions in Mannam Rama at 182 lbs. and Harris Warrick at 195 lbs. The 138 lbs. weight class was won by Thomas Jefferson's Jace Jordan.
Holy Cross prevails at Jacob McMillan Memorial
With six champions, a runner-up and a third place winner, some teams do not need 14 wrestlers to win a tournament. Holy Cross did just that with eight wrestlers, besting a runner-up Teurlings Catholic full team by 43 points to win the Jacob McMillan Memorial
Brandon Gainey (106 lbs.), Evan Frost (113 lbs.), Jacob Frost (120 lbs.), Charles Sauerwin, III (132 lbs.), Caruso Signorelli (138 lbs.) and Cameron Doyle (145 lbs.) won titles for the Tigers while Cole Baiamonte (285 lbs. placed second and Jake Romig (160 lbs.) placed third.
Alex Yokubaitis (126 lbs.) of St. Louis Catholic and Jacob Yawn (152 lbs.) of C.E. Byrd were voted the tournament's Outstanding Wrestlers.
Aside from the Holy Cross winners and the two OWs, championships were won by, from 160 lbs. onward, Hunter Gustin of Sulphur, Vaughn Romero and David Bernard of Teurlings Catholic, Jace Dufresne of Sulphur, Gabe Duplechin of Basile and Donald Paul of Comeaux.
| | |
| --- | --- |
| | |
| 2019 Jacob McMillan champion Holy Cross Tigers | C.E. Byrd's winners Bailee Creasey (2nd), Jacob Yawn (1st and OW), Mathew Born (1st at Evangel) and Logan Lewis (3rd) |
(Photos stolen from Annabelle Signorelli via Facebook.)
North Desoto routes Arkansas 2019 Class 5A state champions, then wins Bring the Hammer Pools Tournament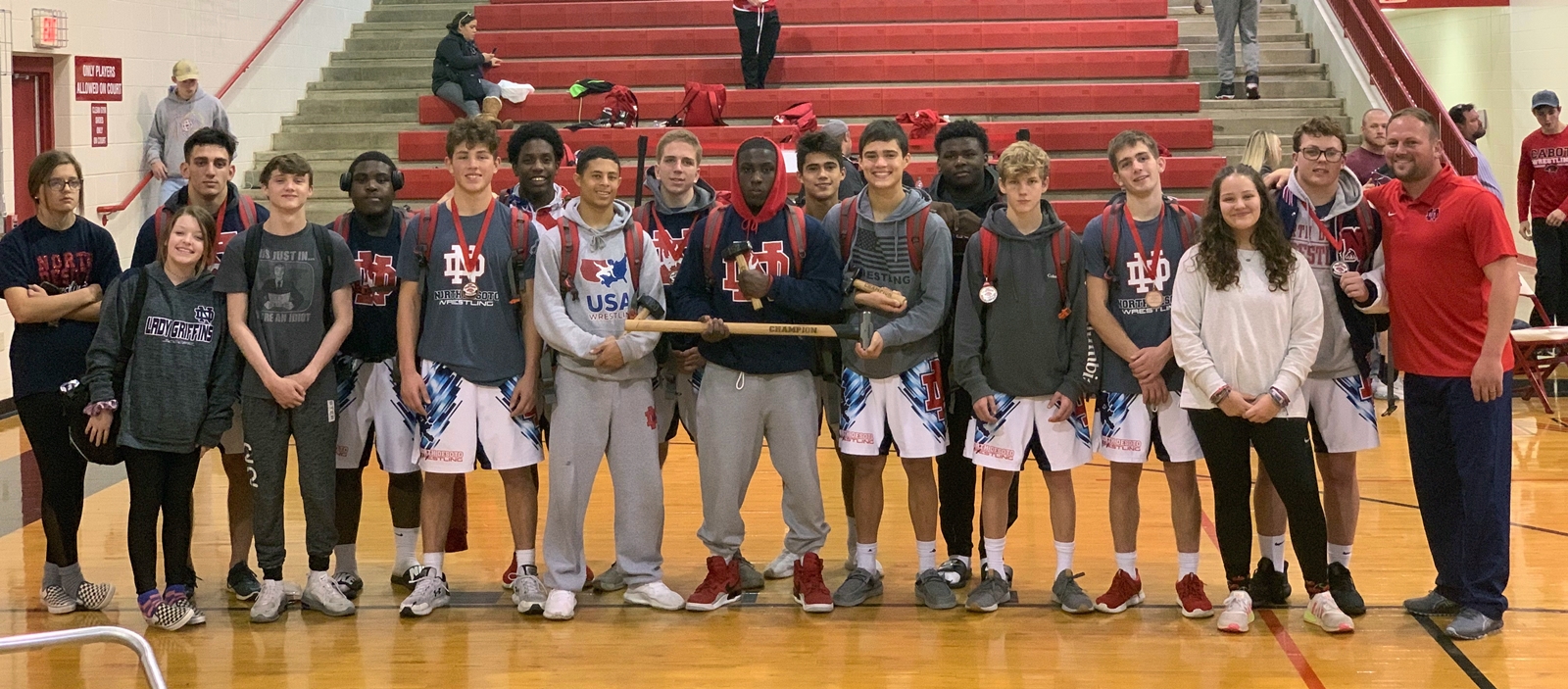 North Desoto dominated Arkansas 2019 5A state champion Searcy 59-21 and on Saturday won the Bring the Hammer Pools tournament in Cabot, Arkansas. Joshua Sarpy, Logan Ferguson and Richard Mack, III won their weight classes and the Griffins won the event by 49 points over runner-up Poplar Bluff, Missouri.
The Griffins will be travelling to Delaware for the Beast of the East this weekend.
John Curtis wraps up Evangel Christmas Classic
John Curtis scored 89.5 points to runner-up Evangel's 81 to claim the Evangel Christmas Classic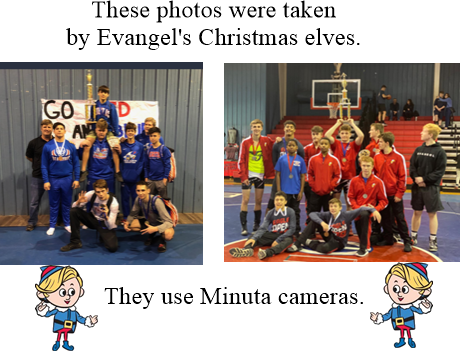 Jesuit takes six championships at home event
Six Blue Jay wrestlers placed first and 14 others placed in the top five as the Jesuit Invitational gave a lot of mat time to kids who needed it or just needed a brief respite from previous events.
The winners from 106 lbs. to 285 lbs. were Garrett Derbes of Jesuit, Max Holmes of Jesuit, Carter Burgess of Rummel, Christopher Massey of Jesuit, Francisco Castro of Belle Chasse, Jacob Ramirez of Rummel, Winters McConnell of Jesuit, Kyle Kersker of St. Paul, Leo Savoie of Belle Chasse, Ethan Dixon of Hahnville, Ty Martinez of Belle Chasse, Ian Lyons of St. Paul, Joseph Barnett of Jesuit and Kennith Jackson III of De la Salle.
Airline's Perry remains undefeated after winning Mid-America Nationals
Airline freshman Ernie Perry, III finally lost a match this season. He did so in a 26-man bracket at the Mid-America Nationals held at the Stride Bank Center in Enid Oklahoma. Perry's loss came via a 9-0 major decision by Braden Potts of Tuttle, Oklahoma, in the semifinals, but he rebounded against Arlington-Martin, Texas' Shawn Ryncarz 7-1 to place third.

Perry is now 13-1 with tournament wins at the St. Michael Warrior Open, the Riot on the Red, the Arlington-Martin Warrior Invitational. Quality wins in Louisiana include matches over Shaw's Hayden Tassin (16-0 TF) and Parkway's David Viers (fall in 3:31). Of his 13 wins, eight have come via falls and none of the other were by less than six-point margins.
---
© 2019-20 by Louisiana Wrestling News
You may not make electronic copies of these copyrighted materials nor redistribute them to 3rd parties in any form without written permission.