| | | |
| --- | --- | --- |
| | | Fini |
---
2020 State Wrestling Championships - Division I 138 pounds
April 15th, 2020 | Written by: Editor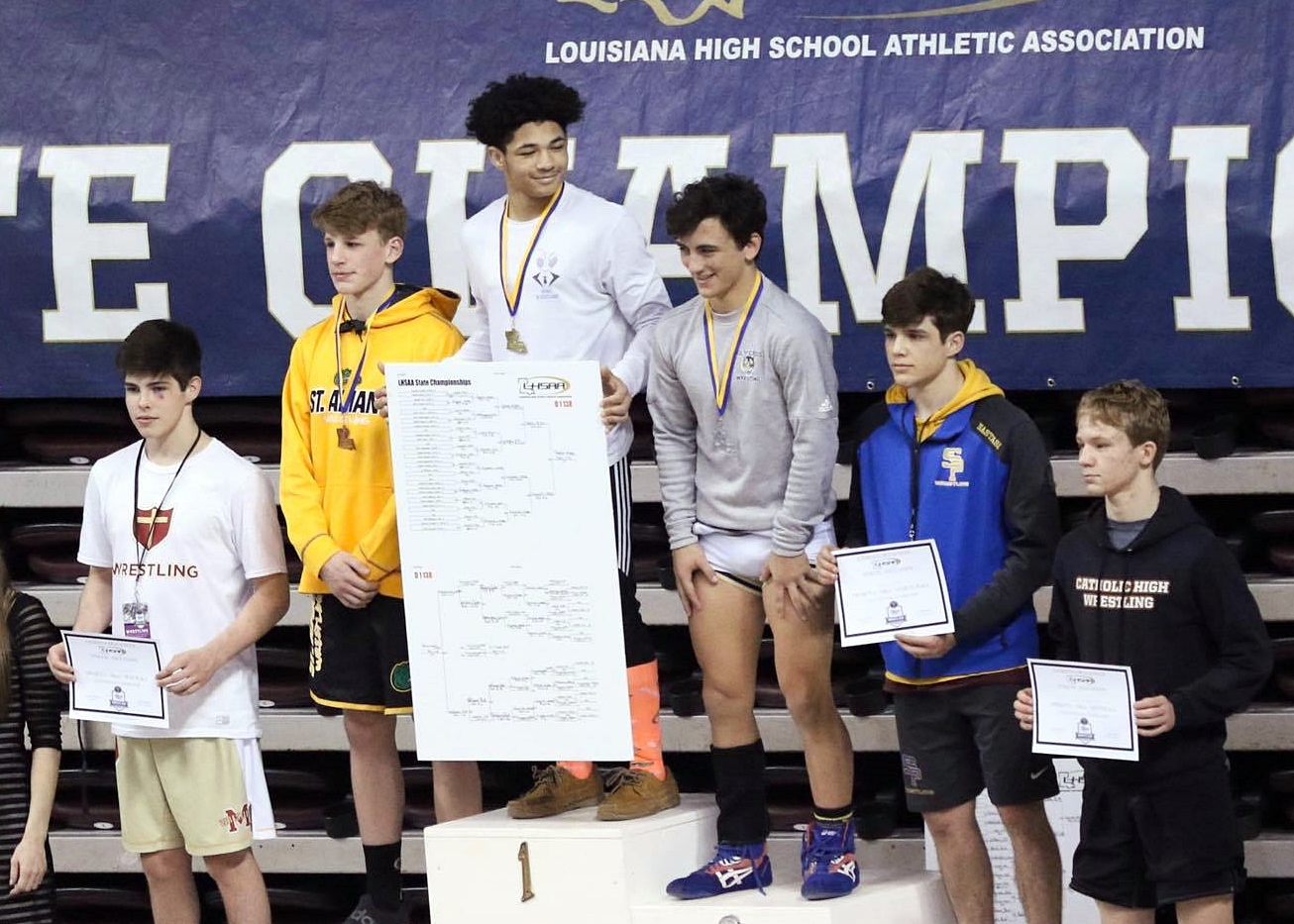 C.E. Byrd's Demetri defeated Caruso Signorelli 7-5 to win the Yellowjackets their first state championship since Quinn Gilliam in 2014
| | | | | | | |
| --- | --- | --- | --- | --- | --- | --- |
| Photo | | | | | | |
| Place | 1 | 2 | 3 | 4 | 5 | 6 |
| Name | Demetri Teddlie | Caruso Signorelli | Corey Brownell | Grant Nastasi | Quinn Williams | Martin Helouin |
| School | C.E. Byrd | Holy Cross | St. Amant | St. Paul | Brother Martin | Catholic |
| Seed | 1 | 3 | 2 | 4 | 7 | 7 |
| Final Record | 58-2 | 26-6 | 62-5 | 35-9 | 40-10 | 27-14 |
| Grade | Senior | Senior | Senior | Sophomore | Junior | Senior |
Synopsis
Byrd's Demetri Teddlie looked to be the best 138 lbs. Wrestler until the Ken Cole Memorial, where he blew an 11-2 first period lead over Rummel's Jacob Ramirez via a third-period fall. Aside from that, only St. Amant's Jaden Snyder defeated him 10-7 in a dual meet, but that was at 145 lbs. at which he only wrestled twice after November 23rd. Teddlie won the Warrior Open, the Riot on the Red, the Griffin Open, the Spartan Invitational, The Lone Survivor, the Big Cat Brawl, the Northwest Louisiana Regionals and the Shreveport City Championship. He placed second at the Trey Culotta (to a Georgia state champion) and at the Ken Cole Memorial.
Teddlie started his state championship with a round-one 16-1 Technical Fall, followed by a round-two pin in 1:20. He scored a 19-2 Technical Fall in the quarterfinals before a tougher semifinals match, 8-2, over fourth-seeded Grant Nastasi of St. Paul.
His opponent in the finals was third-seeded Caruso Signorelli of Holy Cross, who had been to the finals in his freshman and sophomore years. Signorelli won the Jacob McMillan Memorial and placed second at the Brusly 8, the Louisiana Classic and the Catholic League District Championship. Signorelli suffered an injury in the Brusly 8 finals and had to forfeit against St. Amant's Corey Brownell. Brownell was the second-seed. Signorelli scored two first period falls of 0:57 and 1:54 in his first two matches. He pinned his quarterfinals opponent in 5:56 and then had a full match against Brownell, which Signorelli won 8-6.
Early Rounds
R2: Seth Lewis (FNT) defeated Jamarius Koshko (EA) 9-8
Quarterfinals, Semifinals
Apathy and avarice on the part
of two entities have prevented completing a
comprehensive pictorial article on the 2020
Louisiana state wrestling championships.
Early Consolation Rounds
C2: Jamarius Koshko (EA) pinned Patrick McConnell (JES) in 2:02

Consolation Finals
Corey Brownell (StA) defeated Grant Nastasi (StP) 6-5 to place 3rd
Quinn Williams (BM) defeated Martin Helouin (CAT) 4-0 to place 5th
Finals
(1) Demetri Teddlie of C.E. Byrd defeated (3) Caruso Signorelli of Holy Cross 7-5
Video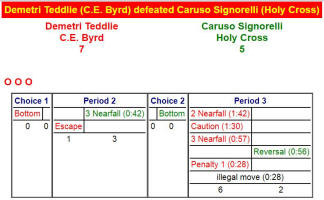 ---
© 2018-2020 by Louisiana Wrestling News
You may not make electronic copies of these copyrighted materials nor redistribute them to 3rd parties in any form without written permission.