| | | |
| --- | --- | --- |
| | | Fini |
---
2020 State Wrestling Championships - Division I 170 pounds
April 15th, 2020 | Written by: Editor
East Ascension's Trent Mahoney won his third consecutive Division I state championship with a 2:53 fall over Blain Cascio of St. Paul.
| | | | | | | |
| --- | --- | --- | --- | --- | --- | --- |
| Photo | | | | | | |
| Place | 1 | 2 | 3 | 4 | 5 | 6 |
| Name | Trent Mahoney | Blain Cascio | Canon Hunt | Logan Lewis | Terrance Murray | Eli Hope |
| School | East Ascension | St. Paul | Catholic | C.E. Byrd | Parkway | Brother Martin |
| Seed | 1 | 3 | 4 | 2 | 7 | 5 |
| Final Record | 77-0 | 33-6 | 37-5 | 41-9 | 39-12 | 31-9 |
| Grade | Senior | Junior | Senior | Senior | Senior | Junior |
Synopsis
Sometimes there are certain weight classes in which nobody wants to be. Last year it was whatever Basile's Gavin Christ was in. This year, in Division III, it would be 126 lbs., due to Alex Yokubaitis of St. Louis, and 182 lbs., Isaac Cortez of Basile's weight class (actually, in any division re Cortez). In Division II, 152 lbs. comes to mind, as does 120 lbs. Respectively, those were where Richard Mack, III and Joshua Sarpy were. In Division I there was a new one, Ernie Perry, III of Airline, at 106 lbs. It was well known to avoid the Holy Cross Frost twins, but those three wrestlers were unavoidable for anyone wanting a chance at a state championship. It was also best to avoid 170 lbs. That was the realm of two-time defending state champion Trent Mahoney of East Ascension.
In Mahoney's senior year he amassed more wins than anyone else had in a single year, 77. He lost a grand total of zero matches. His closest match was a 4-2 win over the future Division I state champion Jarin Meyer of Baton Rouge, in the first match for either of them. He recorded the most falls in a season, 64, and in a career, 207, which tied the national record for pins in a high school career. He went "the distance" in only six matches at 170 lbs., the closest a 5-2 win over Catholic's Canon Hunt. In his other 70 matches at 170 lbs., he scored six technical falls, as, to do the math again, that meant 64 opponents were pinned by Mahoney. Mahoney set the record for pins in a Louisiana high school career with his 148th on November 20th. He would go on to win 59 more matches via a fall.
Mahoney won his fourth Zachary Big Horse title and his fourth Dutchtown Griffin Open tile. He won his third Spartan Invitational tournament, his third Louisiana Classic title and his third Greater Baton Rouge Championship title, before winning his third Division I state championship. Mahoney won five other tournaments this season. He won all three of his state championships via pins. He was the 2018 Division I Outstanding Wrestler.
Mahoney had a round-one bye and then pinned his next three opponents in 2:49, 3:26 and 4:51, respectively.
Cascio's 2019-2020 season was something he can be proud of. He won the Dale Ketelsen Memorial, placed second at the South Walton Border Wars and won the St. Tammany Parish Championships.
Cascio won his first match in 0:34 and his second in 5:05 His quarterfinals match was a 3:05 fall over sixth-seeded Shannon Summers of Hahnville. Then he faced second-seeded Logan Lewis of Byrd. Lewis beat Cascio for fifth place at the Trey Culotta Invitational, but it was only a 4-2 match. This time it was Cascio getting a win by two points, although those points were scored in a Sudden Victory period.
Early Rounds
R2: Trent Mahoney (EA) pinned Grant Smith (COM) in 2:49; Shannon Summers (HNV) defeated Collin Clement (HC) 5-4
Quarterfinals, Semifinals, Early Consolation Rounds
Apathy and avarice on the part
of two entities have prevented completing a
comprehensive pictorial article on the 2020
Louisiana state wrestling championships.
Consolation Finals
Cannon Hunt (CAT) defeated Logan Lewis (BYR) 6-0 to place 3rd
Terrance Murray (PKY) pinned Eli Hope (BM) in 4:37 to place 5th
Finals
Trent Mahoney of East Ascension pinned St. Paul junior Blain Cascio in 2:53 to win his third Division I state championship
Video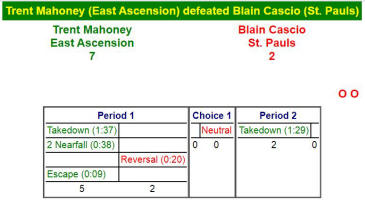 ---
© 2018-2020 by Louisiana Wrestling News
You may not make electronic copies of these copyrighted materials nor redistribute them to 3rd parties in any form without written permission.