| | | |
| --- | --- | --- |
| | | Fini |
---
2020 State Wrestling Championships - Division I 220 pounds
April 15th, 2020 | Written by: Editor
| | |
| --- | --- |
| | |
| Hahnville's Logan Brimmer avenged a Louisiana Classic semifinals loss with a 5-2 finals win over defending Division I state champion Cole Ulfers of St. Paul. | Brother Martin fans celebrate as Hahnville's Logan Brimmer jumps off of the mat after winning the Division I 220 lbs. title, which clinched the 20th Division I state championship for the Crusaders. |
Photo
Place
1
2
3
4
5
6
Name
Logan Brimmer
Cole Ulfers
Axel
Encalada-Arce
Ashton Freeman
Austin Cook
Christian
Mannino
School
Hahnville
St. Paul
Baton Rouge
Zachary
Live Oak
Catholic
Seed
2
1
5
3
6
4
Final Record
31-1
35-1
34-5
18-6
47-10
12-8
Grade
Senior
Senior
Senior
Sophomore
Senior
Junior
Synopsis
Cole Ulfers had not lost to a Louisiana opponent in his first 35 matches. He placed second at the South Walton Border Wars, losing to a Wakulla, Florida opponent. After that he won the Trey Culotta Invitational, placed fourth at the Prep Slam (losing twice to an opponent from Germantown, Tennessee), won the Louisiana Classic and the St. Tammany Parish Championships.
To make his second consecutive Division I finals match, Ulfers received a first-round bye and followed that with a fall in 2:15. He won his quarterfinals match 9-3 but had a very hard time with fifth-seeded Axel Encalada-Arce of Baton Rouge in the semifinals, winning 3-1.
Brimmer won the Billy Duplessis Invitational, the Battle of New Orleans, placed third at the Louisiana Classic (Ulfers defeated him 11-5 in the semifinals) and won the District 7-8 5A championships.
Brimmer's road to the finals included an oddly long first-round pin in 5:18, followed by a more normal 1:42 fall in the second-round. In the quarterfinals an injury prevented Byrd's seventh-seeded Tyler Tullier from finishing the match at 3:39, but he was able to pin third-seeded Ashton Freeman of Zachary in 5:19.
Early Rounds
R1: Cole Ulfers (StP) pinned Jaden Jones (PKY) in 2:15
Quarterfinals
Cole Ulfers (StP) defeated Christian Carradine (AIR) 9-3
Ashton Freeman (ZZAC) defeated Austin Cook (LO) 10-6
Semifinals
Cole Ulfers (StP) defeated Axel Encalada-Arce (BR) 3-1
Logan Brimmer (HNV) pinned Ashton Freeman (ZAC) in 5:19
Early Consolation Rounds
Apathy and avarice on the part
of two entities have prevented completing a
comprehensive pictorial article on the 2020
Louisiana state wrestling championships.
Consolation Finals
Axel Encalada-Arce (BR) defeated Ashton Freeman (ZAC) 3-1 in a sudden victory period to place 3rd
Austin Cook (LO) pinned Christian Mannino (CAT) in 1:31 to place 5th
Finals
(2) Logan Brimmer of Hahnville defeated (1) Cole Ulfers of St. Paul 5-2
Video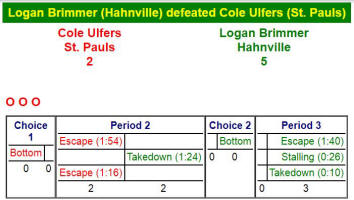 ---
© 2018-2020 by Louisiana Wrestling News
You may not make electronic copies of these copyrighted materials nor redistribute them to 3rd parties in any form without written permission.