| | | |
| --- | --- | --- |
| | | Fini |
---
2020 State Wrestling Championships - Division II 138 pounds
April 15th, 2020 | Written by: Editor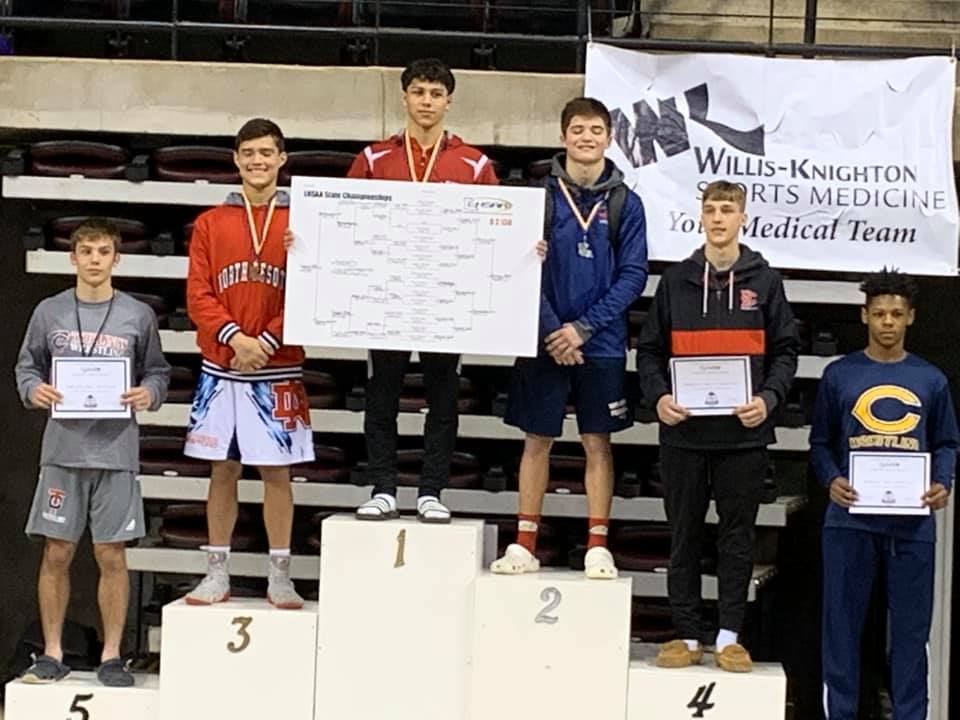 Proving to be the best 138 lbs. wrestler in the state in an unexpected third period in the Ken Cole finals, Rummel junior Jacob Ramirez needed only 1:50 seconds to defeat North Vermillion's Riley Baumgardner.
Photo
Place
1
2
3
4
5
6
Name
Jacob Ramirez
Riley
Baumgardner
Logan Ferguson
Gavin Gautreaux
Jason Trosclair
Todd Arceneaux
School
Rummel
North Vermillion
North Desoto
Belle Chasse
Teurlings
Catholic
Carencro
Seed
1
3
2
5
4
7
Final Record
54-1
21-3
33-3
17-7
32-16
20-13
Grade
Junior
Senior
Sophomore
Junior
Junior
Junior
Synopsis
This was not said, although it could have been, of the 113 lbs. and 120 lbs. weight classes. The goal of the wrestler's in this place was to see who would place 2nd and third. Rummel junior Jacob Ramirez made that the case. Before ta dual meet versus Brother Martin on December 10th, Ramirez had won the Raider 8, the Lakeshore Open, the Gulf Coast Clash and three dual meet matches. But four dual meets were within that stretch of his schedule. On December 10th Ramirez lost to Brother Martin's Connor Hoffman, a 2018 Division I state champion, 5-3. After that, Ramirez did not lose to another opponent from Louisiana. A week before Ramirez defeated Catholic's Peter Kelly, who would later be Hoffman's opponent in the Division I 132 lbs. finals.
The five out-of-state opponents to which Ramirez fell were, first, Jason Gray of White Knoll, South Carolina, in the pool rounds of the Gulf Coast Clash. Gray won 13-12, but he self-destructed in Saturday's bracketed tournament, winning two matches while losing three, including one to Catholic's Peter Kelly. Ramirez defeated Kelly in the first match on Saturday and went on to win the event. Another loss was to Michael Kilic, a Georgia 4-A state champion from Woodward Academy in the semifinals of the Trey Culotta. In that event he avenged his earlier loss to Hoffman in a 3-1 consolation finals match. His other three losses came at the Holy Innocent's Prep Slam 12 in Atlanta. One was a 9-4 loss to Peter Kane of Green Farms Academy in Connecticut. Another was to Caleb Campos of Cannon School in North Carolina. Those schools do not compete in their states' regular championships. They are members of a National Prep league, including schools like Wyoming Seminary and Blair Academy. His other loss was to Al Coy, a Georgia 3-A state champion.
However, since the editor does not count out-of-state losses, nor those to opponents who evidently are "above" the state level (or are at least supporting legislation to supplant Puerto Rico for a 51st star on the flag), since his loss to Hoffman Ramirez won the Jesuit Invitational, the Louisiana Classic, the Ken Cole Memorial and the Catholic League District Championships.
Ramirez' season defining moment was in the Ken Cole finals against Demetri Teddlie of C.E. Byrd. Teddlie started the match just obliterating Ramirez, who found himself losing 11-2 after the first period. In the second period things slowed down and each wrestler scored only two points, making the score 13-4 in Teddlie's favor. It was evident Teddlie was "gassed" going into the third round. This may be because he had only wrestled "the full six" seven times in his previous 52 matches, winning 21 of them in first-period falls. It may be because Teddlie took almost a two week break - not counting two first round falls in a tri-meet the Tuesday before the Ken Cole, due to a knee "tweak." Another possibility was that Teddlie simply spent too much effort in building up that 11-2 first-round score. Teddlie chose to start the third period neutral and after almost 30 seconds had elapsed it was Ramirez scoring a takedown. Teddlie escaped after 10 seconds but 20 seconds later Ramirez took Teddlie down again. With 42 seconds remaining and a seven-point lead, Teddlie should have just played "rock" on the bottom or, if Ramirez let him escape, be sure not to lock-up with the Raider wrestler. But that is not Teddlie's nature. He tried to reverse Ramirez, and Ramirez was able to counter Teddlie and put him on his back. Behind by nine points after the first four minutes, Ramirez scored a fall with 23 seconds remaining. Below is the score sheet for the match.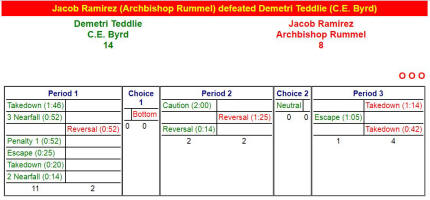 After the Catholic District League Championships, Ramirez, when the 2019-20 season was over, had defeated two Division I state champions (Hoffman and Teddlie), one Division I runner-up three times (Signorelli) and another once (Kelly, a Division I 3rd-place finisher twice (Corey Brownell of St. Amant) and two Division III runners-up (Ethan Langley of Basile and Zachary Lauland of De la Salle).
At the state championships Ramirez score three first period falls to make it to his second Division II finals match.
The matches that would determine who would meet Ramirez in the finals were in the bottom half of the bracket. Second-seeded Logan Ferguson of North Desoto competed only in out-of-state events until January 9th. He won the Texas Bring the Hammer Down tournament, placed second at the Heath Invitational in Texas and sixth at the Rumble at the Rock in Arkansas. He then placed sixth at the Louisiana Classic and won the northwest Louisiana Regionals. Only one of his 13 matches against Louisiana competition was against a Division II opponent who would be in this weight class. That was Belle Chasse's Gavin Gauthreaux, the fourth-seed, whom Ferguson pinned in 1:18.
Third-seeded Riley Baumgardner was probably seeded behind Ferguson because he had a Division II loss to Ramirez at the Ken Cole Invitational, whereas Ferguson was 1-0 vs. Division II competition (Gauthreaux). Baumgardner won the Rayne Invitational and the Lafayette Metro championships.
Again possibly hurt by his lack of knowledge of Louisiana opponents, the sophomore Ferguson fell in the semifinals to the senior Baumgardner in 1:23. Baumgardner dispatched his first two opponents via falls in 1:27 and 4:54.
Early Rounds
R1: Jason Trosclair (TC) pinned Andrew Brouillette LKS) in 0:47
R2: Gavin Gautreaux (BC) defeated Jason Trosclair (TC) 14-12
Quarterfinals, Semifinals
Apathy and avarice on the part
of two entities have prevented completing a
comprehensive pictorial article on the 2020
Louisiana state wrestling championships.
Early Consolation Rounds
C2: Jason Trosclair (TC) pinned Dax Constantine (RAY) in 3:10
Consolation Finals
Logan Ferguson (ND) pinned Gavin Gauthreaux (BC) in 1:59 to place third
Jason Trosclair (TC) pinned Todd Arceneaux (CAR) in 2:56 to place fifth
Finals
(1) Jacob Ramirez of Rummel pinned (3) Riley Baumgardner of North Vermillion in 1:50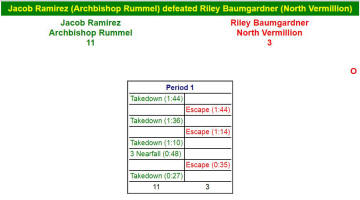 Video
Apathy and avarice on the part
of two entities have prevented completing a
comprehensive pictorial article on the 2020
Louisiana state wrestling championships.
---
© 2019-2020 by Louisiana Wrestling News
You may not make electronic copies of these copyrighted materials nor redistribute them to 3rd parties in any form without written permission.