| | | |
| --- | --- | --- |
| | | Fini |
---
2020 State Wrestling Championships - Division III 126 pounds
April 15th, 2020 | Written by: Editor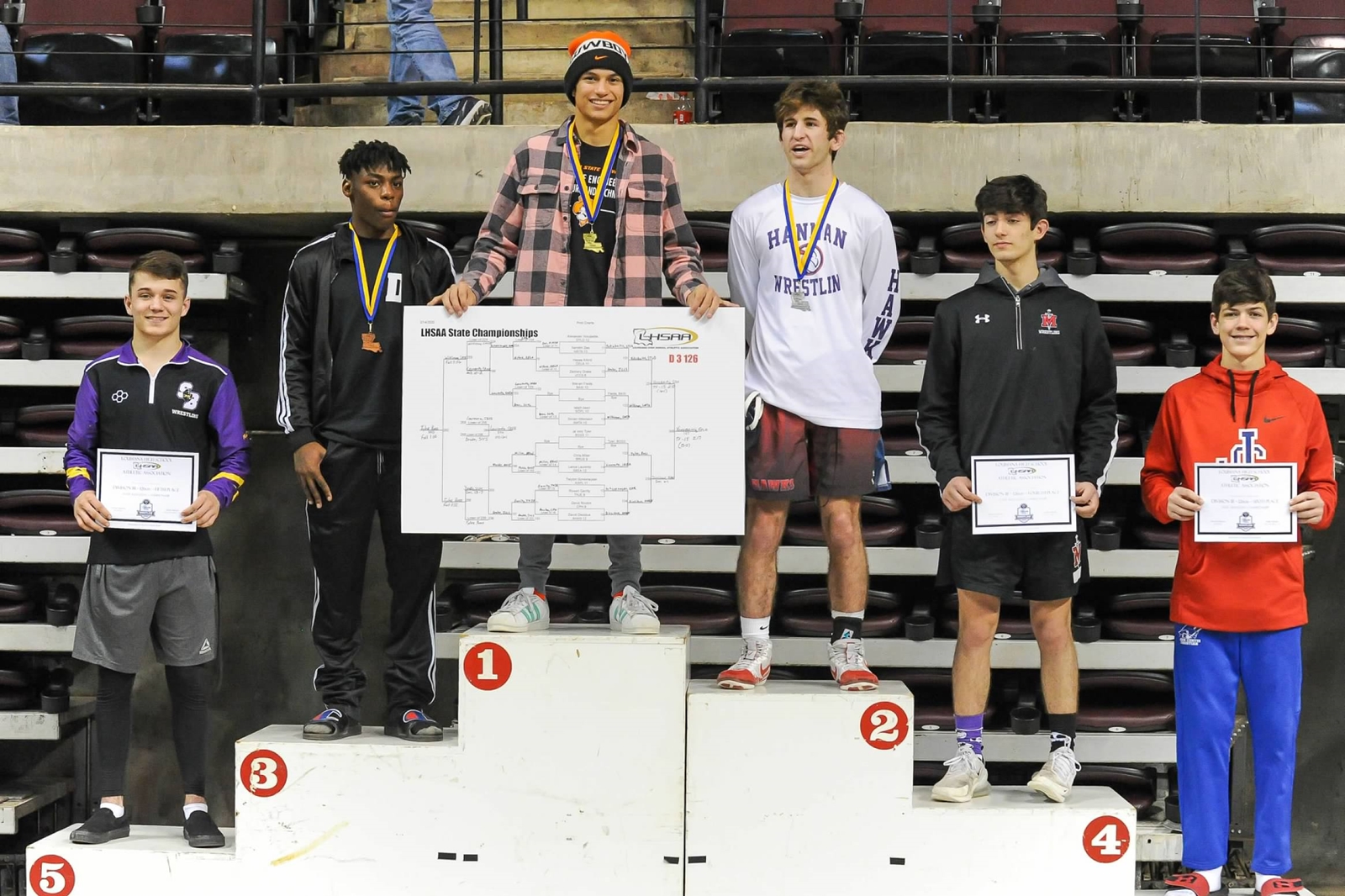 Few schools have spawned wrestlers who have won four state championships. Alex Yokubaitis put the St. Louis Saints in that select group with a 15-0 technical fall over David Diecidue of Hannan. Yokubaitis' other finals wins were a 15-0 technical fall in 2019, a 12-5 win in 2018 and an 11-2 major decision in 2017.
| | | | | | | |
| --- | --- | --- | --- | --- | --- | --- |
| Photo | | | | | | |
| Place | 1 | 2 | 3 | 4 | 5 | 6 |
| Name | Alex Yokubaitis | David Diecidue | Ja'Cory Tyler | Dorion Wilkerson | Lance Laurence | Zachary Drake |
| School | St. Louis | Hannan | Bossier | St. Michael | South Beauregard | John Curtis |
| Seed | 1 | 2 | 3 | 4 | 6 | 8 |
| Final Record | 50-0 | 23-10 | 16-4 | 35-23 | 22-15 | 13-15 |
| Grade | Senior | Senior | Junior | Sophomore | Senior | Eighth-grade |
Synopsis
Alex Yokubaitis has been one of the best wrestlers in the state for the last four years.
This season his only loss was to an opponent from Texas (the editor does not count losses against out-of-state competition) in the semifinals of the Louisiana Classic. Yet he rebounded to place third in a 10-3 win over Sarpy, avenging his loss the previous year. To get to Sarpy, who later would win his second consecutive Division II state championship, Yokubaitis also had to get past Parkway's Joshua Keeler, defeating the soon-to-be Division I state champion 9-3. Jacob Frost of Holy Cross won the weight class (120 lbs.), defeating the kid from Texas 6-5 in a match that should have been much more decisive on Frost's part but was hampered by some squirrelly antic by the Teas kid and his coaches. There is no doubt, however, the 120 lbs. was the toughest weight class in that tournament. It had Yokubaitis, a soon-to-be four-time Division I state championship, Sarpy, who would soon be a two-time Division II state champion, Frost, who would later win his second Division I state title, Keeler, who would win a state tile a few weeks later after moving up a weight class, Carter Duet of St. Paul's, later a Division I runner-up and Reed Bergeron, who placed fourth in the upcoming Division I state championships.
During this season Yokubaitis won the Warrior Open (his second), the Lakeshore Open (over his last Division III opponent, David Diecidue of Hannan), the Jacob McMillan Memorial his third), the Brusly Invitational (his fourth), the Ken Cole Memorial (his second) and the Jesse James Shootout (his second).
In his remarkable senior season, he went the full six minutes only five times. One was the Louisiana Classic semifinals loss (which the editor does not count). Two were victories over Keeler and another was the match over Sarpy. His first six-minute match was a 13-3 major decision over Acadiana's Luke Lafleur, who placed fourth in Division I. Pins accounted for 31 of his wins and the other 15 were via technical falls. Evidently he very much enjoyed his time on the mats.
Yokubaitis pinned his first two opponents in 0:13 and 3:16. In the semifinals he defeated fourth-seeded Dorion Wilkinson of St. Michal via a 16-1 technical fall.
The second-seeded senior from Lakeshore, David Diecidue, placed third at the Mandeville Open, second (to Yokubaitis) at the Lakeshore Open, fourth at the Ken Cole Memorial and second at the St. Tammany Parish Championships. Aside from Yokubaitis, Diecidue only lost to Division I and Division II opponents, and none were mere slouches. In Division II his losses were to: Dominic Spizale of Lakeshore (4th in Division II) and that was in the first round of the Mandeville Open - Diecidue beat Spizale for third place; Matthew Carrier of Teurlings Catholic, twice (Division II runner-up); and Raheem Bonnet of Shaw (Division II state champion and DII Outstanding Wrestler). Two of the three Division I wrestlers he lost to placed fourth and sixth. But he beat 14 Division I wrestlers, including Jordan Clark of Parkway, Sean Cursain of Brother Martin and David Cuccia of Fontainebleau (3rd in Division I).
Diecidue's road to the finals included pins of 1:27 and 3:23 and a semifinals win over Ja'Cory Tyler of Bossier 6-1.
Early Rounds
R2: Alex Yokubaitis (StL) pinned Zachary Drake (JC) in 3:16
Early Rounds, Quarterfinals, Semifinals, Early Consolation Rounds
Apathy and avarice on the part
of two entities have prevented completing a
comprehensive pictorial article on the 2020
Louisiana state wrestling championships.
Consolation Finals
Ja'Cory Tyler (BOS) pinned Dorian Wilkinson (StM) in 1:00 to place third
Lance Laurentz (SB) defeated Zachary Drake (JC) via a 12-1 major decision to place fifth
St. Louis' Alex Yokubaitis won his fourth Division III state championship via a 15-0 technical fall over Hannan's David Diecidue.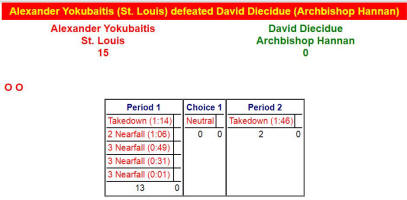 Video
---
© 2019-2020 by Louisiana Wrestling News
You may not make electronic copies of these copyrighted materials nor redistribute them to 3rd parties in any form without written permission.