WE ARE

WRESTLING-SPECIFIC MEDIA

Fini
---
Rebels demolish Bulldogs, Eagles and Blue Jays in Beast on the Bayou Duals
January 4th, 25th, 2022| Written by: Staff writer
Teurlings Catholic started with a bye and the blew past Fontainebleau, Shaw and Jesuit to win the Beast on the Bayou Dual Tournament held at Shaw High School in Marrero on Wednesday, December 29th.
After a first-round bye the Rebels defeated Fontainebleau 66-9, Shaw 39-20 and Jesuit 51-24. Jesuit, seeded third, surprised many with a 52-15 shellacking of Catholic.
Downloadable Photographs ZIP Folders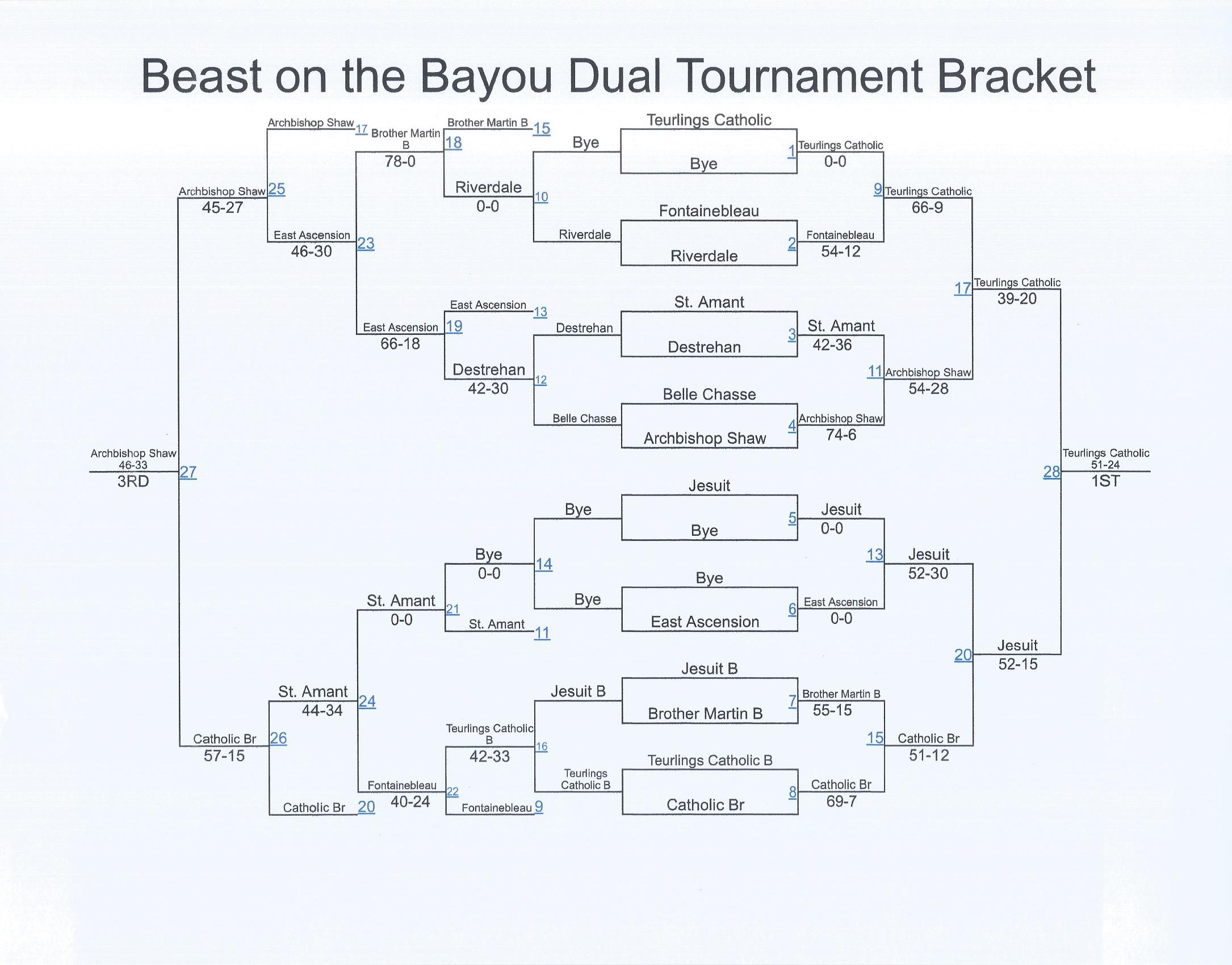 | | |
| --- | --- |
| | The Rebels won seven of the nine matches against Fontainebleau. Seth Lewis and Raymond Favaza won matches for the Bulldogs. Favaza's win should prove fortuitous to him re the seeding at the Louisiana Classic on January 14th. He won a 5-3 match over John Paul Travasos 5-3, which was his second win over the defending Division II state champion, having pinned him in 5:00 in the Jacob McMillan Memorial finals. Favaza has only lost three times all season. In mid-November he fell to Covington's Landon Carroll, but almost a month later he avenged that loss. Consensus top-seeded Santos Ramos of East Ascension defeated Favaza 10-5 in the Spartan Invitational finals and 11-6 in the Bronco Open finals on December 11th. Since then, Favaza has run-off 14 straight wins. |
In the semifinals the Rebels had a harder time with Shaw, winning 39-20. TC won eight of the 13 matches and received one forfeit versus the Eagles. In a match between defending Division II state champions Shaw's Glenn Price defeated TC's Ethan Boudreaux 7-3 at 132 lbs. Price is expected to compete at 126 lbs. at the Louisiana Classic (LACL). The best match of the dual was a 4-4 UTB win by TC's Zack Watkins over Shaw's Zalen Wilson. As juniors Wilson placed third in 2021 and Watkins 5th, but they may find themselves meeting in the semifinals or finals at the 2022 state championships. Another possible Division II semifinals or finals match may be between Shaw's Nigel Whitehead, who placed fifth at 195 lbs. in 2021, and 220 lbs. defending state champion Joel Lanclos, at 220 lbs. Whitehead took this match decisively via a 15-0 technical fall. Defending Division II state champion Jude Monaco of Shaw had a nail-biter of a match with TC's Eric Levert, who placed third in 2021, winning 3-0.
In the finals Jesuit also won five of the 15 matches, but while Shaw only lost four matches by falls the Blue Jays gave up seven pins, which explains enough of why the Rebels beat the Eagles by 19 points and the Blue Jays by 27. The most exciting, or perhaps confusing, match of this dual was at 160 lbs. between Travasos and Jesuit's Holden Desroche. Travasos managed Desroche easily in the Raider 8 via a fall in 3:30. But Desroche held more than "his own" in this match, dominating Travasos for the first 4:30 and coming close to pinning the Rebel. But Travasos is a state champion for a reason, and he was able to gain the upper hand and pin Desroche shortly before the third period ended. 2021 Division I third-place finisher Dennis Dougherty opened his 2021-22 season with aplomb, pinning East Ascension's Brian Cullen and Catholic's Jermaine Vessell in times that were not noted (very few fall times were noted for TrackWrestling purposes in this event). In his next match he pinned Lanclos in 0:23.

Shaw, seeded fourth, placed third with a 46-33 win over Catholic.

The Eagles started off with a 74-6 win over Belle Chasse followed by a 54-28 quarterfinals win over St. Amant.

After the loss to TC the Eagles met East Ascension in the consolation semifinals and defeated the Spartans 45-27.

Having defeated the Blue Jays and the Bears, TC can be considered the third best overall team in Louisiana behind Division I state favorite Brother Martin (who defeated TC 48-21) and 2021 Division I champion St. Paul.
Maybe...
Who is the second best team?
An argument could be made for TC to be ranked higher than St. Paul. (Please note, this section is a complete waste of time as, while winning dual meet tournaments is nice, such events are intended to give wrestlers the chance to wrestle more matches in a day than some would get in tournaments if they lost their first two matches. There are no official dual meet state championship events.) St. Paul defeated Jesuit 43-31 on November 13th. Eleven matches were contested, with St. Paul winning six of them. More importantly, eight of the Blue Jays who competed in that match competed against TC. Three of those eight Jesuit wrestlers won against TC. Four of them lost against St. Paul. And against TC Jesuit also had Dougherty. Both TC and St. Paul netted one forfeit, and St. Paul was lacking few, if any, of their current starters. One could say Jesuit put up a stronger team against TC and the Rebels beat them more soundly than St. Paul did.
To go a step further, Shaw may be the third best team as they had a much tighter score against TC than the Blue Jays did, and as the Blue Jays knocked Catholic back a few spots, they might be the third best team in Division I. Hence, if TC is ahead of St. Paul, that puts Jesuit fourth, but with Shaw putting up a better fight than the Blue Jays, the Eagles could be considered the fourth best overall team. That means the strength list would be: 1) Brother Martin, 2) Teurlings Catholic, (3) St. Paul, 4) Shaw, 5) Jesuit. Soon, about eight pounds from last Wednesday, Spencer Lanosga should return to the mats for the Blue Jays. That will not mean much in a non-verifiable team dual meet strength ranking but will make a significant difference in a regular tournament.
Other matches of consequence to LACL or state championship seedings include, but are not limited to, the following:
106 lbs. Bodi Harris (JES) over Brennan Romero (TC) 7-4,
138 lbs. Brandt Babineaux (TC) over Hayden Tassin (SHW) 6-2,
182 lbs. Corey Holmes (EA) over Winn McConnell (JES) via a fall,
113 lbs. John Michael Bourgeois (JES) over Grant Grizzaffi (CAT) 13-8,
132 lbs. Hayden Tassin (SHW) over Caleb Andrews (BC) (no score or pin noted),
182 lbs. Jude Monaco (SHW) over Corey Holmes (EA) 9-2,
132 lbs. Hayden Tassin (SHW) over Jon Michael Cuba (CAT) 10-2 MD,
126 lbs. Ty Duncan (BM-B) over Watts Goodson (CAT) 4-1.
| | | | |
| --- | --- | --- | --- |
| | | | The Frost twins (one is Jacob, one is Ethan, I do not trust them enough to tell me who is who) were down from Iowa, where they confirmed there is a lot of "cold" and corn. The eldest Frost, Cameron, was officiating, and the three posed for a photo reminiscent of the 2019 shot when all three wo Division I state titles. On the right the twins watch the TC-Jesuit match. The twins also posed with the TC team in their championship photo. |
PHOTOS IN ZIP FOLDERS
In time, I will edit and publish all of the photos I have from this event. Here, though, I am evaluating the use of ZIP folders to give parents or wrestler the opportunity to see and edit as they like the photos I will later use when I update this article.
Each highlighted link will download a folder of those photographs to the user's device. (I have no idea how this works on a phone, except that I know it does.) After downloading the folder, it will prompt you to extract them. I suggest creating an empty photo on your device's "Desktop" in which to extract them. Then, if you are not already seasoned in using a photo editor of your choice, I recommend PhotoScape. You can download PhotoScape, safely and free, by clicking the PhotoScape logo or from the PDF file linked below: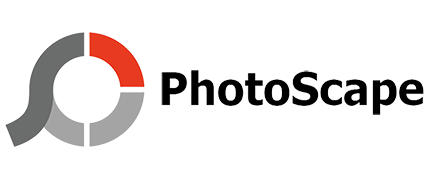 If you are going to use PhotoScape I highly recommend taking the time to print and then read the guide I have prepared. That is three pages of your life that you will never get back, but you might learn something useful.
Martin Muller's Guide to Editing Photographs with PhotoScape
I also ask that you let me know if this method is an easy way for you to get the photographs you want. What would make it easier? What did you not like? If I can I will alter this method to make it as easy as possible. If it works, I may do this with photographs from the state tournament. If the LHSAA limits me to two cameras this year, as they did last season, I cannot publish the article I would like to publish anyway, and I see no reason not to make things easier for parents and wrestlers who want to see the photographs I have available before I publish the final product. This might hurt RomaPics' revenue stream from the event, but I could probably be persuaded not to do this. I have to leave that up to the LHSAA.
Please send your comments to editor@lawrestlingnews.com.
Finals: Teurlings Catholic 51-Jesuit 24
Downloadable Photographs ZIP Folders
Third Place: Shaw 46-Catholic 33
Downloadable Photographs ZIP Folders

---
© 2021-22 by Louisiana Wrestling News
You may not make electronic copies of these copyrighted materials nor redistribute them to 3rd parties in any form without written permission.