WE ARE

WRESTLING-SPECIFIC MEDIA

Fini
---
Crusaders take Trey Culotta title back from Christian Brothers
January 1st, 2022| Written by: Staff writer
The Brother Martin Crusaders won the Trey Culotta Invitational from 2011 to 2019. Last season they were dethroned by Christian Brothers of Memphis, Tennessee, by 41 points. On Monday and Tuesday, December 20th and 21st,they took their throne back, defeating Christian Brothers by 35 points, 335.5 to 300.5. Vestavia Hills of Alabama placed third, followed by East Ascension and Parkway.
Three Crusaders, Richie Clementi, Mason Elsensohn and Kent Burandt won individual titles for the Crusaders. Two others, Jacob Elsensohn and Rocco Horvath, placed second. Five Crusaders placed third or fourth.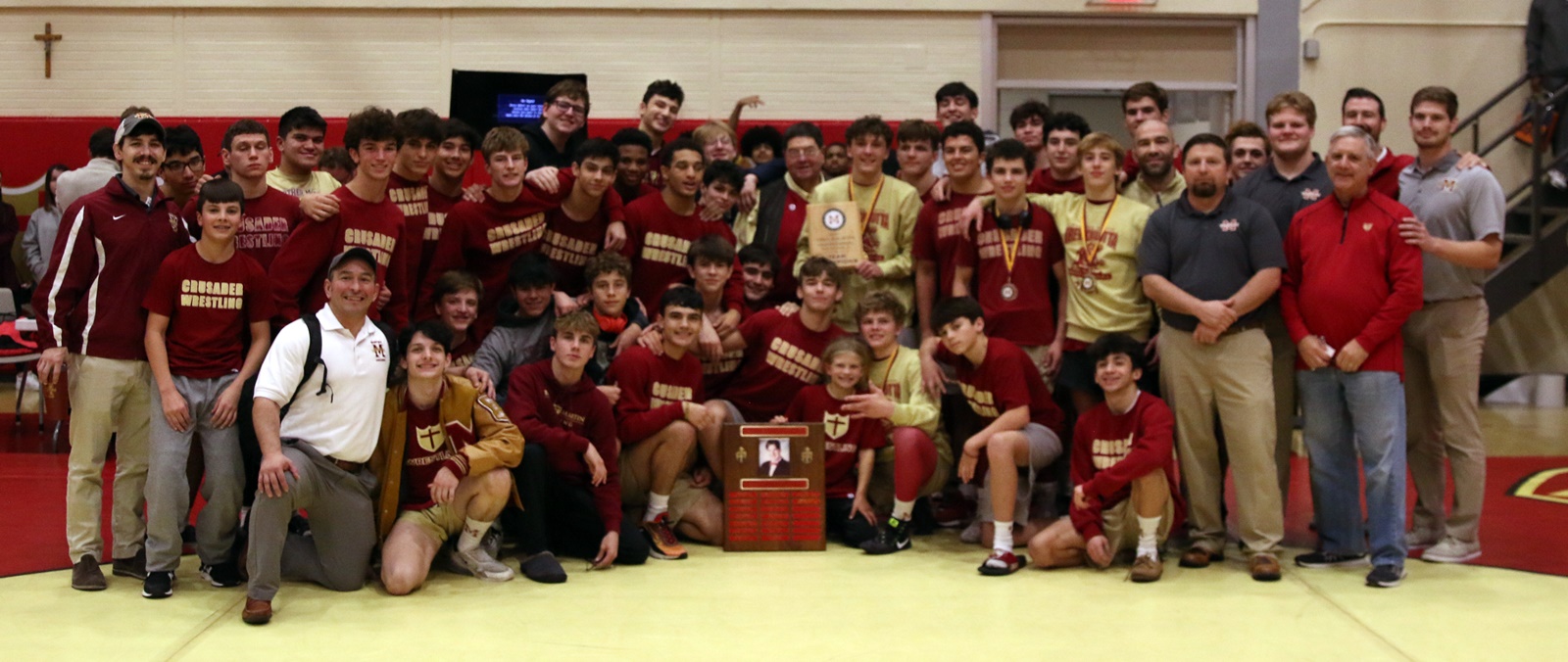 4x6 Team Photo
The Crusaders had three individual champions. At 113 lbs. Richie Clementi kept his undefeated season alive, as did Mason Elsensohn at 132 lbs. Kent Burandt won his second tournament of the season at 145 lbs. Jacob Elsensohn and Rocco Mediate suffered their first losses of the season in the finals. Other Louisiana winners were Tyson Roach of Sam Houston, Ernie Perry, III of Airline and Wiley Boudreaux of Southside. Louisiana wrestlers who finished as runners-up were Kael Reaux and Landon Reaux of Southside, David Viers and Jonathan Weissbach of Parkway, Grayson Pennison of Hannan and Anphrony Guillory of Basile.
As I was taking the finals photograph on the left of Mason Elsensohn,




I said to myself, "No way - I cannot publish this."'




The second two photos assured me that it would be OK.

Morgan Chabert helped with the awards
Mr. Vincent Culotta, Trey's father
Trey Culotta Champions
106 Pounds

113 Pounds

120 Pounds
126 Pounds
132 Pounds
138 Pounds
145 Pounds
Tyson Roach
Sam Houston
Richie Clementi
Brother Martin
Ernie Perry, III
Airline
Wiley Boudreaux
Southside
Mason Elsensohn
Brother Martin
Art Martinez
Pace
Kent Burandt
Brother Martin
152 Pounds

160 Pounds

170 Pounds
182 Pounds
195 Pounds
220 Pounds
285 Pounds
Tre`Ivy
Ada, OK
Atticus Water
Pace, FL
Aiden Bowers
Christian
Brothers, TN
Luke Malveaux
St. Thomas, TX
Cameron Cavine
Christian
Brothers, TN
Timbrook Hodger
Christian
Brothers, TN
Jahill McKenney (OW)
Eagle's Landing, GA
(with Mr. Culotta (L)
and BM Coach Andrew Nicola (R))
Trey Culotta Invitational Top-five Placers (Louisiana wrestlers bolded)
(Records for point scorers only and are accurate as of 12/28/21. osses are to Louisiana wrestlers only. "NS" = non-scorers.)
Weight
Winner
School
Runner-up
School
Score
Third Place
School
Fourth Place
School
Fifth Place
School
106
Tyson Roach (32-0)
Sam Houston
Kael Reaux(14-4*)
Southside
2:24
Logan Olsen (17-3)
Airline
Logan Dacuyan (15-9)
Brother Martin
Dylan Duvernay (25-6)
De la Salle
113
Richie Clementi (21-0)
Brother Martin
Landen Reaux (11-3)
Southside
17-2 TF
Colby Baltz
Houston
Cale Tucker
Vestavia Hills
Matthew Gallman (11-1)
Parkway
120
Ernie Perry, III (16-0)
Airline
Jacob Elsensohn (30-1)
Brother Martin
9-2
Alex Ropski
Christian Brothers
Christopher Strong (17-1)
Parkway
David Reiff
Vestavia Hills
126
Wiley Boudreaux (22-2)
Southside
Zack Flurry
Vestavia Hills
4:48
Caleb Lavine (35-2*)
Sam Houston
Hunter Chabert (28-4)
Brother Martin
Mac Chandler
Vestavia Hills
132
Mason Elsensohn (27-0)
Brother Martin
Wills Bronson
Christian Brothers
7-5
Hunter Sturgill
Heritage
Lucas Maneckshaw (34-6)
East Ascension
Ty Duncan
Brother Martin (NS)
138
Art Martinez
Holy Innocents
David Viers (16-0)
Parkway
8-3
Nicholas Cusimano (21-1)
Brother Martin
Andrew Sullivan
Vestavia Hills
Braden Hite
Brother Martin (NS)
145
Kent Burandt (23-1)
Brother Martin
Jonathan Weissbach (13-2)
Parkway
15-3 MD
Liam O'Connor (7-1)
De la Salle
Gregory Walker
East Ascension
Rory Horvath
Brother Martin (NS)
152
Tre`Ivy
Ada
Jordan Baxter
Pace
16-0 TF
Clay Johnston
Vestavia Hills
Ryan Corca (25-6)
Brother Martin
Mario Robledo
Christian Brothers
160
Atticus Waters
Pace
Grayson Pennison (11-0)
Hannan
13-4 MD
Santos Ramos (25-0)
East Ascension
Sam Cordova
St. Thomas
Kaden Gallagher
Ada
170
Aidan Bowers
Christian Brothers
Rocco Horvath (30-0)
Brother Martin
5-3
Luke Robertson (16-1)
De la Salle
Gabriel Bonin (29-9)
East Ascension
Will Johnson
Ada
182
Luke Malveaux
St. Thomas
Gervacio Gonzalez
Christian Brothers
Medical Forfeit
James Gleason
Holy Innocents
Jason Krail (24-6)
De la Salle
John Edwards
Vestavia Hills
195
Cameron Cavine
Christian Brothers
David Dimann
Houston
3-0
Jacob Schexnaidre (28-5)
East Ascension
Riggs Manown
Vestavia Hills
Wade Rist
Hannan
220
Timbrook Hodge
Christian Brothers
Hale Wood
Pace
2:36
Jack Branson
Christian Brothers
Julian Tapia (8-0)
Brother Martin
Nathan Slagter
Houston
285
Jahill McKenney (OW)
Eagle's Landing
Anphrony Guillory (11-1)
Basile
0:23
Mitch Taylor
Vestavia Hills
Tayvon Patterson (9-2)
Airline
Jake Morton (6-1)
Parkway
* Only losses to Roach ** Only losses to Boudreaux

---
© 2021-22 by Louisiana Wrestling News
You may not make electronic copies of these copyrighted materials nor redistribute them to 3rd parties in any form without written permission.