2022 LHSAA State Wrestling Championships


February 11th-12th 2022
Raising Cane's River Center
Baton Rouge, Louisiana
---
Deja vu for Rebels and Bearcats; Crusaders back on top
March 153rd, 2022 | Written by: CAT
---
Baton Rouge's Raising Cane's River Center hosted the 77th rendition of what, since 1975, has been the Louisiana High School Athletic Association State Wrestling Championships on February 11th and 12th, 2022. This was the second time the venue hosted the event. In 2021 the event was plagued by a limited number of fans and press allowed, for good reason, mind you, as well as just plain COVID-19 fatigue. The fans came this year, though, to watch Brother Martin reclaim the Division I Brother Melchior Cup, and to see Teurlings Catholic and Basile add to their consecutive team championships streaks. They came to see Glenn Price win his fourth Division II state championship for Shaw, to see Airline's Ernie Perry, III, keep on pace to win four Division I championships. They saw the beginning of streaks by freshmen state champions Richie Clementi of Brother Martin and Brennan Romero of Teurlings Catholic. They watched as, in his fifth state tournament, Basile's Anphrony Guillory walked away holding a bracket. They saw two undefeated top seeds fall in the finals. When a runner-up plaque was on the line, they saw two Blue Jays wrest it from some Bears in the final two matches.
The fans' numbers were heard as they loudly cheered the correct calls of the tournament officials...(OK - that may be reaching a tad)...when the calls went in favor of their wrestlers. The LHSAA and the River Center put on a great show, and kudos go to the LHSAA's Assistant Executive Director Andy MacDowell and Communications Director Vince Cacioppo. Jim Ravannack was heavily involved as well, and the event was run efficiently again by Jennifer Macha, Rachel Willeford and Bella Macha on the head table computers.

| | | |
| --- | --- | --- |
| | | |
| Venue west | Venue north | Venue east |
The Brother Martin Crusaders regained the Division I team championship by outscoring runner-up Jesuit 261.5 to 220.5. Catholic placed third with 216.5 points. Defending Division I champion St. Paul was fourth, followed by East Ascension.
In Division II, Teurlings Catholic dominated...again...scoring 323 points, 53.5 points ahead of Runner-up Shaw. Rummel placed a strong third, followed by North Desoto, who nipped Rayne by 3.5 points. It was the Rebels' third consecutive Division II title and their 10th in 12 years.
In Division III, three-time defending champion Basile was even more dominant than the Crusaders and Rebels. The Bearcats won their fourth title in as many years, besting De la Salle by 57.5 points. Brusly, who led after the first day, placed third with 179 points, followed by a surprisingly strong John Curtis team and St. Louis.

Division I Champs




Brother Martin Crusaders

Division II Champs




Teurlings Catholic Rebels

Division III Champs




Basile Bearcats
Division I Runners-up




Jesuit Blue Jays

Division II Runners-up




Shaw Eagles

Division III Runners-up




De la Salle Cavaliers
The 2022 Wrestling All-Academic Teams


The 2022 Wrestling

All-Academic Composite Team

, consisting of student-athletes with 4.00 GPAs, are, from left to tight:


Ernest Tapia of Shaw, Luke Ohler of Brother Martin, Aaron Mire of Hahnville, Joshua Atkins and Cole Baiamonte of Holy Cross, Collin Pelitere of Jesuit and Kaiden Romien of Southside. Missing from the photograph is Grant Nastasi of St. Paul.

If a student forgot to bring a #2 pencil to an exam or left a hanging chad, resulting in a GPA from 3.5 to 3.99, the student made this list:




2021-22 All-Academic Team

75 Years Ago
Holy Cross won. Go figure. Nineteen of of the 22 finalists were from HC. Jack Hecker won his third title, on the way to a fourth in 1948. Ray Kightlinger put C.E. Byrd on the map with a runner-up finish.
| | |
| --- | --- |
| | |
| March 2nd, 1947 | March 2nd, 1947 |
50 Years Ago
Jesuit won their first of 18 state championships in Coach Surachai "Sam" Harnsogkram's fourth of 30 years at the helm of the Blue Jay wrestling team. Mike Gaffney, a Louisiana Wrestling Hall of Fame member, won the first of two state championships.
March 5th, 1972




145 lbs. podium

March 5th, 1972




OWs Beau McInnis of Lee




and Richard Cook of Acadiana

March 5th, 1972
25 Years Ago
In Division I Jesuit won their 17th state team championship under Coach Sam, who would remain for only one more season (and Jesuit championship). Former Rummel assistant coach Leon Ngchee won a title for Grace King, the second-to-last one the Irish would win. Team Louisiana coach Patrick Ritchie won his second title for the Rummel Raiders, and McKinley's Roderick Radcliff won his second of three state championships for the Panthers. Todd Gilreath, the father of Evangel's 2021 state champion and 2020 and 2022 runner-up Michael, placed third in Division I for the Rummel Raiders. Louisiana's sole wrestling Olympian, Daniel Cormier, won the last of three titles for Northside. Brother Martin's Trey Culotta, for whom the Trey Culotta Invitational is named, won at 275 lbs.
In Division II Basile coach Carmen Cortez won his third of four titles for Basile. Danny Navar of St. Martin's won his first of three championships.
| | | | |
| --- | --- | --- | --- |
| | | | |
| February 14th, 1997 | 02/15/97 | 02/15/97 | 02/15/97 |
| | | | | | |
| --- | --- | --- | --- | --- | --- |
| | | | | | |
| February 16th, 1997 | 02/16/97 | 02/16/97 | February 16th, 1997 | 02/16/97 | Cormier's 3rd |
10 Years Ago
In his second stint as the coach of the Crusaders, Robert Dauterive's Brother Martin squad won the first of five consecutive Division I team titles. This one was close, though. Catholic finished four points behind Brother Martin, and the defending team champion Rummel Raiders were five points behind the Bears.
Crusader freshman Paul Klein won his first Division I state championship, and later would become the first wrestler to win four Division I titles. Scott Gibbons won his third state champion as a precursor toward becoming the most successful freshman wrestler at Princeton the following year.
In Division II, Teurlings Catholic won their second consecutive Division II championship,
Nick Michael won his fourth state championship for Holy Cross, the first Tiger to achieve such a feat since August Vegas in 1966. Live Oak's Cody Hill won the second of his state titles, and Holy Cross coach George Benoit made the first of three finals appearances for the Tigers, before devouring all comers in his fourth appearance in 2015.
In Division III, Coach Jimmy Bible won his fifth team championship since the division was formed in 2000. Brusly's Austin Schermer won his fourth consecutive Division III championship, and little brother Trevor won his second, with two more to come.
| | | |
| --- | --- | --- |
| | | |
| 02/08/12 | 02/10/12 | 02/10/12 |
| | | | | |
| --- | --- | --- | --- | --- |
| | | | | |
| 02/11/12 | 02/11/12 | 02/12/12 | 02/12/12 | 02/12/12 |
| | | | |
| --- | --- | --- | --- |
| | | | |
| 02/13/12 | 02/13/12 | 02/13/12 | 02/13/12 |
| | | | |
| --- | --- | --- | --- |
| | | | |
| Basile | Brother Martin | Brusly | De la Salle |
| | | | |
| --- | --- | --- | --- |
| | | | |
| Dutchtown | East Ascension | Jesuit | Teurlings Catholic |
Most baffling photograph of the event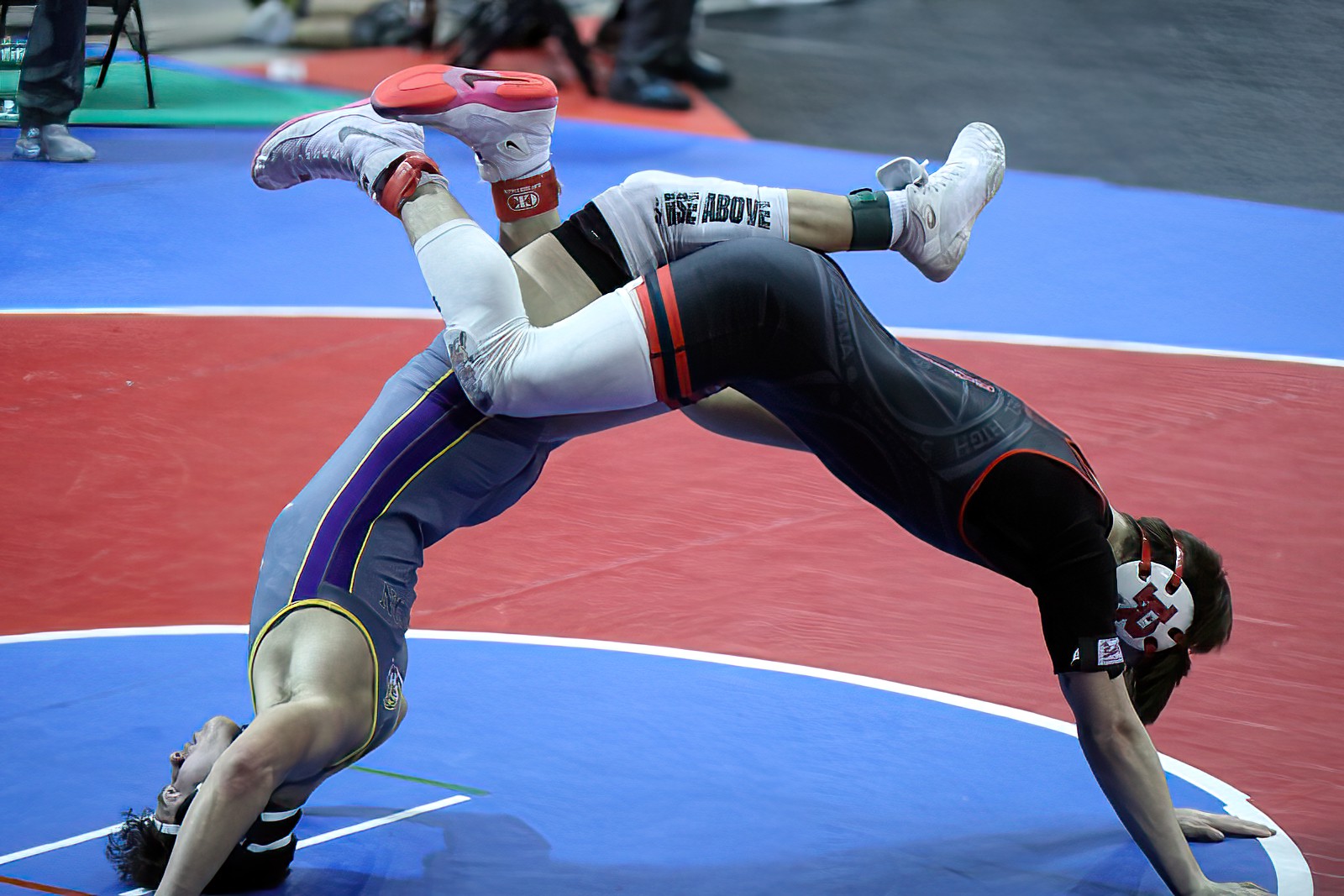 In the Division II 145 lbs. match for third place, Rummel's Austin Shook and Benton's Aiden Carinio did this. I do not know why...I do not want to know why...I'm out!
The LHSAA allowed the Louisiana Wrestling News three press credentials for this event, which was the perfect amount. Certainly, I would love a couple of simple "Round Credentials" next year. That would allow two cameras on each mat during the semifinals and consolation medals matches. After almost six months on this article, it is assuredly better that I determine how to get articles out faster before crossing that Rubicon.

Anna Claire Tedesco and Jonathan Belaire drove from Shreveport to help photograph the event. This was Anna's fourth state tournament and Jonathan's second. My sole complaint re them is that they mostly chose to photograph the wrestlers when they were in focus. I was left with wrestlers who were blurry.
Red Lobster was not just a few blocks away from our hotel, but Cecelia Bistro was, and we had a great Thursday night dinner and drinks occasion there.
Luckily, I do have a favorite story re the poisoning of my eyes. My upward peripheral vision is totally obliterated. A couple of years ago, I told my daughter such, and jokingly apologized for being an easy target for missiles deployed by overhead drones. She told me, reassuringly, "You do not have to worry about missiles from drones, Daddy." She paused a few moments to let me savor a daughter's concern about her father, and then added, "You have to worry about hawks!" That thought still festers.
If I spend more than, say, three hours a day on a computer, I risk migraine headaches and usually have what I vaguely remember as "really hungover morning vision" the following day. Day to day circumstances like grass growing, doctors' appointments, things breaking or having to be replaced - they are not overly concerned about the "rod & cone challenged." Add a hurricane, my daughter moving back from Atlanta, (those are two different things, mind you), that lifting things is not as easy as when I was 58, as well as wanting to cover a few more wrestling events, and time flew, unless I was working on this article, when for the longest while time seemed to stand still. Add to that the absolute fluke aneurism that took my youngest nephew in April. Ergo ("dot-dot-dot" for geometry teachers), it has been a busy not-quite-six-months since mid-February.
When this is published I am sure you will find errors. Please let me know so that I can emend them. I will find them as well, even though I want to finish updating the Archives and making photos from the Louisiana Classic and the Jazz Town Duals available. My mother asked me if I would take a break from wrestling at some point. I suggested, but did not guarantee, October.
I sincerely apologize for the time it took to compile this article. In a limited defense I will say a lot of time was spent "fixing" the photographs with sharpening software I bought. I also tried to find tidbits of information from the regular season that might enhance some of the mentioned matches.
I felt very lucky to have found some of the information I included.
Next year my daughter wants to photograph the event, if only because the Bossier City Red Lobster is very close to the hotel, and the one in Metairie closed. I may ask the LHSAA for four press credentials, with mine being one for writing only. Perhaps they will let me use the f/2.8 120-300mm lens for the Division II semifinals, just because, even on a tripod I will ask to use, it is still a beast to manage.
I am still working on methods to make working and everyday living easier. Every few months or so I find something that makes a significant difference. Hopefully, I will find ways to make writing future articles easier with only limited quality adjustments. Thank you again for your patience, and I hope for most of you that it was worth the wait.
---
© 2022 by Louisiana Wrestling News
You may not make electronic copies of these copyrighted materials nor redistribute them to 3rd parties in any form without written permission.