| | | |
| --- | --- | --- |
| | | Fini |
---
Louisiana Wrestling News
history and information
September 1st, 2020| Written by: Editor
[The following is just an attempt of mine to write an article I hope you will write better, to elicit questions you might have that I did not answer in the note after the asterisks line.]
[Somewhere an interview has to be added with someone who is familiar with the budgets of families who cannot afford RomaPics.]
After four months of grueling practice, a mixture of physical and mental training harder than any other high school sport can offer, your child wins the LHSAA State Wrestling Championships. Do you want photos from the finals match, and when the official raises your child's arm in victory, or when your child gets his medal and bracket on top of the awards podium? How about just a few photos of your child participating in what the LHSAA website calls "a once-in-a-lifetime experience for most of the participants" for the first time, against an unknown opponent from an unknown school? These are memories to be cherished and remembered, to be framed and put on fireplace mantles, to be sent to grandparents and kept in photo albums.
You can have the first one, and possibly the second one, but bring your wallet. RomaPics, the "official photographer" of LHSAA championship events, charges $25 to download one photograph, $100 to download five or $150 to download 10. It costs more to guarantee your child's matches will be photographed, as those photographs are in specified folders on the RomaPics website. To find out if other photographs exist you will have to find the time to go through about 20,000 photos with no guarantee you will find one of your child.
This has been the case since 2020 and so far appears to be true for the 2021 event as well. The LHSAA has an agreement with RomaPics, a professional photography company out of Metairie, Louisiana, allowing only RomaPics to take and then sell photos of the kids on the mats. If your family is on a tight budget and your children go to schools who cannot afford professional photographic equipment, then you may have to frame the photos you took with your phone from 200 feet away.
That was not the case from 2013-2019 - there was another option. About three months after the event, the Louisiana Wrestling News (LWN) website (www.lawrestlingnews.com) publishes a sub-website on the event, now containing almost 50 pages, which includes results, statistics and analyses of each weight class in each division. It also includes photographs taken with high-end DSLR cameras and lenses. The photos are cropped and edited to enhance the wrestling aspect each photograph was meant to capture. And they are easy to find as they have been sorted by divisions, weight classes, tournament rounds and opponents' names, and thus are on the webpage describing the events of that particular division and weight class.
In 2019 the LWN published over 7,500 photographs from the 2019 state championships. And they do not cost a dime, nor are there any hidden subscription or other.
In 2020 RomaPics, citing a loss of revenue from the state wrestling championships due to the photos published by the LWN, convinced the LHSAA to deny press credentials to the LWN in 2020.
Martin Muller started the LWN in 2012 because he was tired of reading wrestling articles written by people who obviously knew nothing about the sport. Additionally, he could take and publish photographs anyone can copy for free. He had the time to cover one or two events per week and included results of events he could not attend on the website obtained from other sources. He decided to do the utmost he could as a single guy in River Ridge, to cover high school wrestling across the entire state. After the first month and two tournaments that included schools not only from all over Louisiana, but from many other states as well, his website was known throughout the state.
Muller was allowed on the mats when the state wrestling championships were last held at the Pontchartrain Center from 2013-2015. When the event moved to Bossier City in 2016 he decided to hire a Centenary college student to assist him. That worked so well he hired two more local young amateur photographers for the 2017 and 2018 tournaments and a fourth in 2019. He planned to hire one more, for a total of six cameras, for the 2020 event.
Since 2012 he estimates he has spent between $12-15K per year on going to wrestling events, upgrading his photographic equipment and paying his photographers at the state tournament.
Muller said he was called by RomaPics a few weeks prior to the state championships in 2019 and 2020. Ryan Romaguerra, the owner, sought ways for RomaPics and the LWN to work together. Nothing suggested seemed viable to Muller. who says he did not know he was working against RomaPics in the first place. Muller believes the two cannot work together for one simple reason: RomaPics wants to make money while Muller wants to publish photographs of wrestlers competing in the first matches of their career. Muller says he strives to get good photographs of wrestlers who normally would never be published on a newspaper website. He knows he will get shots of the better wrestlers regardless, but that the young ones work every bit as hard as the veterans do in practice and deserve the same attention.
The general consensus of the Louisiana Wrestling Community (see Facebook page) is that even if the LWN photographs were not free, they are still better than those offered by RomaPics. That is because they are individually edited to show the best wrestling aspect available in the photo, and because they include pertinent wrestling "action." It is also because they are taken by a former wrestler and coach who knows what constitutes a good example of not only wrestling moves, but the pain and elation also involved. RomaPics photographers take photographs of the wrestlers and sometimes the coaches. But they do not know when something exciting has a better chance of happening due to the placement of a wrestler's foot or any other variables experienced wrestlers know are set-ups for various moves. Muller does, and he has trained his state tournament photographers a few of them. If they are not sure, he tells them to take the photo anyway, just in case.
[Attempt a comment from RomaPics on how much revenue they lost, if they ever made money on the event, and do they feel fair to the parents living on tight budgets.]
[Ask for a comment from the LHSAA.]
****************************************************************************************************************************
DOB: 12-12-1962 - 57 years old
Martin Muller on wrestlers:
Wrestlers are weird. Everyone who went to high school with one knows that. They work themselves to death during incredibly hard practices. They will run three miles in four layers of sweats prior to going to those practices. Some will allow themselves to eat only lightly on Saturdays during a tournament, Saturday night, through the first practice on Monday, and on Wednesday nights after a dual meet. Some eat less than that. Some limit themselves to 10 sips of water during a school day. Their gym lockers could be used as a gas chamber in San Quentin.
When competitive wrestling ends after high school or college, they have an innate desire to do whatever they can to help promote the sport. Most of them coach, and most coaches spend significantly more of their personal money than they receive as a stipend (if they get one at all) from their school. Others start youth clubs and just hope they "break-even" financially. They are fiercely loyal to all wrestlers, but particularly the ones at the grade school and high school levels.
In 2012 I realized I had some advantages and knowledge that would enable me to "give back" to the sport and promote it in a manner that had not been done since 1978. And like the coaches who published the "Louisiana Wrestling Roundup" twice a year, I wanted to cover the whole state, and the internet made that easier. Hence I started the Louisiana Wrestling News.
Won 1980 and 1981 Division II state championships for St. Martin's

Won 1983 Texas Collegiate Wrestling Association state championship for UT @ Austin

Coached at St. Martin's 1984-7

Started Louisiana High School Wrestling Archives (www.lhswa.org) in 2004 for state tournament results. After Hurricane Katrina in 2006 began compiling all high school records he could find.

Coached at De la Salle 2007-09

B.A. degrees in geography (University of New Orleans) and communications (Loyola University of New Orleans)

Started Louisiana Wrestling News (www.lawrestlingnews.com) in 2012
[Caution: The "editorial 'I'" is utilized below.]
This webpage is intended to provide reporters with information to get them started on an article. I am starting with brief facts, but, and I warn you, at YOUR peril, you may peruse into pretty in-depth historical and superfluous information.
The question I think should be asked is as follows:
Givens: RomaPics is a fine photography company which understandably wishes to work for a profit. The Louisiana Wrestling News (LWN) is a Louisiana Secretary of State registered non-profit organization in good standing and does not attempt to make any money via its reporting on and photographing of any high school wrestling event, including the state championships.
Question: Should parents of wrestlers competing at the LHSAA State Wrestling Championships be forced to buy photographs of their children by RomaPics when an option exists three months later to obtain similar and usually better photographs at no charge?
Problem
RomaPics, the official photographer for LHSAA championship events, loses money on the state wrestling tournament due to photographs I publish which are free to download. Hence, parents have the option of paying RomaPics' exorbitant (according to many) prices to get mediocre (again, according to many) photographs of their kids competing in what the LHSAA website describes as "a once-in-a-lifetime experience for most of the participants," or getting no photographs at all.
Possible LHSAA Excuse
If the LHSAA and/or RomaPics cannot find any viable excuse to exclude the LWN from photographing the state wrestling tournament, they may resort to an arguing that allowing the LWN to photograph the state wrestling championships would set a precedent for others to use to photograph other LHSAA championship events. The simple flaw there is that nobody in their right mind is going to want to cover an event for free. I described wrestlers above -"right mind" has nothing to do with it!
Louisiana Wrestling News Background Information
General goals of the Louisiana Wrestling News
The purpose of the Louisiana Wrestling News is to provide "coverage" of as many Louisiana high school wrestling events as possible during the official high school wrestling season, as well as other information pertinent to Louisiana high school wrestling fans (camp and clinic schedules, school schedules, tournament and dual meet schedules, college achievements, obituary information, etc.).
Louisiana Wrestling News website
In 2012 almost 50 years scandal, debauchery and BAs in geography and communications (as much as I would like to, I really cannot call it a degree in "journalism") I ended up having the time, money and knowledge (of wrestling, HTML code, general grammar and old-style journalism) to give something back to Louisiana wrestling.
Annual coverage usually includes:
Results of tournaments (usually 10-12 including at least one out-of-state) and dual meets (usually four to five) throughout the regular high school wrestling season;

Reports of results from other media sources, usually TrackWrestling or FloWrestling;

Descriptions of the strengths and tendencies of teams and individuals;

Seeding analysis and strength updates as the season progresses;

Listing clinic and camps available in the off-season;

Reporting on other wrestling news involving Louisiana wrestlers and coaches (collegiate success, obituaries, etc.);

Photographs of all events.
LHSAA State Wrestling Championships
The LWN covered the LHSAA State Wrestling Championships from 2013-19. From 2013-15 the LWN only requested one press credential and was allowed to roam on the mats to take photographs. When the event moved to Bossier City in 2016, I was allowed another press credential for an additional photographer I hired. Two more photographers were added for the 2017 event and another for the 2018 and 2019 events. A fifth photographer (six being my limit) was expected to be added for the 2020 event.
A state championships article includes a main cover page, three divisional cover pages and forty-two individual weight class pages. One to three pages of untitled "candid" photographs of wrestlers, coaches and officials, when they are not participating in matches, and fans are also included.
The cover pages include information and photographs of non-wrestling awards, Outstanding Wrestler winners, team photographs and historical references as needed. Individual weight class pages include a synopsis of the season of that weight class in general or of wrestlers who participated in that weight class only in the state championships. Photographs are published from every round of the event, i.e., preliminary championship rounds, quarterfinals, semifinals, preliminary consolation rounds, consolations semifinals, consolation finals (3rd-6th places) and championship finals.
Since 2016 I have left the event with 15-20K photographs to choose from to represent each aspect of the event. Once photos to be published are chosen by the editor, they are organized by division, weight class, tournament round and the names of the opponents. Multiple numbers of photographs of one match are numbered, which indicates the time flow of the match. They are also cropped to highlight wrestling aspects and if needed, edited in other ways to enhance them.
Creating a state championship article usually takes about three months.
State Championships
I first covered an LHSAA State Wrestling Championships in 2013 at the Pontchartrain Center in Kenner. I asked for and received one press pass I was allowed to walk on and between the mats to take photographs. Most of the officials knew me from coaching at De la Salle in the late 2000s or from officiating my high school matches (BCE).
When the event was moved to Bossier City in 2016 I found one photography minor from Centenary College and hired her for the weekend. I hired her and two more in 2017 and 2018, and added one more to that group in 2019. I wanted five additional photographers in 2020. Five is what I would call my limit, and it would mean six working cameras and two each on the finals matches on Saturday night. I instructed my photographers on certain things to look for prior to action they would want to photograph. If they were not sure, I told them to expect something anyway and take the photograph. I paid them between $1,100 and $1,500 for the two days of taking photos and provided shirts and name badges (as well as a night at Red Lobster). When I hire someone, I do not pay them what they will take. I pay them what their work means to me.
Photographs
During the 2012-13 season I used a Canon t3 Rebel DSLR camera and lenses with apertures of f/4.6 or higher. Over the next few years I started buying higher-end cameras and lenses with apertures of f/1.2-f/2.8 and was then able to photograph wrestlers without using a flash. Aside from the Rebel t3 I have a Canon 77D, 70D, 80D and two 7D Mark II cameras. My lenses for wrestling include three f/2.8 70-200mm (Canon, Sigma, Tamron), an f/2.8 150-300mm (Sigma), an f/2.8 100mm (Canon), and f/1.8 85mm (Canon) and an f/1.8 50-100mm (Sigma "Art Lens"). I have several other lenses for up-close shots. RomaPics uses the same type of Canon cameras and lenses.
For a one-day tournament I will usually take about 1,000 photos. For a two-day tournament, I take about 3,000. For a dual meet I will usually take 700-800 depending on how long the matches go. After a state championship tournament I will go home with about 20,000 photographs.
Once I delete the photos I will not use I organize them into divisions (state tournament only), weight classes, tournament rounds, opponents' last names and then the number of the photo from each match (-01, -02, -03, etc.). Then I crop the vast majority of them to get the best "wrestling shot," and may edit some other aspects as needed. I reduce them in size from 6-9 megabytes to 1-2 megabytes, which is more than large enough for most uses.
The LHSAA provided press credentials for the editor and his photographers from 2013-19. In Bossier City the editor also had a place on the press table to use. The LWN had to remain behind the mat barricades since 2016, but this was not deemed a problem and in 2019 they set-up stage areas for photographers to use if needed.
The first hint of a problem occurred on the Saturday of the 2019 event. The editor and his four photographers were allowed on the CenturyLink Center floor all day on Friday, but on Saturday morning we were told that only me and one photographer would be allowed on the floor on the finals day. I had no doubt that Jim Ravannack, the de facto "head" of anything re wrestling in Louisiana, would fix this, but before he did Kelly Wells, the executive director of the Shreveport-Bossier City Sports Commission, intervened on our behalf.
2020 Fiasco
In 2020 I intended to hire five photographers and thus planned to apply for six press credentials. Early in January the online application was still not available on the LHSAA website, so I called Ms. Kay Adams, the LHSAA Media Director, to ask when it would be available. She said it was delayed because the software company that provided it was busy with the NCAA football season. She also said, confirming something of which Mr. Wells had previously informed me, that they were only allowing a maximum of two press credentials per media outlet, but that she would give me three. (Please note that I have no record of this conversation aside from memory). In mid-January the application was available, and I applied for six, realizing that I would probably only receive three.
Unexpectedly on or about January 31st I received a phone call from Ryan Romaguerra, the owner of RomaPics, the official photographer of LHSAA championship events. Mr. Romaguerra asked if there was a way the two of us could work together as, while not working against each other (to my knowledge) in 2019, my photographs from the event, which were not available until 11 weeks after the event was over, significantly reduced RomaPics' expected revenue stream from the event. (Again, I have no record of this conversation aside from memory.) Mr. Romaguerra offered a couple of possible solutions which basically "boiled down" to two aspects and a "gift:"
1) I would give RomaPics my photographs and allow them to sell them but give me credit for taking them (a variation of that offer included my paying half of the fees RomaPics pays to the LHSAA to photograph the event); and
2) I would get the Louisiana Wrestling News listed as an LHSAA sponsor on the LHSAA website, which would promote my website;
3) Mr. Romaguerra suggested I could send him the photos of the 2013-2018 state championships for RomaPics' to "archive" and sell (giving me credit for taking them, of course) to anyone who might not have seen them before.
I will address the third offer first. The photos from the 2013-2018, as well as 2019, state championships are already archived on the LWN Website. Anyone who can read can find links to them on the left side of my website's "Home" page.
The first offer is interesting. Mr. Romaguerra was asking for copies of about 15 SD cards with photographs he would need weeks to organize. Perhaps RomaPics goes through their photographs at the event to eliminate ones that are out of focus, but I wait until much later to do that. All I can imagine is that he would just post them en masse in a folder aside from his others. Then, again, RomaPics probably does not take photos 6-10 megabytes in size, as I do. Making those photographs available without reducing their size would take up an immense amount of storage space.
As for the second benefit of working "with" RomaPics, I thought it very nice that Mr. Romaguerra free publicity of my website, except that I do not. Anyone who can make use of my website knows about it. People in Alabama, Arkansas, Florida, Georgia, Tennessee and Texas know about. I expect others do as well as it is the only high school wrestling website of its like in the nation.
Later that week I informed Ms. Adams, Mr. Romaguerra and Mr. Adam MacDowell, the LHSAA assistant executive director for wrestling, that I declined Mr. Romaguerra's offers. After I emailed Ms. Adams about my status, she replied with an email, also sent to Mr. Romaguerra, Mr. MacDowell and a Baton Rouge attorney, stating that my request for press credentials was denied. That was February 7th, one week prior to the start of the tournament. I had already made plans to go to Bossier City, and my photographers had rearranged their work schedules to be able to work the event. At least we had Red Lobster, and I paid out about $4,000 for their loss of income.
The Actual Problem between RomaPics and the LWN - Profit
The reason Mr. Romaguerra could not find a way for us to work "together" is simple to understand, albeit not so much for Mr. Romaguerra, evidently. It is that I do not run the LWN website to make any money. I do not want high school wrestling families to pay anything for my photographs of their kids on the mats. That being said, promoting my website is also not a priority of mine. I hesitate to think of the reaction he might have if he knew I spent about $15K on wrestling every season expecting nothing in return.
I agree that my photographs have hurt the sale of RomaPics' photographs of the state championship tournaments in which we both have participated. Mr. Romaguerra's suggestions might have flattered me if parents did not routinely tell me that I take better photographs than RomaPics, that RomaPics charges too much for their often inferior photos and that often it is very difficult to order or receive photos once ordered from RomaPics.
Frankly, I cannot even fathom a way to make a profit on the state wrestling championships. The event consists of close to 1,000 kids wrestling for almost 100 schools on 10 mats over two days. Try this scenario:
A school buys 14 15-photo packages at $150 per package for $2,100. As wrestlers from one schools may compete on different mats at the same that, that requires two superhuman photographers to keep up with them for two 12-hour days. RomaPics also has a booth at which people may buy packages, so that is another superhuman to run that. RomaPics has to pay for travel to and from the event, food and lodgings for at least three people for at least three days, and then whatever RomaPics pays their super-humans to be at the event. Whether it is three rooms for three nights or one room with three people for three nights, the lodging fees will be over $1,000. Three meals a day for three people for three days adds another $400. If the photographers make $20 per hour that is, just for mat time, $240 per day x two days x three people equals $1,400. So far that is $2,800 and that does not include the fees RomaPics pays the LHSAA to be there.
Things started getting "iffy" with the LHSAA in 2019. My four photographers and myself took care of Friday, but when we got to the CenturyLink Center on Saturday the LHSAA told us that only one photographer and myself were going to be allowed to take photographs on the floor on Saturday. A man named Jim Ravannack would have solved that dilemma eventually, but before he did, Kelly Wells, the head of the Shreveport-Bossier City Sports Association, told the LHSAA girls to let us in.
In 2020 I planned to add my daughter to the group but the form to request press credentials for the event was not available until after the NCAA bowl games were over. I applied for my six about three weeks before the tournament, even though Mr. Wells said the LHSAA was really "cracking down" on photography credentials. In a telephone call (of which I do not have proof) Ms. Kaye Adams, the LHSA Media Liaison, said that was true, and that was only allowing two credentials as a norm. She said she would give me three.
A week later Ryan Romaguerra, the owner of RomaPics, called me to ask if we could work out some kind of a deal (I have no record of this conversation either). He blamed my 2019 photographs, which were published 11 weeks after the event ended, for his losing revenue from the event. He made two offers and added another "nice" thing he would do. He said if I gave him my photographs then he could sell them but I would get credit for taking them and get listed on the LHSAA website as a sponsor. Then he offered the same thing except it included my paying a portion of his fee to the LHSAA. He seemed to think that my website really could use the promotion it would get as an LHSAA sponsor. As a last gesture he offered to archive my old state photographs for safekeeping which he could then sell to people who might have missed a chance to buy them years ago.
His offers assumed two really stupid thing. One was that I did not know I already had my previous state tournament pictures "archived" as there is a link to past state tournaments on my Website. The other was that he would be able to make any sense of the 12-18 memory cards he wanted me to give him.
I declined his offers, which I then told Ms. Adams. Later that week I emailed her again about my three credentials. On the Friday before the event was to begin I received the email below: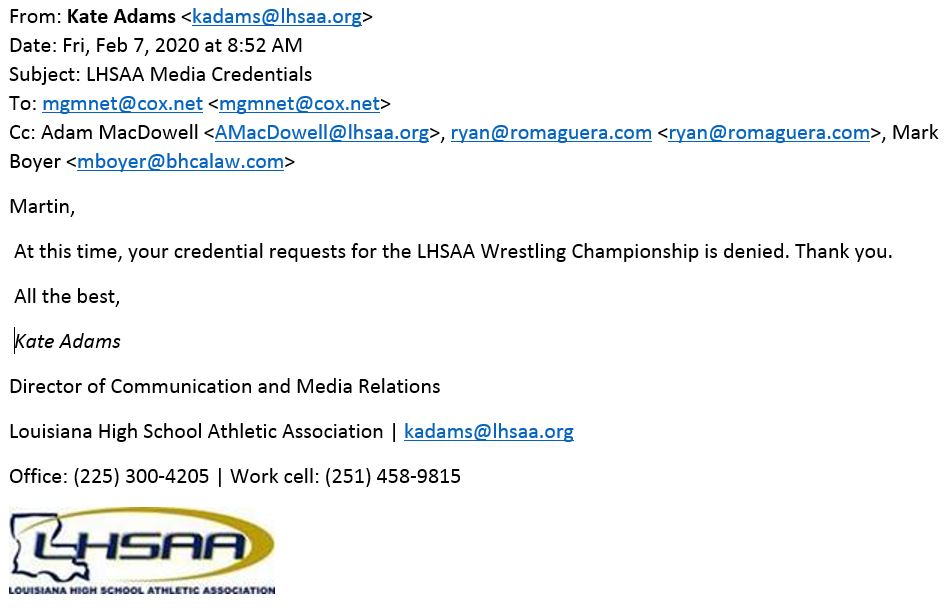 Please note that the email was cc'd to Ryan Romaguerra and Adam MacDowell, the LHSAA assistant director for wrestling, whom I know but did not respond to emails I sent to him. My four Shreveport-area photographers had already rearranged their schedules, so I paid them about $800 apiece at Red Lobster Thursday night. On Friday I spent about an hour in the stands and went back to New Orleans.
The thing that eludes Romaguerra is that I am not there to make money, so a financial arrangement between us is not possible. Nor will promoting my website benefit me financially, and anyone who needs to know about it already does.
The difference is that RomaPics is only there for the money, while I am there for the sport and the kids. Plus, I know wrestling and they do not. Hence, as most of the Louisiana Wrestling Family believes, my photographs are simply better.
---
© 2020-21 by Louisiana Wrestling News
You may not make electronic copies of these copyrighted materials nor redistribute them to 3rd parties in any form without written permission.