| | | |
| --- | --- | --- |
| | | Fini |
---
Sonnier begins Rebels' finals onslaught
LHSAA State Wrestling Tournament
Division II, 106 Pounds
May 9th, 2021 | Written by: Staff writer
| | | | | | | |
| --- | --- | --- | --- | --- | --- | --- |
| Place | 1st | 2nd | 3rd | 4th | 5th | 6th |
| Podium | No Photo Available | No Photo Available | No Photo Available | No Photo Available | No Photo Available | No Photo Available |
| Name | Ashton Sonnier | Jacob Baltz | Collin Bell | Jakari Gibson | Kobe Nguyen | Adam Franklin |
| School | Teurlings Catholic | Rummel | North Desoto | Rayne | Shaw | Haughton |
| Seed | 2 | 1 | 3 | 6 | 5 | 4 |
| Class | 11 | 11 | 9 | 9 | 10 | 12 |
| Final Record | 13-2 | 4-2 | 18-2 | 6-11 | 5-8 | 6-5 |
Final records include Louisiana losses but all wins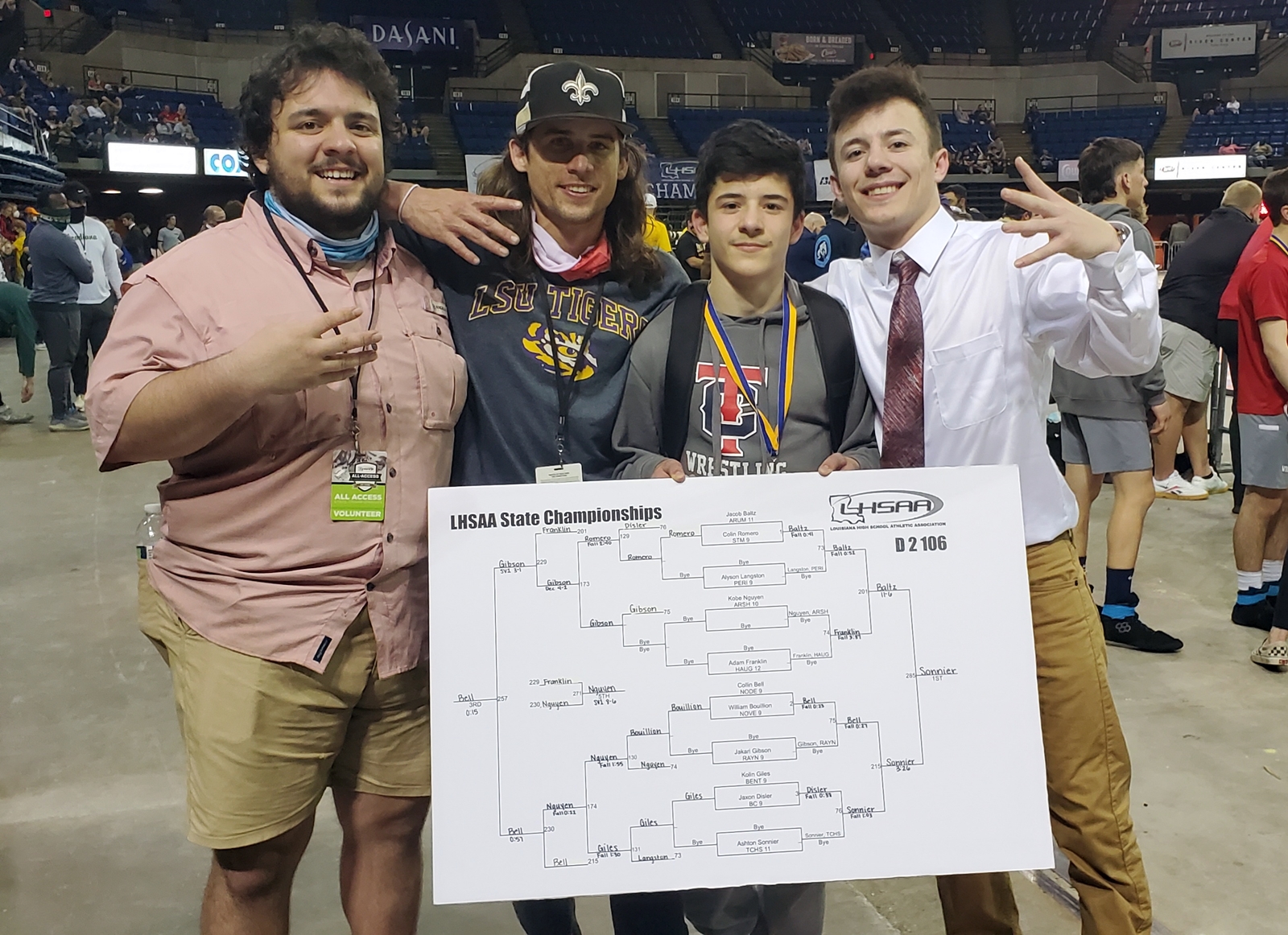 Kynan Sonnier, Andre Viator, Ashton Sonnier and Colten Sonnier - four brothers who won state championships for Teurlings Catholic
Seeding in this weight class is a reason why seeding should have included a COVID factor of sorts. TrackWrestling had the #1 seed, Jacob Baltz, a well-seasoned young man no doubt, with only a 1-1 record. Now it is very feasible not all of his matches were on TW, but if that is all the seeding committee had, it is baffling that he was seeded higher than Teurlings Catholic's Ashton Sonnier, who was 13-2, or North Desoto's Collin Bell, who was 18-2. Sonnier's only losses came from Brother Martin's Dylan Moser and Southside's Landon Reaux, both of whom were Division I finalists. He placed second in the Louisiana Classic in which he defeated Bell and Chalmette's Anthony Perez.
Bell's only loss came from Sonnier at the Louisiana Classic. He placed third at that event and won the Inola tournament in Oklahoma. Bell has a valid beef about being seeded in Sonnier's bracket.
As for Baltz though, if he did only have a 1-1 record upon entering the event, he parlayed his 2020-21 season mat time well by advancing to the finals with two falls in under a minute and an 11-6 decision.
Of the remaining seeds, only Haughton senior Adam Franklin had a winning record, at 6-5. But Franklin did not make it to the match for third place. Bell did, but he faced sixth-seeded Jakari Gibson of Rayne. Nobody aside from Sonnier lasted more than a minute with the North Desoto freshman. Gibson was no different as Bell won via a 15-second pin. It was Gibson who put Franklin into the fifth-place match against 5th-seeded Kobe Nguyen of Shaw. Franklin defeated Nguyen via a fall in 3:37 in the quarterfinals. This was a tight match, and it was Nguyen who took advantage of a Sudden Victory period for an 8-6 win.
(1) Jacob Baltz (RUM) pinned Alyson Langston (PR) in 0:52
(4) Adam Franklin (HAU) pinned (5) Kobe Nguyen (SHW) in 3:37
(3) Collin Bell (ND) pinned (6) Jakari Gibson (RAY) in 0:27
(2) Ashton Sonnier (TC) pinned Jaxon Disler (BC) in 1:03
(1) Jacob Baltz (RUM) defeated (4) Adam Franklin (HAU) 11-6
(1) Ashton Sonnier (TC) pinned (3) Collin Bell (ND) in 3:26
Championship Consolation Rounds
(3) Collin Bell (ND) pinned (6) Jakari Gibson (RAY) in 0:15 to place 3rd
(5) Kobe Nguyen (SHW) defeated (3) Adam Franklin (HAU) 8-6 SV to place 5th
Second-seeded Ashton Sonnier of Teurlings Catholic defeated Rummel's #1 seed Jacob Baltz via a 15-0 technical fall.
In his three matches Sonnier outscored his opponents 21-0, and he probably would have scored more points if he had not let two of his matches end in pins. He took Baltz down in 14 seconds and rode him throughout the remainder of the first period. After Sonnier deferred his choice, Baltz evidently had enough of Sonnier riding him and started the second period in the neutral position. Sonnier only required 11 seconds to score another takedown and rode Baltz with his legs, earning two nearfall points twice for a 6-0 lead. Starting on bottom for the third period, Sonnier escaped and then scored an immediate takedown after 14 seconds elapsed. He then scored two nearfall points twice again. The last one, scored with 20 second remaining in the match, put Sonnier ahead 15-0 and ended the match at 5:40 via a technical fall.
---
© 2020-21 by Louisiana Wrestling News
You may not make electronic copies of these copyrighted materials nor redistribute them to 3rd parties in any form without written permission.