2014 LHSAA State Wrestling Championships: Cover
Editor: March 39th, 2014
Contributors: Editor, Rip Rittell, Shannon Hill, Camille Tyra, Bobby Hebert, Guy Patron, Sr.
GENERAL NOTES: Match descriptions on the individual weight class pages are estimates derived from match photographs and/or pictures of the score clocks. As such they are prone to errors. More accurate match descriptions are welcome and may be sent to the editor in order to revise the accounts.
NOTES ON INDIVIDUAL WEIGHT CLASS PAGES: 1) Almost all photos should open into larger images when clicked; 2) Records provided do not include forfeits or matches affected by medical reasons, and as such will not match records listed on ncaaonline.com; 3) Records in parentheses include matches against Louisiana wrestlers unless noted otherwise; 4) Photo captions are not always included; (5 Seeds in bold typeface placed in the same position in which they were seeded.
Introduction
Eighty teams vied for three division championships and the associated Brother Melchior Trophies in the 2014 LHSAA State Wrestling Championships held on February 21st and 22nd at the Pontchartrain Center in Kenner, Louisiana. Ten mats were used, with eight located in the main exhibition hall and two more in an adjoining hall. According to a
SportsNOLA Website article
an estimated 13,955 fans bought tickets to the four sessions, again setting a state tournament record. The article also stated the attendance was 1,186 higher than that of the 2012 tournament.
The attendance figures
Louisiana Wrestling News
researched showed the following:
| | | | |
| --- | --- | --- | --- |
| Year | Paid Attendance | Annual Increase | Annual % Increase |
| 2014 | 13,955 | 1086 | 0.84 |
| 2013 | 12,869 | 32 | 0.25 |
| 2012 | 12,837 | 1,573 | 13.96 |
| 2011 | 11,264 | 788 | 7.52 |
| 2010 | x | x | x |
| 2009 | 10,476 | -199 | -1.86 |
| 2008 | 10,675 | x | x |
Regardless of the accuracy of either source, one thing is certain: interest in wrestling in Louisiana is still growing.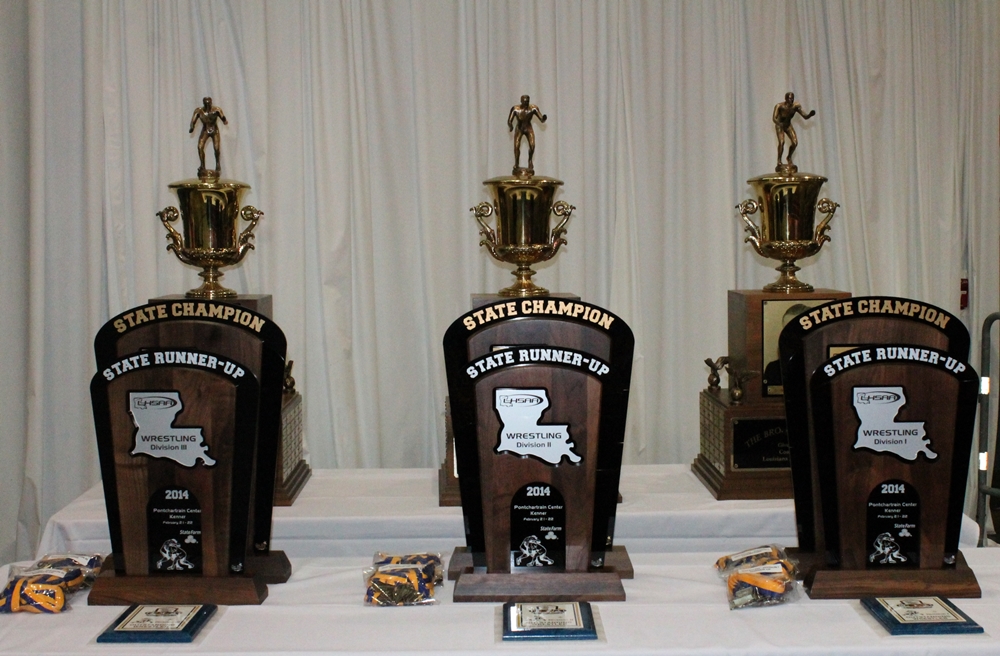 The Brother Melchior Trophies are presented to the head coach
of the championship teams in Divisions I, II and III.
Full Division I Brackets in PDF
Brother Martin "III-Peats*"

Coach Robert Dauterive's Brother Martin Crusaders won their third consecutive Division I state championship, besting runner-up Jesuit by 35.5 points, 312.5 to 277. The Crusaders had individual state championships in freshman Steven Shields (106 lbs.), juniors Mason Mauro (113 lbs.), Paul Klein (132 lbs.), and Yehia Riles (182 lbs.), senior Austin Meyn (138) pounds. Junior Mason Williams (152 lbs.) and senior Travis Quarterman (160 lbs.) placed second for Brother Martin.

This marked Dauterive's sixth Division I state championship as a head coach and Brother Martin's 15th overall, a total surpassed only by Holy Cross and Jesuit.

Dauterive is a 1984 Crusader alumnus. Brother Martin's coaching staff also includes J.P. Pierre, James Casadaban, Jr. ('06), Nick Shields ('08), Will Stall ('07), Michael Cronin, Jack Duffard ('05), Garett Majou ('94) and Dylan Dunn ('12).
* The actual phrase was trademarked by Los Angeles Lakers coach Pat Riley in 1988 for the then two-time NBA champions. The Lakers lost the 1989 NBA title to the Detroit Pistons, but Riley was able to collect royalties when the Chicago Bills achieved the feet from 1991-1993 and 1996-1998.
Division I

| | | |
| --- | --- | --- |
| 1st | Brother Martin | 312.5 |
| 2nd | Jesuit | 277 |
| 3rd | Catholic | 216.5 |
| 4th | Holy Cross | 204 |
| 5th | Rummel | 174 |
| 6th | St. Paul's | 137.5 |
| 7th | East Ascension | 136.5 |
| 8th | Comeaux | 109 |
| 9th | Fontainebleau | 108 |
| 10th | Sulphur | 107 |

| | | |
| --- | --- | --- |
| 11th | Hahnville | 106 |
| 12th | Airline | 96 |
| 13th | Dutchtown | 91 |
| 14th | Zachary | 90.5 |
| 15th | Lafayette | 73 |
| 16th | Mandeville | 66.5 |
| 17th | Destrehan | 65 |
| 18th | St. Amant | 59.5 |
| 19th | C.E. Byrd | 57 |
| 20th | John Ehret | 55 |

| | | |
| --- | --- | --- |
| 21st | Covington | 52 |
| 22nd | Acadiana | 21 |
| T-23rd | Chalmette | 37 |
| T-23rd | McKinley | 37 |
| 25th | Baton Rouge | 35.5 |
| 26th | Barbe | 23 |
| 27th | Northshore | 22 |
| 28th | Walker | 14 |
| T-29th | L.W. Higgins | 0 |
| T-29th | Woodlawn | 0 |

Connor Stampley of Comeaux (126 lbs.) won the Division I OW honors
If there was ever a time in the last three years in which the Crusaders could be challenged for the Division I title, it was this year. The Crusaders might have been considered "weak" in a few weight classes, albeit only according to Brother Martin's interpretation of "weak." But they still fared well. Junior Seth Johnson, in only his second tournament of the year, was one point away from placing in the 120 lbs. weight class. Senior Nick Comardelle, who maintains he has not wrestled since his freshman year, placed sixth at 170 lbs. Sophomore Jacob Clapp and Matt Montalbano placed fifth at 220 lbs. and 285 lbs. respectively. Crusaders won five of the remaining ten weight classes, placed second in three and fourth and fifth in the remaining two.
The team with a legitimate chance to dethrone the Crusaders was Jesuit. And going into the semifinals the Blue Jays only found themselves 5.5 points behind the Crusaders, but that is when the Crusaders started dominating, a trend that continued in the consolation rounds.
The Blue Jays got some, but not all, of the help they needed:
They needed top-seeded Alex Betteridge of East Ascension to not have torn a ligament on Thursday and to have defeated Steven Shields in the finals. Shields won by a major decision instead against the #4 seed;
They needed #3 seed Nicky Charles to defeat Mason Mauro in the 113 lbs. finals, but Mauro won 3-1;
The Jays got a lot of help at 120 lbs. when Ben D'Antonio won and Brother Martin did not place;
A little more help came at 126 lbs. when Comeaux's Connor Stampley defeated Taylor Gambill by a point;
In what was deemed impossible by many early in the season, Blue Jays fans needed George Benoit of Holy Cross to defeat Paul Klein one more time (Klein's only loss of the year), but Klein prevailed 3-1;
A repeat of last year's 126 lbs. finals match in which Catholic's Brennan Taylor defeated Austin Meyn would have been nice, but this time, at 138 lbs., Meyn won 9-5. (The Blue Jays received some unwarranted help at 138 lbs. as third-seeded Will Lafranca did place third, but did it via the long route, having lost in the second round and then scoring four falls and two technical falls. LaFranca scored more team points than he would have had he made it to but lost in the semifinals.);
The top seed at 145 lbs., Crusader Danny Evans, was upset in the semifinals and placed fourth, but that was not offset by Jesuit, who placed fifth at that weight;
Mason Williams, the #1 seed at 152 lbs., squeaked by Jesuit's Ashton Queyrouze 3-2 in the semifinals, and Williams was upset in the finals by Catholic's Matthew Mire;
At 160 lbs. #3 Travis Quarterman of Brother Martin required a Sudden Victory round to beat #2 Gaston Eymard, who later placed third;
The Jays did get an advantage at 170 lbs. when Jake Eccles won and the Crusaders placed sixth;
Any 170 lbs. Blue Jays advantage was lost almost immediately (aside from the seven rounds it required) when Yehia Riles of the Crusaders defeated Jesuit's Guy Patron, Jr.;
While the Crusaders only placed fifth at 195 and 220 lbs., the Blue Jays did not place at all. And a third place Blue Jay finish at 285 lbs. had long since lost any potential merit despite the Crusaders placing fifth.
The bad news for the 2014-15 season (for anyone aside from the Crusaders, of course) is that Brother Martin returns another veteran team which includes nine state placers: Steven Shields (1st), Mason Mauro (1st), Taylor Gambill (2nd), Paul Klein (1st), Danny Evans (4th), Mason Williams (2nd), Yehia Riles (1st), Jacob Clapp (5th) and Matt Montalbano (5th), and there are plenty of very capable Crusaders waiting in the wings.
Jesuit had a good run with champions at 120 lbs. and 170 lbs., and runners-up at 113 lbs. and 182 lbs., but they needed everything to fall their way. The Crusaders really did not comply with those wishes, as only three Brother Martin wrestlers placed lower than their seeding, while five placed higher. Comparing seeding to actual places scored, the Crusaders were a "+1" while the Blue Jays were "-1."
The Catholic Bears had two state champions and a runner-up. Senior James Claitor repeated as a champion by winning the 145 lbs. weight class with a 16-8 victory over Dutchtown's Brandon Cowell. Claitor was followed by junior Matthew Mire, who upset top-seeded Mason Williams of Brother Martin 3-2. Prior to Claitor's match, defending 126 lbs. state champion Brennan Taylor fell short of repeating, falling to the opponent he defeated in last year's 126 lbs. finals, Austin Meyn of Brother Martin. Holy Cross placed fourth in their first Division I competition since the 2007. The Tigers were hurt coming into the tournament having lost their junior Collin Guerra (the then third seed at 126 lbs.) to a broken mandible, and losing Mason Williams (152 lbs.) to an injury in the first round. Michael Yeatman was injured in the 220 lbs. semifinals and was unable to compete in the consolation rounds. The Tigers might well have erased the 12.5 deficit to Catholic to place third had those three not been injured. Rummel and St. Paul's completed a catholic school sweep of the first six spots, but it was East Ascension, behind Conor Karwath's state championship at 285 lbs., that won the public school battle over Comeaux 136.5 to 109 to place seventh. (The Spartans were a mere one point behind the St. Paul Wolves.) Fontainebleau had 108 points which put them in 9th place, their best ever team finish. That race was very close, as Sulphur was 10th with 107 points, one point ahead of Hahnville's 106. Airline was 12th but should be expected to do very well in the next few years as their three placers (Javarious Jones, Christopher Walden and Keegan Gilligan), as well as an experienced fourth-seeded Antonio Lococo, consist of two sophomores and two freshmen.
Comeaux senior Connor Stampley, a runner-up last year to Jesuit's Mitch Capella at 113 lbs., avenged a Ken Cole finals loss to Brother Martin's Taylor Gambill with a 5-4 state finals victory. Stampley pinned his first opponent in 55 seconds, a feat his mother (and some others) thought should have taken a little longer, if only to get some more early mat time. Stampley replied that he would never be considered for the Outstanding Wrestler award, a recognition he had never been accorded, if he did not win quickly. Mat time might have been better though, as Stampley had a difficult time with St. Amant's seventh-seeded Austin LeBouef. It was not until the middle of the third period that Stampley took control in the 11-6 win. A harder match was anticipated against Airline's freshman #3 seed Christopher Walden, but Stampley rose to the occasion with a 15-3 major decision. With his 5-4 decision over Gambill in the finals, Stampley not only won a state championship, but, against some incredibly good tournament competition, also won the Division I Outstanding Wrestler award.
Jesuit placed second with 277 points.

The Holy Cross Tigers won the 18th Louisiana Interscholastic Championships at the New Orleans Athletic Club. Basile's Jimmy Vidrine capped his undefeated high school career with his fifth state championship for the Bearcats and also won the Outstanding Wrestler and William B. Schriever Sportsmanship awards.

A little blatant southeast Louisiana favoritism was displayed by the Times-Picayune, in that while Basile placed second to Holy Cross with 14 points in the five-team competition (beating out Jesuit and De la Salle) they were listed last in the team standings. South Cameron, with eight points (five more than De la Salle) was listed fourth.
Full Division II Brackets in PDF
Teurlings Catholic wins third Division II Crown
Like the Holy Cross Tigers of 2013, Teurlings Catholic won the Division II team title with only one state champion. Unlike the Tigers, though, who were heavy favorites, the Rebels had to fend off a determined Live Oak team. Under the tutelage of coaches Brad Macha and Kent Masson Teurlings has won three of the last four Division II titles.

Teurlings had three finalists but it was sophomore Brock Bonin who won the championship, his second in as many years, at 120 lbs. Tristan Lee at 132 lbs. and Kynan Sonnier at 160 lbs. placed second.

As in most tight races, Teurlings won the championship in the consolation rounds. Ten Rebels who were not in the finals placed, with five taking third place. Live Oak had four champions and two runners-up, but only four other wrestlers placed. Re seeding vs. actual places (the "seeding points" method, in that if a 3rd seed placed first a "+2" would result, whereas if a 3rd seed placed fourth, "-1" would be the result.* Teurlings actually had a deficit of "-1.
The "seeding points" system is something created to take up space in this table. It measures the combined total seed numbers (a 6th seed=6, a 3rd seed =3, etc.) with the lowest number representing the stronger team. And as "weighting" those numbers might be neat in theory, it does not really work. So the system really only applies if teams have the same number of seeded wrestlers. Teurlings and Live Oak each had 11.
Division II

| | | |
| --- | --- | --- |
| 1st | Teurlings Catholic | 261.5 |
| 2nd | Live Oak | 250 |
| 3rd | Shaw | 190.5 |
| 4th | Parkway | 179.5 |
| 5th | Benton | 138 |
| 6th | Central | 112 |
| 7th | Bossier | 90 |
| 8th | Sam Houston | 89 |

| | | |
| --- | --- | --- |
| 9th | Pearl River | 86 |
| 10th | Northside | 77 |
| 11th | Carencro | 76 |
| 12th | St. Michael | 75 |
| 13th | Belle Chasse | 62 |
| 14th | Grace King | 42.5 |
| 15th | Huntington | 42 |
| 16th | Haughton | 41 |

| | | |
| --- | --- | --- |
| 17th | East Jefferson | 37 |
| 18th | Riverdale | 34 |
| 19th | North Desoto | 31.5 |
| T-20th | Plaquemine | 29.5 |
| T-20th | Rayne | 29.5 |
| 22nd | Istrouma | 14.5 |
| 23rd | Northwood | 13 |
| 24th | St. Thomas More | 10 |

Sterling Saylor of Plaquemine (132 lbs.) won the Division II OW honors.
Live Oak made a gallant run for the title. At the start of the finals they required Tristan Lee and Kynan Sonnier to lose (they ceded 120 lbs. to Bonin), and needed pins from three of their remaining five finalists. After Colt Olinde's major decision at 106 lbs. Live Oak finalists scored a fall at 113 lbs., a major decision at 126 lbs. and another fall at 138 lbs. But the Eagle finalists at 182 lbs. and 195 lbs. had two tough opponents in top seeds Jalen Oliver of Bossier (a defending Division III state champion) and Shaw's Brennan Falcon. The Eagles finished 11.5 points behind the Rebels, but nevertheless had the most successful season in their seven year history (not counting 1953).
State champions for the Eagles were Colt Olinde at 106 lbs., Jacob Chenevert (his second) at 113 lbs., Cody Hill (his third) at 126 lbs. and Seth Bosarge (his second) at 138 lbs. Brody Bonura at 182 lbs. and Nick Simoneaux at 195 lbs. placed second.
Shaw finished in third place with state championship performances by Kody Woodson at 170 lbs. and Brennan Falcon at 195 lbs. Woodson, after a runner-up place in 2012 and a disappointing third in 2013, finally got his place atop the podium. A mere 10.5 points behind Shaw was Parkway, who had a champion at 145 lbs. in Zach Funderburk. Benton placed fifth and had state champions in Andre Dean (152 lbs.) and Jeffrey Lewis (160 lbs.). A surprising team from Central placed sixth behind a runner-up finish by freshman Austin Gouedy at 106 lbs., fourth place finishes by junior Daulton Rainwater at 126 lbs. and senior Kade McAdams (170 lbs.), and fifth place finishes by seniors Ryan Huffy (145 lbs.) and Dalton Holdman (182 lbs.). The Wildcats only entered ten wrestlers in the event.
Plaquemine High School junior Sterling Saylor, the only Green Devil wrestler actually in high school, was seeded second at 132 lbs. behind top seeded Tristan Lee of Teurlings Catholic. Down 6-1 in the second period, Saylor caught Lee in a cradle and pinned him at 2:37 to win the championship. Saylor recorded a 15-0 technical fall over Live Oak's Brandon Webb in the semifinals and pinned Benton's Josh Caskey in the quarterfinals in 1:41. For his efforts Saylor earned the Division II Outstanding Wrestler award.
Live Oak placed second with 250 points.

| | |
| --- | --- |
| | Jeanerette won their last of three state wrestling championships by outpacing East St. John 229-196. The Tigers had six champions: Edward Roane, Lenny Guillotte (2), Robert Mestayer, Anthony Pardella and Robert Shelton (2). Mark Prejean of Brusly won his third state title for the Panthers, who finished in fourth place behind Buras.¹ |
Full Division III Brackets in PDF

Brusly Sets New Scoring Record in Winning 13th Title

Coach Jimmy Bible's Brusly Panthers did not face the test Teurlings Catholic did en route to a team championship. They did not even face the better odds Brother Martin had. Their 11th Division III title (their 13th overall state team championship) was pretty much conceded sometime between the seeding committee meeting and the weigh-ins.

Thirteen Panthers were seeded in the top six. Their average seed was 1.8. And they exceeded their average seed with a "+4" surplus and a 1.5 average placing.

Forget the math - the Panthers had 13 wrestlers in the semifinals. Ten of them made it to the finals. Nine of them won state titles, including the first eight titles contested. They amassed an all-divisions record 343.5 points, outdistancing runner-up De la Salle by 167 points.


Austin Franklin (106 lbs.), Kendon Lee-Kayser (113 lbs.), Baret Sanchez (120 lbs.), Wayne LeJeune (126 lbs.), Noah Landry (132 lbs.), Toby Hebert (138 lbs.), Koby Mancuso (145 lbs.) and Trevor Schermer (152 lbs.) completed the sweep of the first eight state titles on the line. Dillon Prejean won the last title for the Panthers at 195 lbs. Diondre Dorsey placed second at 160 lbs. and Donald Johnson and Jo'Vonte Wheeler placed third.
Division III

| | | |
| --- | --- | --- |
| 1st | Brusly | 343.5 |
| 2nd | De la Salle | 176.5 |
| 3rd | North Vermillion | 165 |
| 4th | St. Louis | 148 |
| 5th | Basile | 116.5 |
| 6th | Episcopal | 88 |
| 7th | South Plaquemines | 83.5 |
| 8th | John Curtis | 80 |
| 9th | Lakeside | 79.5 |

| | | |
| --- | --- | --- |
| 10th | Evangel | 74.5 |
| 11th | Dunham | 60 |
| 12th | Ouachita Christian | 46 |
| 13th | Fisher | 44 |
| 14th | Holy Rosary | 37 |
| 15th | Doyline | 35 |
| 16th | Kaplan | 31.5 |
| 17th | Loyola | 30 |
| T-18th | Grand Lake | 29 |

| | | |
| --- | --- | --- |
| T-18th | Thomas Jefferson | 28.5 |
| 20th | Calvary Baptist | 26 |
| 21st | South Cameron | 22 |
| 22nd | Redemptorist | 19 |
| 23rd | University Lab | 14 |
| 24th | Baker | 7 |
| 25th | Church Point | 2 |
| 26th | Parkview Baptist | 0 |
| 27th | | |

Trevor Schermer of Brusly (152 lbs.) won the Division III OW honors.
The true battle in Division III was for the runner-up spot. St. Louis was expected to make a run for it, but they could not recover from losing returning state champion Conway LeBleu early in the season, and the Saints placed fourth with 148 points. Hence the race was between De la Salle, which finished 13th in 2013, and North Vermillion, the team runner-up in 2013. The Patriots had four finalists, including a top seed in Colin Vaughn at 182 lbs., but none could take the next step to a championship. The Cavaliers, though, had the only legitimate "sure bet" who did not wear a Brusly singlet, in two-time defending state champion Alex Martin. Martin won his third Division III state title with a major decision over Diondre Dorsey of Brusly, and he was surprisingly followed by another Cavalier major decision by Logan Sylve, a third seed who defeated Basile's Mason Deshotel 14-2. The additional 10 points scored in the finals, and the fact that North Vermillion did not win a finals match, strengthened the tenuous 1.5 point lead the Cavaliers had going into the finals. De la Salle placed second with 176.5 points, 11.5 points ahead of North Vermillion.
Trevor Schermer accomplished what only two other Brusly wrestlers had done previously by winning his fourth consecutive Division III championship. Tim LeBlanc accomplished that feat from 1979 to 1982, and Trevor's older brother Austin did it between 2009 and 2012. Schermer won his fourth title at 152 lbs., up two weight classes from the 138 lbs. at which he was unbeatable, including winning the Louisiana Classic and Ken Cole tournaments (in which he soundly defeated the two Division I 138 lbs. finalists). And 152 lbs. in Division III was no "cake walk." The weight class included the 2013 Division II state champion from St. Louis, Lehrue Stevens, IV, as well as the 2013 Division III runner-up at 152 lbs., Colin Laird of North Vermillion, whom Schermer faced in the finals. But Schermer was not to be denied his fourth title as he won each match by falls in 2:45, 3:31 and, in the finals, after being unexpectedly taken down at the onset, in 3:56. For his accomplishments Schermer was recognized as the Division III Outstanding Wrestler.
De la Salle placed second with 176.5 points.

| | |
| --- | --- |
| | Guy Mistretta's Redemptorist Rams won their third consecutive Division III state championship, walloping their closest competitor, Pearl River, by 126 points (275.5-149.5). Pearl River had some notable names include freshman Jimmy Ballantyne, a runner-up at 125 lbs., and junior Jeremy Spohrer, a runner-up at 215 lbs.¹ |
¹ Images copied from Coach Bill Bofinger's book - Ready....Wrestle.
Wayne Schmidt Memorial Gold Whistle Award



Prior to the finals James Casadaban (Brother Martin '79) was awarded the Wayne Schmidt Memorial Gold Whistle Award, presented annually to "an official who demonstrates excellence as an official by exhibiting technical skill supported by dedication, diligence and determination, and in recognition of outstanding service to member schools of the Louisiana High School Athletic Association." With Casadaban are (l-r) Paul Schmidt (Brother Martin '86), James Ravanack (President - USA Wrestling; East Jefferson '78), Gil Schmidt (father of Wayne, Jerry and Paul Schmidt), Jerry Schmidt (Brother Martin '81) and Cliff Strider (rules interpreter; East Jefferson '69).
Hear me ROAR...
Raven Guidry, a freshman at Acadiana High School wrestling in a weight class in which the young gentlemen may not weigh more than 106 lbs., became the first female to win a Division I winners bracket match, doing so via a fall in 1:39. After losing her next match she continued in the consolation rounds with a bye and then an 8-6 win. Guidry then ran into fifth-seeded Chris Zea of Holy Cross, who previously defeated her at the Ken Cole. Guidry was followed by Abigail Nette of Destrehan who also won a consolation rounds match in the weight class in which the young gentlemen may not weigh more than 138 lbs.

(Photo left - Acadiana's Raven Guidry, a freshman, at the Ken Cole Invitational against Chris Zea of Holy Cross.)



There are easier ways to get on this Website

As one of the most improved wrestlers of the year (albeit he was not shabby as a Division II runner-up to Cody Hill in the 2013 state championships) Collin Guerra of Holy Cross would have easily made this Website. Hence he did not have to break his jaw before the 2014 state tournament to do so. Nevertheless, he quietly figured out a way to catch the editor's attention.



Special thanks go to Suzanne Blades (photo left with son Austin) and Rip Rittell (photo right) for photographic needs.

Ms. Blades, the mother of Dutchtown senior Austin Blades, was kind enough to lend the LA Wrestling News' absent-minded photographer a spare battery for his Canon camera. The photographer had a fully charged spare battery safely lying on his office desk when his other battery went low.

Mr. Rittell, the father of Zachary senior Daniel Rittell, covered the 160 lbs. and 170 lbs. semifinals while the LA Wrestling News photographer was getting the replacement battery from Ms. Blades.

It should be noted that Austin Blades (at 126 lbs.) and Zachary Rittell (at 160 lbs.) both placed fifth in Division I.

So you are in New Orleans now and have absolutely nothing to do...
The LWN editor's daughter Camille was escorted to the finals by Dr. Steven Kantrow, a Division II state champion for St. Martin's in 1980. Camille was subjected to her first wrestling event a mere 18 hours after arriving in New Orleans the morning before the tournament started.

The hand signal she is making might be mistaken to mean "Hook 'em Horns," in honor of the University of Texas at Austin where her father wrestled, but that would be a mistake. The gesture, however (the editor was assured) meant nothing nefarious, and Camille was all smiles at the end of the championship finals. Her smiles might have been mistaken for the elation she felt having attended the last wrestling event her father would ask her to attend, but...well...actually, one would not be mistaken to surmise that.
---
© 2014 by Louisiana Wrestling News
You may not make electronic copies of these copyrighted materials nor redistribute them to 3rd parties in any form without written permission