| | | |
| --- | --- | --- |
| | | Status: Fini |
---
Jesuit slips past St. Paul's in a see-saw match
Team scores had seven lead changes and four ties
Previous page
November 9th, 2015 | Written by: Editor

The Jesuit Blue Jays squeaked by the St. Paul's Wolves 29-24 in Louisiana's first outdoor dual meet between two high school wrestling teams. Senior Griffin Mason, in the last match of the evening, sealed the Blue Jay victory with a 13-4 major decision over St. Paul's Seth Dragon in a rematch of a consolation round meeting at the 2015 state championships (also won by Mason).

The deciding match, however, may have been three matches before the Griffin-Dragon one. At 132 lbs. Jesuit's Jackson DeGruy and Steven Van Zandt of St. Pauk's wrestled to a 7-7 tie after six minutes. In the Sudden Victory round it was DeGruy who slipped his head out of a throw attempt by Van Zandt, and then brought the Wolves' wrestler to the mat for a takedown and a win. Had Van Zandt prevailed and the remaining matches ended as they did, St. Paul's would have edged the Blue Jays 27-26.


| | | |
| --- | --- | --- |
| The victory may be more telling than first thought. Four-time defending Division I state champion Brother Martin's strength this season is, as yet, unknown. Were the Blue Jays to make a challenge, they would also have to best Holy Cross, who handled the Blue Jays early in the 2014-15 season yet lost the state runner-up spot to Jesuit by one point. St. Paul's however, soundly defeated Holy Cross while winning Saturday's Raider Open, so the close match against Jesuit was no fluke. Make no mistake - St. Paul's has game. | | Some may argue that Jesuit's Guy Patron, Jr., who did not compete due to still playing football, would have negated a win by St. Paul's Kyle Schech at 195 lbs., leading Jesuit to a larger Blue Jays margin of victory. St. Paul's, however, was lacking Colin Francis at 220 pounds due to a concussion (rumors that Francis was pinned during the match were greatly exaggerated). Francis was replaced by sophomore Nathan Bagnell, who was pinned by Jesuit senior Nolan Stone. Stone did not wrestle in the 2014-15 or 2013-14 seasons, whereas Francis placed sixth at state in 2015 and would have been favored versus Stone. |
160 Pounds
Sam Dufour (STP) defeated Brandon Wolff (JES) 7-3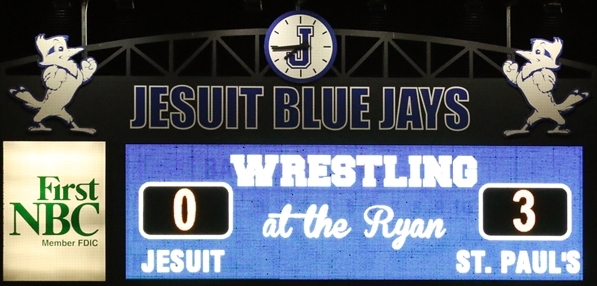 170 Pounds
Kyler Pisciotta (JES) defeated Blake Huff (STP) 5-3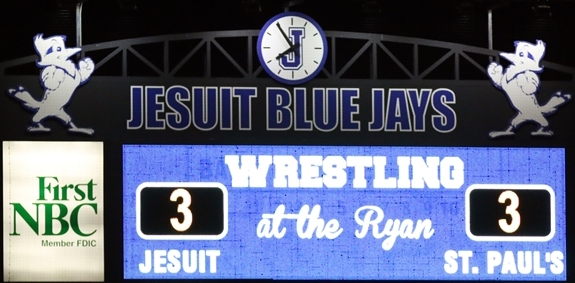 182 Pounds
Evan Palmisano (JES) defeated Josh Mascaro (STP) 7-2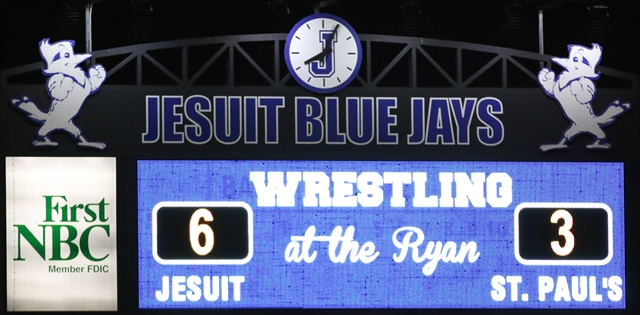 195 Pounds
Kyle Schech (STP) defeated Gregory Bohn (JES) 9-4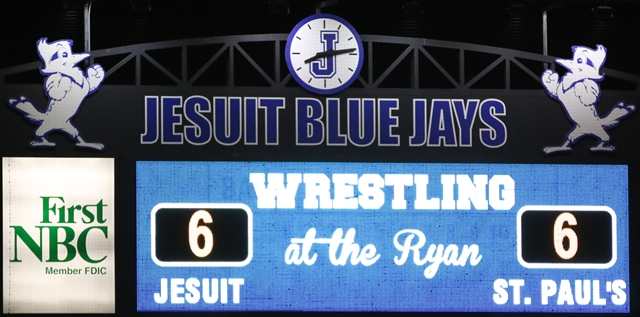 220 Pounds
Nolan Stone (JES) pinned Nathan Bagnell (STP) in 1:55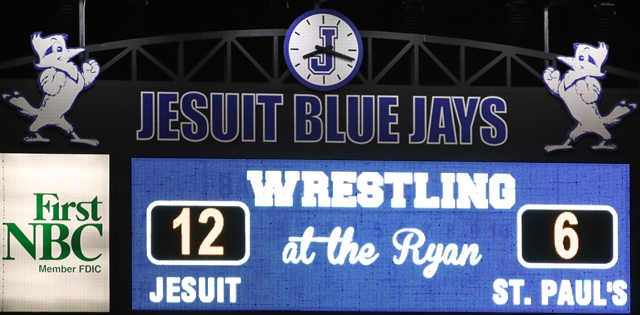 285 Pounds
Christian Fortner (STP) won via a forfeit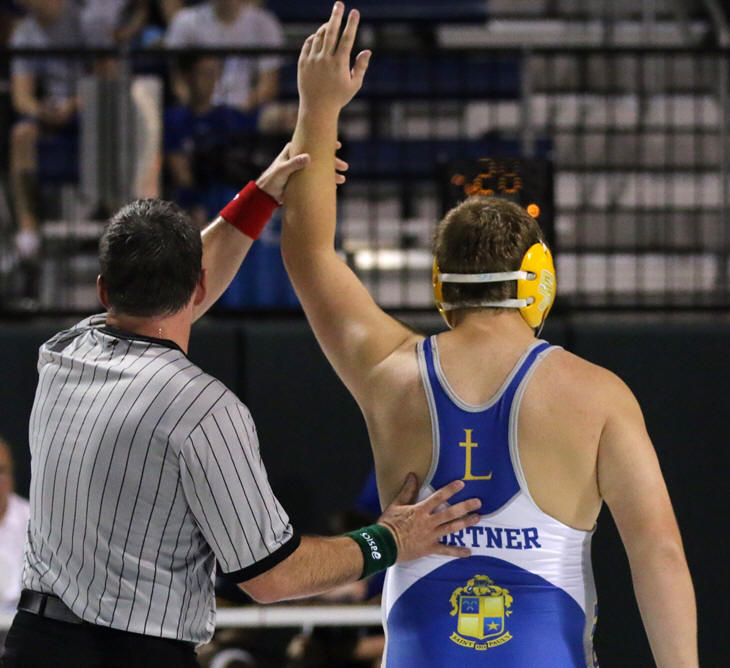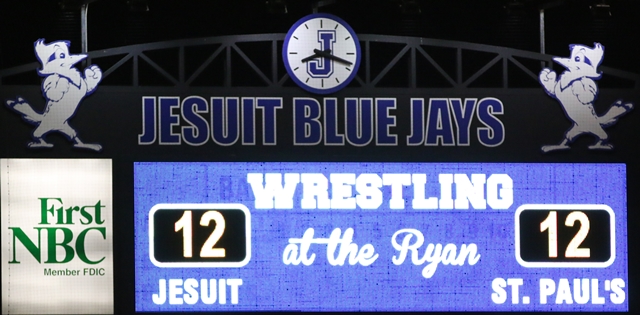 106 Pounds

Brandon Stein (STP) defeated Colby Queyrouze (JES) 4-3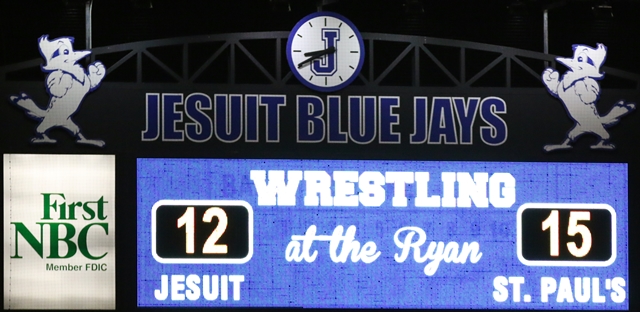 113 Pounds

Adam Larriviere (JES) defeated Cole Houser (STP) 6-0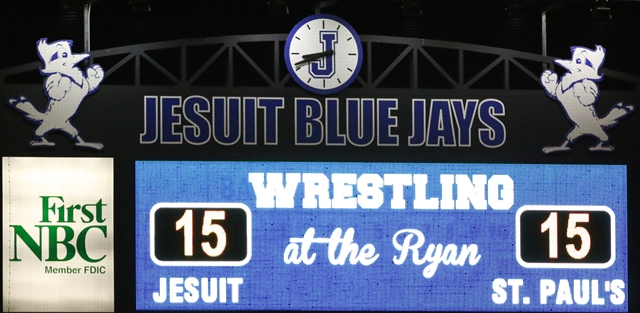 120 Pounds

Jared Thieler (STP) defeated Jordan Giewat (JES) 5-0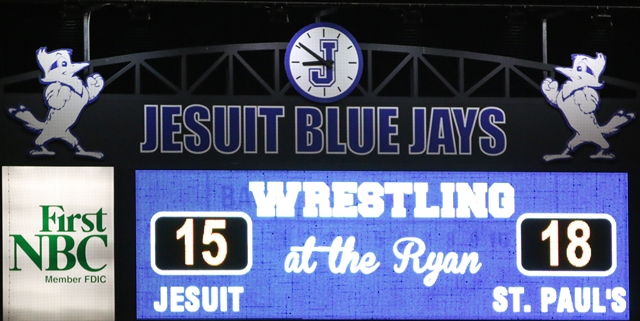 126 Pounds

Joseph Dupre (JES) defeated Shane Ulfers (STP) by an 18-10 Major Decision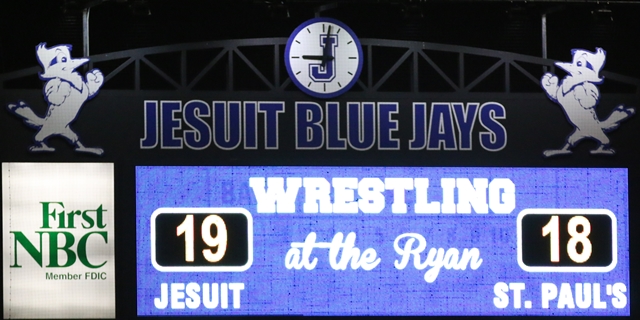 132 Pounds

Jackson DeGruy (JES) defeated Steven Van Zandt (STP) 9-7 in a Sudden Victory period
138 Pounds

Eli Larriviere (JES) defeated Billy Harrison (STP) 7-3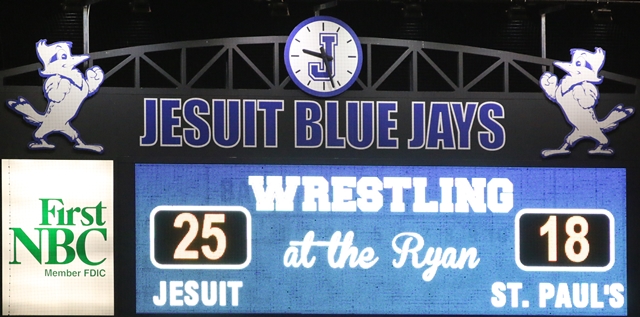 145 Pounds

Hunter Bourgeois (STP) pinned Nathan Koenig (JES) in 2:35
152 Pounds

Griffin Mason (JES) defeated Seth Dragon (STP) by a 13-4 Major Decision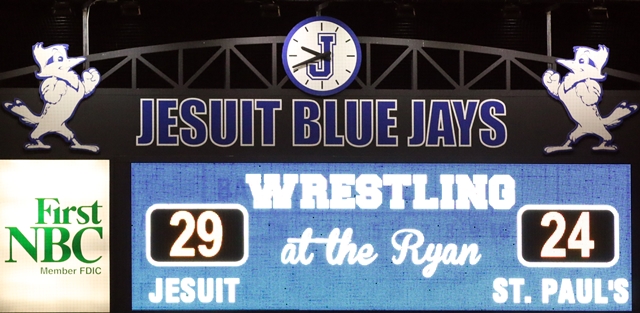 ---
© 2015 by Louisiana Wrestling News
You may not make electronic copies of these copyrighted materials nor redistribute them to 3rd parties in any form without written permission.