| | | |
| --- | --- | --- |
| | | Status: Fini |
---
Jesuit and St. Paul's make history in first outdoor match in Louisiana
Match results page
November 9th, 2015 | Written by: Editor
Jesuit and St. Paul's opened their 2015-16 wrestling seasons in spectacular fashion by holding the first actual Louisiana high school dual meet in the great outdoors. The match was held on the infield of Jesuit's John Ryan Stadium, the home of Blue Jay baseball, in the late afternoon and early evening of November 5th. First-year Jesuit coach Sheridan Moran came up with the idea based on a University of Iowa plan. The Hawkeyes will host Oklahoma State in the Hawkeye's football stadium on November 14th in an effort to set an NCAA wrestling dual meet attendance record. St. Paul's coach Craig Ketelsen readily agreed to the venue.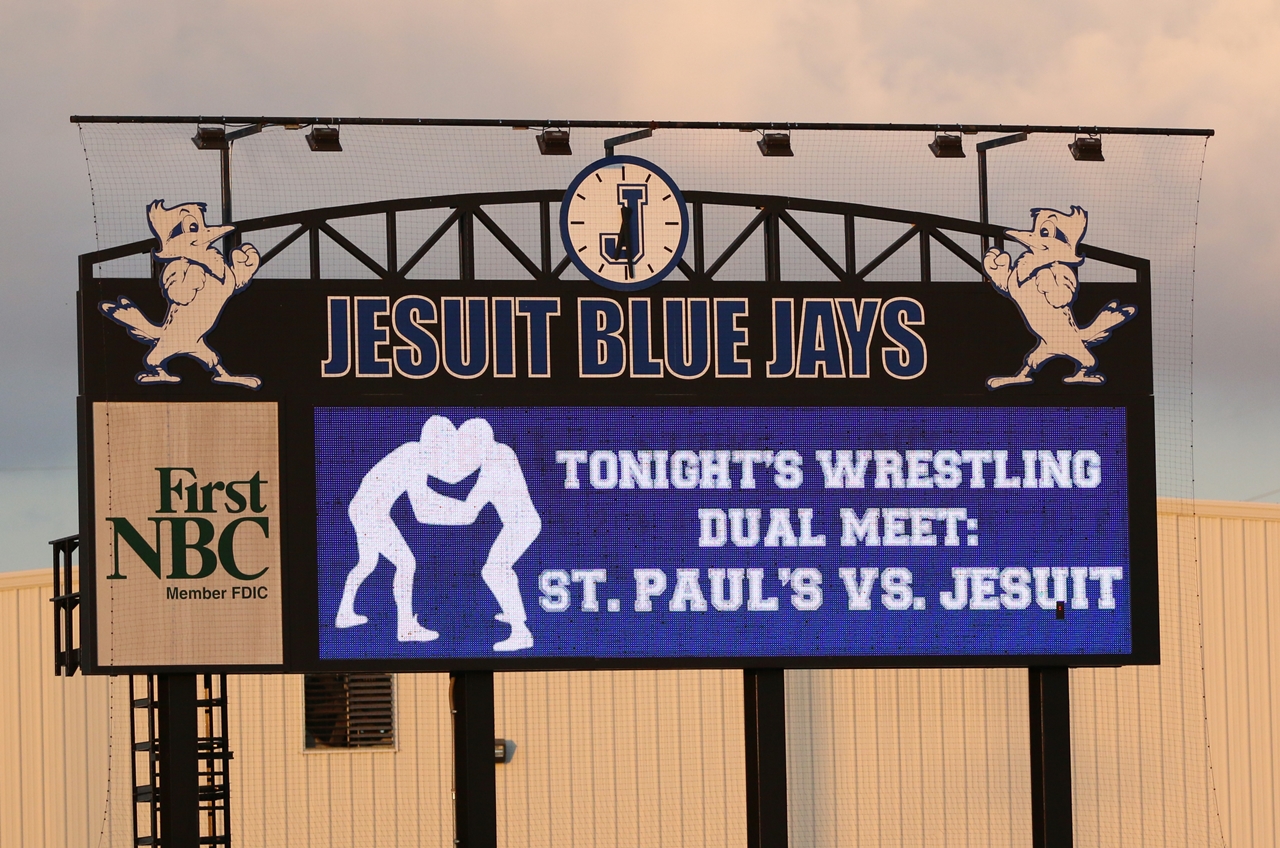 The mat was laid out in front of home plate and between the base paths to first base and third base, enabling the fans to use the covered grandstand to view the match. John Ryan Stadium has artificial turf, so the pitcher's mound was not a factor - it was simply moved aside.
Tailgating and Precursor in 1947
While this was the first outdoor match between two high school programs, Mr. Ed Stacy, a Blue Jay state champion in 1948 and 1949, participated in a match held in 1947 between Brother Melchior's Holy Cross team and a group representing several high schools on William Shriever's New Orleans Athletic Club AAU team. That match was also held in a baseball stadium at Holy Cross.
The Blue Jay parents started tailgating the event at about 3 p.m. with finger sandwiches, jambalaya, gumbo, drinks and leftover Halloween candy. A slew of Blue Jay wrestling royalty was on hand including 1981 runner-up Tommy Mason (father of senior Griffin Mason), 1984 state champion Tim Lafranca, Ed Stacy and Blue Jay wrestling alumni coordinator Bob Angelle.
| | | | |
| --- | --- | --- | --- |
| | | | |
| Blue Jays' parking lot tailgating | Tailgating Jesuit Moms | Just plain wrong at a wrestling match | Coach Sheridan Moran with Ed Stacy and Bob Angelle |
Initially both teams were in the baseball dugouts, but when they lined up on the edge of the mat for the National Anthem they pretty much stayed on the edges, closer to the action.
| | | | | |
| --- | --- | --- | --- | --- |
| | | | | |
| Blue Jays in the right-field dugout | Wolves in the left-field dugout | Pre-National Anthem | Color Guard and National Anthem | Blue Jays at mat's edge |
Press not lacking
| | | | |
| --- | --- | --- | --- |
| The match was live-streamed on SportsNOLA.com (photo left) and recorded by WSHO (photo center) for a broadcast at 3 p.m. on November seventh. WWL-TV was also on hand (photo right) and a small segment was aired on the 10 p.m. WWL Eyewitness News. | | | |
What wrestling...
John Ryan Stadium also had accommodations for those not very interested in the wrestling match:
It's not the heat...
The only negative aspect of the evening was the New Orleans area humidity, which hovered around 80%, and as the sun set it caused the mat to become moist and slippery. The moisture whipped the then best efforts to mitigate it, including the use of six industrial drying fans provided by Therma-stor (via Holy Cross 1974 state champion Keith Hosli and St. Martin's 1985-87 state champion Todd DeMonte) and then all of the mat sweepers and towels the Blue Jays could find. As nothing really worked, the wrestlers simply adapted as best they could, slipping now and again as the rubber of their shoes squeaked loudly on the mats. Once even official Bob Hennessy succumbed to the moisture, unexpectedly slipping while preventing two wrestlers from wresting into the fans. While "mopping up on the mats" usually refers to Jesuit senior Guy Patron, Jr.'s success during competition, the two-time Division I runner-up is also adept at other connotations of the phrase.
[It is hoped that within a year someone can devise a way to quickly and inexpensively dry the mats between matches or whenever necessary. With enough non-wrestlers to help, it may be as simple as using Brawny paper towel rolls attached to PVC pipes. Industrial water absorbing materials used to remove oil and water may be another option.]
Big Brother is watching...
At first it was just a rumor overheard from the St. Paul's contingent. Soon after, though, the realization that "we are not alone" pervaded the atmosphere, figuratively and literally. Of unknown origin or purpose, a drone appeared between the 126 lbs. and 132 lbs. matches. Fortunately, it came in peace.
---
© 2015 by Louisiana Wrestling News
You may not make electronic copies of these copyrighted materials nor redistribute them to 3rd parties in any form without written permission.