| | | |
| --- | --- | --- |
| | | Status: Fini |
---
Revamped Crusaders team wins fifth consecutive Division I team title
March 25th, 2016 | Written by: Editor
Robert Dauterive's Brother Martin Crusaders proved what they knew all season - they were still the team to beat in Louisiana - when they won their fifth consecutive Division I team title at the 2016 LHSAA State Wrestling Championships on February 12th-13th, at the Bossier City CenturyLink Center.
The 2015-16 Crusaders had to fill six starting positions left vacant by the graduating class of 2015. They lost Paul Klein, Yehia Riles, Danny Evans, Mason Williams, Blaine Eisensohn and Seth Johnson. They tested people all season and decided upon Paul-Stephen Schmidt, Seth Gambill, Cal Palermo, Kevin Casey, Brad Guidry and Cole Alfonso to fill the voids. The Crusaders dominated the Louisiana events and dual meets in which they participated, although they actually lost the finals match in the Deep South Bayou Duals to a team from Jefferson, GA. However, had just a few things went the way of the Crusaders, they could have won another DSBD championship.
| | | |
| --- | --- | --- |
| | | |
| Division I Team Champions - Brother Martin Crusaders | Coach Robert Dauterive with the Brother Melchior Trophy | Crusader seniors on top yet again |
Next year Coach Robert Dauterive will be faced with filling in spots vacated by Paul-Steven Schmidt, Stephen Rumney, Taylor Gambill, Cal Palermo, Kevin Casey, Pierce Williams, Travis Viener, Cole Alfonso and Mohammed, who all will graduate later this year. A quick look at their roster will show that they have plenty enough talent to make up for those losses.
The Crusaders placed six wrestlers in the finals and won four titles. Luke Cotton at 106 lbs., Steven Shields at 120 lbs., Pierce Williams at 170 lbs. and Jacob Clapp at 220 lbs. won championships. Seth and Taylor Gambill made it to the finals at 132 lbs. and 138 lbs. respectively, but each finished as a runner-up.

All of the titles won by Crusader wrestlers were significant, but a couple stick out above the rest. Steven Shields netted his third consecutive Division I title and hopes to match last year's teammate Paul Klein in winning four before he graduates. Jacob Clapp's performance also stands out. Clapp was seeded third at 220 lbs. in 2015 but failed to reach the medal rounds. He made up for that with a state championship this year. Of the Crusaders not in the finals, one placed 3rd, another placed 4th and four placed 5th.
For the fourth year in a row and their sixth of the last seven the Jesuit Blue Jays earned the second place team trophy in Division I. Suffice to say, if the Blue Jays are not going to win the team title, bet on them to take second. This year they denied Holy Cross that honor by 39.5 points. In 2015, it was by a mere one point.
Runners-up - Jesuit Blue Jays
The Blue Jays had three state champions, starting with Eli Larriviere, who posted a 14-4 major decision over Airline's top-seeded Javarious Jones. Guy Patron, Jr. followed later at 195 lbs. (finally!) Patron had lost two very close finals matches in 2015 and 2014, but this time he left no doubt as to who the best was at 195 lbs. Two matches later second-seeded Corey Dublin pinned top-seeded K.J. Wilson in the last bout of the night at 285 lbs.

Joseph Dupre was one of two Blue Jay finalist to place second. Dupre wrestled a gutsy match against Shields but could not gain a lead. Brandon Greer came from behind strong in the middle of his match with Holy Cross' Matthew Putnam, but a last takedown effort back-fired on him, giving Putnam the match.

First year head coach Sheridan Moran made some excellent decisions as to where he would place his most experienced wrestlers in weight classes that were not yet set-in-stone. He put Brandon Wolff at 160 lbs. and William Rosevalley at 145 lbs., netting 4th and 5th placements out of them. Moran put the junior Greer at 182 lbs. as a lighter entrant with nothing to lose. Greer made it to the finals. The Blue Jays also picked up one 3rd, one 4th, three 5th and two 6th place finishers.
Holy Cross had four state champions also, but no runners-up. Two Tigers placed 3rd and one each placed 4th, 5th and 6th, and Holy Cross finished third overall. The Tiger state champions were Cole Clement @ 132 lbs., Jake Rando @ 145 lbs., Joey Foret #152 lbs. and Matthew Putnam @ 182 lbs.

Without any finalists Comeaux place fourth, and first among public schools, with two 3rds, two 4ths one 5th and two 6th places.

Fifth-place went to St. Paul's, which had a champion in Cole Houser at 113 lbs., a runner-up in Hunter Bourgeois at 145 lbs., a 3rd, a 4th, a 5th and two 6th place finishers
Catholic had two finalists and placed sixth as a team. Sophomore Jacob Fereday fell in the finals to Airline's Christian Walden at 160 lbs., and K.J. Wilson fell to Jesuit's Corey Dublin in the 285 lbs. finals. Two Bears placed 5th and one place 6th for Catholic.
Airline had three #1 seeds, but only two made it to the finals and only one won a championship. Christian Walden repeated as a state champion with a win over Fereday in the finals. Javarious Jones was seeded first, but second seed Eli Larriviere dominated Jones in their finals match, handing Jones his only loss in Louisiana this year. Keegan Gilligan was the top seed at 182, but in his first match of the day he was upset by Jesuit's Greer 6-5. Gilligan had to win four matches to advance to the consolation finals, and he did so via a fall in 3:42, a fall in 2:36, a 4-2 decision, another fall in 5:00 and a 5-3 win over 5th-seeded Payton Wicker of Zachary. In the consolation finals he fell to second seed Travis Viener of Brother Martin 4-2.
St. Amant was looking for their best finish since 2008, when they placed seventh. However, the Gators really wanted to break into the top five, and they felt they had the pieces to do just that.

One big piece was senior Jordan Averette at 182 lbs. Averette, however was not allowed to participate because of a rash. Evidently he had a note from a dermatologist stating he was OK to wrestle, but the weigh-in doctor did not agree. Averette would have been seeded third, and the way that weight class went, might easily have won it. Hence, if one saw St. Amant wrestler doing odd things with their fingers after their matches (i.e., Sage Nugent at left), they were trying to make a "J" symbol in honor of Averette.

To place that high they not only needed Averette but also senior Clint Brownell and junior Sage Nugent to win. Brownell was 1-1 against his finals opponent, Joey Foret of Holy Cross. Nugent was 2-1 against Pierce Williams of Brother Martin, over whom he had a 2-1 season lead. Neither, however, won their finals matches, and only junior Brier Babin scored bonus medal rounds points by placing fifth.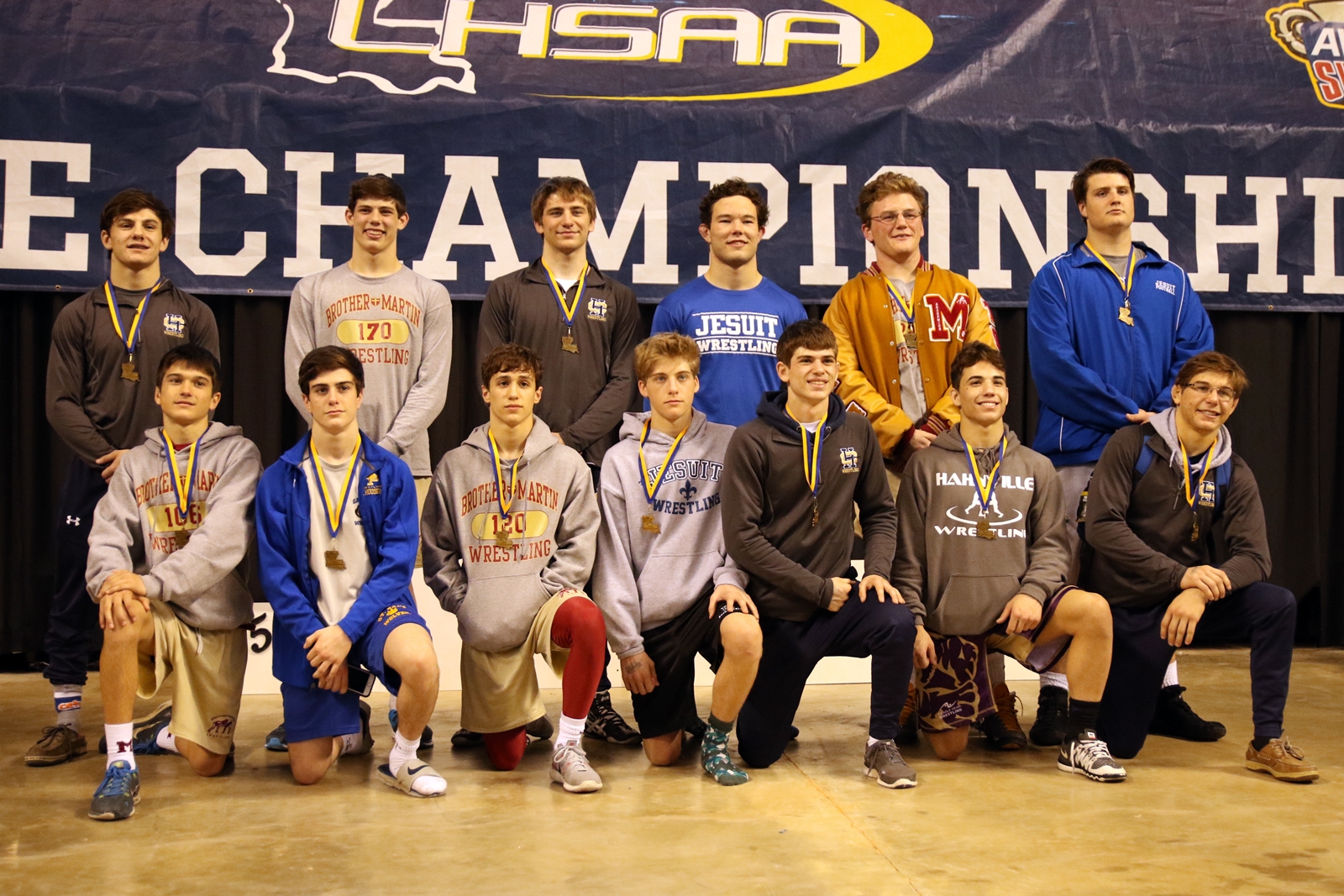 The 2016 LHSAA State Wrestling Tournament Individual Champions:
(Kneeling L-R) Luke Cotton, Cole Houser, Steven Shields, Eli Larriviere, Cole Clement, Nicholas Lirette, Jake Rando. (Standing L-R) Joey Foret, Pierce Williams, Matthew Putnam, Guy Patron, Jr., Jacob Clapp, Corey Dublin.
(Missing from the photo: Airline's Christian Walden, who was being interviewed by a local news station when the photograph was taken.)
Division I Outstanding Wrestler
Guy Patron, Jr. of Jesuit
Senior - 195 lbs.
In his four matches in the tournament Patron, Jr. scored three falls and accidentally hurt an opponent, in less time than it takes for two regular rounds to elapse.


His falls came at 0:41 in Round 2, 0:51 in the quarterfinals, the injury occurred after only 24 seconds went by in the semifinals match, and for the title he pinned his opponent in 1:12.
| | | |
| --- | --- | --- |
| Place | Team | Points |
| 1 | Brother Martin | 304.5 |
| 2 | Jesuit | 268 |
| 3 | Holy Cross | 228.5 |
| 4 | Comeaux | 189.5 |
| 5 | St. Paul's | 186.5 |
| 6 | Catholic | 164 |
| 7 | Airline | 152 |
| 8 | St. Amant | 122 |
| 9 | Lafayette | 121 |
| 10 | Hahnville | 116 |
| 11 | Sulphur | 84 |
| 12 | Dutchtown | 73.5 |
| 13 | Covington | 70.5 |
| 14 | East Ascension | 69.5 |
| 15 | McKinley | 65 |
| 16 | Fontainebleau | 61 |
| 17 | Barbe | 50 |
| 18 | Baton Rouge | 45 |
| T-19 | C.E. Byrd | 38 |
| T-19 | Zachary | 38 |
| 21 | Destrehan | 36 |
| 22 | John Ehret | 25.5 |
| 23 | Chalmette | 25 |
| 24 | Mandeville | 23 |
| 25 | Bonnabel | 19.5 |
| 26 | Acadiana | 18 |
| 27 | L.W. Higgins | 0 |
---
© 2016 by Louisiana Wrestling News
You may not make electronic copies of these copyrighted materials nor redistribute them to 3rd parties in any form without written permission.