| | | |
| --- | --- | --- |
| | | Fini |
---
November 11th-21st Recap (11 Events)
November 24th, 2018| Written by: Editor | Photos courtesy of Facebook posters
Catholic and Comeaux battled to a 37-37 tie on Wednesday, November 14th, a the Comeaux Gym. Catholic won seven of the 12 matches contested but had to forfeit thee 220 pounds and 285 pounds weight classes. The Bears probably do not mind having forfeits determine the match outcome as at least four of their largest wrestlers, Brian Hibbard, James Lauve, Noah Richie and Ray Bourgeois are still competing in football. The Bears defeated Rummel 13-10 Friday night (November 23rd) to advance to the Division I championship, which the Bears won last year.
Of note, defending Division I state champion Luke Romano was upset by Hunter Brossard via a fall in 0:51. The loss should not faze Romano, however. He had two losses to Louisiana wrestlers in November of last season, but neither were at the weight at which he participated at the 2018 state championships. At whatever weight class he wrestles come February, opponents should be wary, as Romano has shown he can perform better at lower weights.
Match winners for the Bears were Adam Callicot, Hunter Goodson, Martin Helouin, Parker Zito, Ian Wyble, Joe Price and Andrew Evans. For the Spartans, Reed Bergeron, Hunter Broussard, Dyllon Bernard, Dylan Ames, and Grant Smith won matches. James Breaux and Donald Paul received the Catholic forfeits for Comeaux.
See "Wolves eat up depleted Blues Jays 54-21
" from November 23rd
With only eight scoring wrestlers, Catholic placed seventh out of 21 teams in the Gulf Coast Clash in Mobile, Alabama. The scoring Bear wrestlers finished as follows:
| | | |
| --- | --- | --- |
| Weight Class | Wrestler | Place |
| 120 | Hunter Goodson | 4th |
| 126 | Luke Romano | 3rd |
| 132 | Martin Helouin | 4th |
| 138 | Peter Kelly | DNP |
| 145 | Toby Richard | 7th |
| 152 | Macullen Mire | 9th |
| 160 | Ian Wyble | 3rd |
| 170 | Andrew Evans | DNP |
Non-scoring placers
: Tyler Toussant placed fifth at 126 pounds
St. Amant followed their St. Michael Warrior Open with a first-place finish at the Dutchtown Griffin Open. The Gators scored 285.5 points, besting runner-up East Ascension, which scored 216 points. Host Dutchtown placed third with 155 points. Winning titles for the Gators were Ty Didier, Jace Chenevert, Corey Brownell, Jacob Cardwell, Cody Comeaux, Conrad Mitchell and Hunter Hawkins.
Left: 2018 Dutchtown Griffin Open St. Amant Gators; Center: Gator individual champions; Right: 120 pounds champion Corey Brownell.
| | |
| --- | --- |
| | Junior Trent Mahoney (left) won the Outstanding Wrestler award for the higher weight classes (152 pounds and higher) and his younger brother, sophomore Brad Mahoney (right), won the Outstanding Wrestler award for the lower weight classes (145 pounds and lower). East Ascension coach and the father of the two Outstanding Wrestler award winners, Patrick Mahoney, is between his two sons. |
Other winners of the event included Demetri Teddie (132 pounds) and Bailee Creasy (195 pounds) of C.E. Byrd, Trace Morrow of Summerfield (182 pounds), Devon Clark of East Ascension (220 pounds) and Riley Lawrence of Dutchtown.
Albeit twins are a bother when trying to identify them at events, they are easy to write about. Teams with the same mascots, however, such as Live Oak and Shaw, limits a writer's creativity, even when that creativity only consists of using the school's name, the mascot name and "they."
| | |
| --- | --- |
| | |
| Live Oak 8 Champion - the Live Oak Eagles | Live Oak 8 Runner-up - The Shaw Eagles |
The Live Oak Eagles won the Live Oak 8, besting the Shaw Eagles and six other teams. Five wrestlers won championships for the Live Oak: Bayley Hebert (138 pounds), Anthony Dodson (145 pounds), Jack Manchego (152 pounds), Nawab Singh (170 pounds) and Austin Cook (195 pounds). Shaw had six winners: Glenn Price (106 pounds), Raheem Bonnet (113 pounds), Ashton Surrency (126 pounds), Justin Gaudet (132 pounds), Devin Skips (182 pounds) and Beau Rutley (220 pounds). The remaining three championships went to St. Louis' Alex Yokubaitus (120 pounds), and Lance Robinson (160 pounds) and Demond Garner (285 pounds) of St. Michael.
The TrackWrestling team score had Live Oak with 298.5 points, followed by Shaw with 161.5 points. However, every wrestler who competed was counted as a "scoring" wrestler, and as Live Oak entered 25 wrestlers while Shaw only entered 12, those totals are skewed. Live Oak would have won with their top-14 team anyway, just not by 137 points. They had one less champion than Shaw, but Live Oak had seven top-four wrestlers while Shaw only had three. If one only counted points scored by starters, Live Oak would have scored 209.5 points to Shaw's 157.5.
Team points were not counted at the Bulldog Brawl, and that is a good thing as TrackWrestling scores did not make much sense. Brother Martin's Quinn Williams, who won the 126 pounds championship, was credited with 52 team points for his win. Ben Wilson's runner-up finish was worth 18 points while Riley Horvath's third-place finish merited 38 points. The odd scoring was not limited to the Crusaders - every team was awarded points for their placing wrestlers, including those who placed 12th.
Such errors are forgivable, though, as the TrackWrestling offices are located in Wisconsin, and on November 17th the University of Wisconsin had to play three overtimes to get past the Purdue Boilermakers 47-44. That was a "nail-biter" and may have worn out TW programmers.
The Crusaders probably would have won this event had correct team scoring been used. Mason Eisensohn (106 pounds), Quinn Williams (126 pounds) and Eli Hope (145 pounds) won championships for the Crusaders, and six other Crusaders finished in the top-four places. Chalmette and Zachary each had three champions. The Owls' winners were Christian Moore (182 pounds), Jaen Ben (220 pounds) and Jaden Ben (285 pounds). The Broncos' champions were Chance Jackson (138 pounds), Joseph Hebert (152 pounds) and Caleb Mickelson (170 pounds). Other champions were won by William Broussard (160 pounds) and Kyle Buell (195 pounds) of Fontainebleau, Vincent Bruno (113 pounds) of Mandeville, Sean Cripple (120 pounds) of St. Paul's and James Geiger (132 pounds) of Hannan.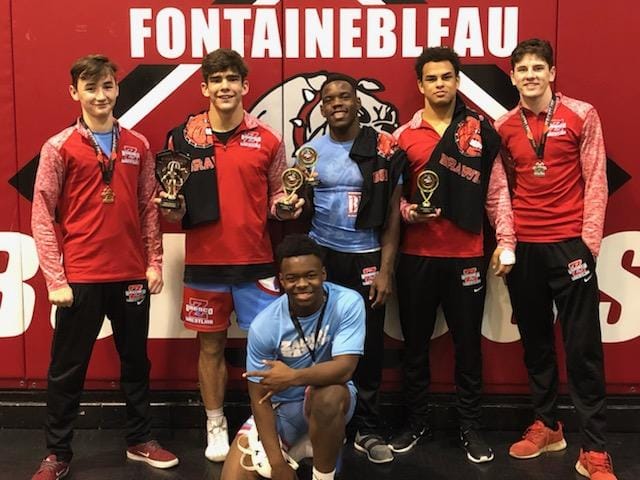 The Zachary Broncos had three champions, one runner-up, one third-place finisher and one fourth-place finisher. Along with St. Paul's and Chalmette, they may have placed second had team scores been kept.
The host Blue Jays and John Ehret each had four champions in the Jesuit Invitational. Anthony Rosevalley (106 pounds), Sam Dreuil (113 pounds), Tony Serio (120 pounds) and William Murret (182 pounds) won championships for Jesuit. Gage Sonnier (132 pounds), Alvin Diggs, III, Jeff Fisackerly and Daniel Tran (220 pounds) prevailed for John Ehret. Rummel had three champions as Chris Montalbano (138 pounds), Jacob Ramirez (145 pounds) and Logan Cafarella placed first for the Raiders. Other winners included Jamar Brown (126 pounds) of De la Salle and Hayden Brodnax (195 pounds).
Only 13 weight classes were contested as the 285 pounds weight class did not have any entrants.
Brother Martin won six of the first seven weight classes and were runners-up in five others as they won the Cinco Ranch Big 12 by 115 points over their nearest competitor. The Crusaders also had a third-place and a fifth-place finisher as every Crusader entered finished in the top-six" in their weight classes (they did not enter anyone at 285 pounds). The Crusaders racked-up 300 points while runner-up Katy High School scored 185 points, followed by Host Katy Cinco Ranch who finished third with 152 points. Eric Devenport (106 pounds), Connor Hoffman, Logan Bertot, Daniel Croy, Alex Duncan and Patrick Evans (120 pounds through 145 pounds) won championships for the Crusaders. Ethan Castex (113 pounds), Seth Alfonso (152 pounds), Mason Massicot (160 pounds), Colby Franovich (170 pounds) and Kolbe Landry (220 pounds) placed second for the Crusaders. At 195 pounds Cameron Frederick placed third and at 182 pounds Jason Evans placed fifth. Competing as a non-scorer, Riley Horvath placed fifth at 152 pounds.
Arlington-Martin Warrior Open: 11-17
Entering only seven wrestlers the Airline Vikings placed 14th in a 30-team field at the Arlington-Martin Warrior Open in Arlington, Texas. 2018 Division I runner-up Peyton Bass (132 pounds) placed third and Josh Franklin (145 pounds) placed fourth.
The Frost brothers, senior Cameron and freshmen twins Evan and Jacob won three of eight championships for Holy Cross as they cruised to a team championship in the 4th Annual Dale Ketelsen Memorial tournament at St. Paul's. Four other Tiger wrestlers placed in the "top-four" as Holy Cross scored 276.5 points, outdistancing runner-up St. Paul's by 33.5 points. The Wolves scored 243 points. Teurlings Catholic placed third with 188 points.
Evan Frost (106 pounds), Jacob Frost (113 pounds), Michael Lundin (126 pounds - photo left), Brady Butler (152 pounds), Mason Macaluso (160 pounds), Cameron Frost (170 pounds), Caden Mumme (182 pounds) and Ryan Doody (285 pounds) won individual championships for the Tigers. Caruso Signorelli (132 pounds and Logan Hefner (220 pounds) placed second for the Tigers and Dylan Lauriano (120 pounds) and Logan LaCoste (138 pounds) placed fourth.

Colten Sonnier (120 pounds), Charles Travasos (145 pounds), David Bernard (195 pounds) and Miles Santiago (285 pounds) won championships for Teurlings Catholic. The two other champions were Peter Kelly of Catholic (132 pounds) and Peyton Ward of St. Paul's (138 pounds).
The St. Amant Gators won their second team championship in as many weeks as they prevailed at the Spartan Open on November 20th at East Ascension High School. The Gators scored 183.5 points to win the title. Live Oak was second with 136 points, followed by East Ascension with 124.5 points.

Spartan Invitational champion St. Amant Gators (left) and runner-up Live Oak (right)
Only one St. Amant wrestler, Hunter Hawkins (170 pounds), won an individual championship, and only two Gators were runners-up. But nine gators placed in the top four spots, proving again that consolations rounds can win tournaments for teams without a slew of finalists. Live Oak only brought 10 wrestlers, and they averaged 13.6 points per wrestler. Had the four other weight classes been filled for the Eagles and had those four maintained the 13.6 points per wrestler average, the Eagles might have nipped the Gators for the championship with 190 points.
Live Oak had three champions: Clayton Hill (120 pounds), Anthony Dodson (145 pounds) and Austin Cook (195 lbs.). Basil and Comeaux each won two titles. Alex Menier (106 pounds) and Gavin Christ (132 pounds) won championships for the Bearcats, while Hunter Broussard (126 lbs.) and Dyllon Bernard (138 pounds) won titles for the Spartans. Raheem Bonnet (113 pounds) of Shaw, Trent Mahoney (152 pounds) of East Ascension, Lance Robinson (160 pounds) of St. Michael, Trace Morrow (182 pounds) of Summerfield, Gavin Bonilla (220 pounds) of McKinley and Jackson Carter (285 pounds) of Lafayette won the remaining individual championships.
East Ascension's Trent Mahoney won his second Outstanding Wrestler award in as many weeks. The accomplishment garnered Mahoney an opened bottle of Powerade.
| | | | |
| --- | --- | --- | --- |
| | | | |
| OW Trent Mahoney with his open bottle of Powerade | Comeaux placers Dylan Ames, Dyllon Bernard, Reed Bergeron and Hunter Broussard | Corey Brownell with St. Amant's team championship trophy | Ty Didier rests upon Corey Brownell's shoulders |
More on the 2018 Spartan Open may be found later on www.lawrestlingnews.com.
---
© 2018-19 by Louisiana Wrestling News
You may not make electronic copies of these copyrighted materials nor redistribute them to 3rd parties in any form without written permission.