| | | |
| --- | --- | --- |
| | | Status: Fini |
---
Archer overcomes Saturday setback, prevails at Jazz Town Duals


Crusaders place fourth
June 26th, 2014 | Written by: Editor. Contributors: Kelly Giewat, Lance Nicholl, Robert Dauterive, Amy Larriviere, Coach John Johnson (Mater Dei, IN), Coach Carl Valley (Team Valley, IA), Coach Tom Beuglas (Archer, GA)
The Archer Tigers of Lawrenceville, Georgia, ranked #6 in the nation by The Open Mat and 10th in the Intermat Fab 50, after an unexpected pool round loss on Saturday, survived three "down to the wire" matches to lay claim to the 2014 Jazz Town Duals, held on Saturday, June 21st and Sunday, June 22nd. The Bulldogs required a win in the last match of the finals to get past Team Valley of Iowa 39-34 for the championship. Mater Dei of Evansville, Indiana placed third and Brother Martin placed fourth.
1st place - Archer Tigers, Lawrenceville, Georgia
| | | |
| --- | --- | --- |
| | | |
| Runner-up - Team Valley, Clarion, Iowa | Third Place - Mater Dei Wildcats, Evansville, Indiana | Will Egli of Mater Dei was voted the tournament's Outstanding Wrestler. |

The event was held at the Xavier University Convocation Center and one could not have asked for a better venue. Ten mats fit just fine, the seating was ample and it was air-conditioned. Other schools might want to investigate this arena for future tournaments.

Kudos also go to Jesuit coach Lance Nicholl who organized the event. It ran smoothly and ahead of schedule. If any complaints were heard all weekend, they were about the rain on Sunday.
Four teams went through the pool competition unscathed at 4-0: Team Valley, IA, Mater Dei, IN, Easton, PA and, after a shocking 36-30 defeat of Archer, GA, the Oklahoma Rampage. Posting 3-1 records were Pittsburgh, KS, Archer, and local favorites Brother Martin and Jesuit.
EDITOR'S NOTE: The editor tried to include as many local teams as he could in photographs. He failed miserably in the attempt. His first thought was to find a team he recognized by the color of their singlets. However, very few of the clubs had singlets he recognized. As such when he did recognize the Live Oak team he did not immediately realize that they were competing against Brother Martin's second squad and hence the photos of that match can arguably be deem "Pro-Live Oak." The editor extends his full apologies to the members of that Brother Martin team for realizing that error after it was too late.

Apologies also go

to the out-of-state teams that did not get impartial coverage when vying against Louisiana teams.
Saturday Round Four Photos: Oklahoma Rampage 36 - Archer Georgia 30
Matches outlined in blue link to match pages.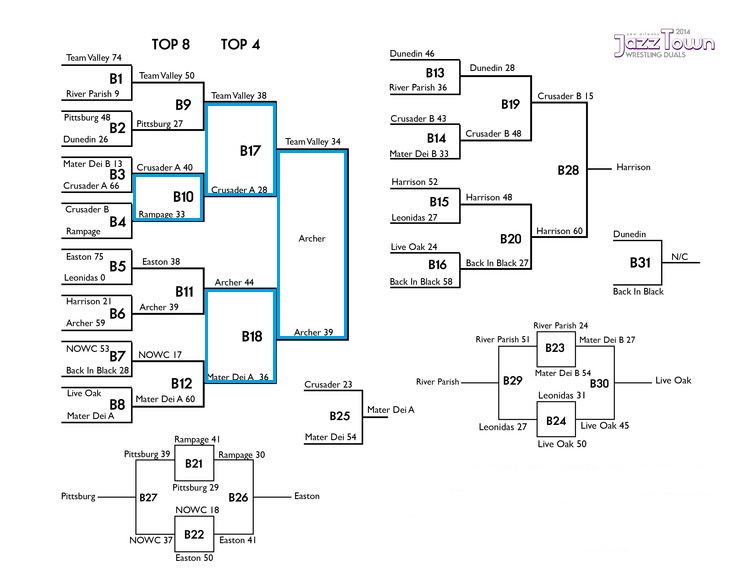 Quarterfinals
The four undefeated teams from Saturday's competition were seeded 1 through 4 in Sunday's championship bracket. They were expected to get through their first round matches relatively easily and to survive a tougher match in the quarterfinals with one of the teams that went 3-1 on Saturday. But for two of those teams, that scenario did not pan out.
Due to their 3-1 pool record Archer was the second round opponent for top-four seeded Easton. Scuttlebutt suggested the Tigers had their closest match of the tournament against the Bulldogs, but close scrutiny after the event indicates this was not really the case. After 12 matches were contested Archer led 39-23. But that score included the deduction of a team point due to misconduct by the Easton coaching staff, and that point might have been crucial. Easton needed two falls and a technical fall to win the match outright. Two falls and a major decision would tie the match and also give Easton the win via "criteria b" of the tie-breaking procedure. Easton won the first match, but only earned three points via the decision. Owning an insurmountable 13-point lead with two matches remaining, Archer chose to forfeit the next two matches and settle for a one point victory.
Team Valley had little problem getting past Pittsburgh 50-27 in their second round match. Mater Dei fared as well against Jesuit by a 60-17 score.
That left the upstart Oklahoma Rampage team, now at 5-0, against the Crusaders of Brother Martin, who outdueled Mater Dei's B squad 66-13 in Sunday's first round. After a rough start to the match the Crusaders needed three wins, two of four or five points each or one via a pin, to make up or overcame an 11 point deficit and advance to the semifinals. They got two falls and a decision, racking up 15 points.
Quarterfinal # 2: Crusader A vs. Oklahoma Rampage
Semifinal # 1: Team Valley 38 - Crusader "A" 28
Semifinal # 2: Archer 44 - Mater Dei '"A" 36
Finals: Archer 39 - Team Valley 34
3rd-4th
The seeding after the pool competition preordained that the semifinal losers automatically advanced to the match for third and fourth place. The Team Valley match seemed to take the wind out of the defending Jazz Town Duals champion Crusaders, however. Against Mater Dei only Steven Shields and Taylor Gambill managed wins worth 12 points. Two forfeits to Jacob Clapp and Paul Klein accounted for the other 12 of their 24, and a penalty point reduced that total to 23. Mater Dei racked up 54 to place third.
Jesuit's Blue Jays (photo left) found themselves in the unlucky position of facing Easton in the first round of the consolation 5th-8th place bracket. Easton dashed Jesuit's 5th place hopes with a 50-18 score in which Will Lafranca and Brody Martin won decisions and Guy Patron and Dominic Carmello won by falls.

Jesuit then had a fierce competition for 7th place with Pittsburgh, KS. Griffin Mason won a decision, Guy Patron and Joseph Dupre won technical falls and Will LaFranca, Austin Ashburn and Brandon Wolfe scored falls for the Blue Jays, but they came up one match short, losing 39-37 to place eighth.

[It is nice to publish some photos of Jesuit grapplers who have yet to receive any coverage on the Louisiana Wrestling News, despite how fun it is to take photos of Guy Patron, Jr. dominating his opponents and Ben D'Antonio doing something nobody can figure out.]
New Orleans Wrestling Club (Jesuit) vs. Pittsburgh, Kansas
| | | | | |
| --- | --- | --- | --- | --- |
| | | | | |
| Max Grosch | Max Grosch | Max Grosch | Brandon Wolfe | Brandon Wolfe |
| | | | | |
| --- | --- | --- | --- | --- |
| | | | | |
| Brandon Wolfe | Brandon Wolfe | Brandon Wolfe | Brandon Wolfe | Brandon WOlfe |
A 7-0 performance by Plaquemine's defending Division II state champion and Outstanding Wrestler Sterling Saylor (photo left) vaulted the Live Oak Wrestling Club to a 9th place finish. After being knocked out of the championship bracket by Mater Dei "A" the Live Oak squad avenged a Saturday loss to Team Leonidas of Texas by a score of 50-31. They then persevered through Mater Dei's "B" squad 45-27 to place ninth.

In the same bracket River Parish, after a loss to Mater Dei's "B" squad, defeated Team Leonidas 51-27 to place 11th.
| | |
| --- | --- |
| | EDITOR's NOTE: Some local fans registered concern about Brother Martin's performance over the weekend. They need not worry. The Crusaders did very well against an outstanding field of participants - Louisianans are simply not accustomed to seeing them lose. They lost once in the 2012-13 season to a very good team from MacArthur, Oklahoma, and was undefeated in dual meet and tournament competitions last year. What a lot of the local fans either do not know or forget is that when these guys go to national competitions in, say, Virginia Beach or Fargo, they lose matches there as well. Not all of them, of course, and many earn All-American honors for their efforts, but the caliber of competition in some states is simply better than it is in Louisiana to date. This was the case in the 2014 Jazz Town Duals. Actually, the Crusaders were probably the fifth best team in the field, but nobody counted on the Oklahoma Rampage beating Archer on Saturday. That led to Archer meeting Easton, PA in the quarterfinals and relegating them to brackets for 5th through 8th, which they won. Brother Martin has no need for concern. To compete well at that level entails taking some beatings. Just look at Blaine Eisensohn and the confidence the Crusaders had in him against the Rampage. Mr. Eisensohn probably gets whipped more often than not by Paul Klein, Taylor Gambill and Mason Williams on a daily basis. Taking those beatings and going back to get some more is what makes him better. The theory applies to teams as well. Nobody gets better by winning all of the time. |
This list is limited to those who wrestled at least five matches during the competition.
| | | | | | |
| --- | --- | --- | --- | --- | --- |
| Wrestler | Team | Wrestler | Team | Wrestler | Team |
| Gavin Smith | Archer | Taylor Gambill | Crusader "A" | Will Egli | Mater Dei "A" |
| Thomas Bullard | Archer | Hayden Keleher | Easton | Sam Bassemier | Mater Dei "A" |
| Daniel Bullard | Archer | Jacob Montes | Easton | Clay Egli | Mater Dei "B" |
| Quinn Miller | Archer | Evan Fidelibus | Easton | Guy Patron, Jr. | New Orleans W.C. |
| Lee Elliott | Archer | Sterling Saylor | Live Oak W.C. | Justin Portillo | Team Valley |
| Cody Pickren | Back in Black | Ashton Forzley | Mater Dei "A" | Josh Portillo | Team Valley |
| Michael Dudzinski | Back in Black | Alex Johnson | Mater Dei "A" | Brady Bott | Team Valley |
Please send the names of anyone the editor missed that belongs in this group to: editor@lawrestlingnews.com

The 2013 Winner

Several teams sported their own Jazz Town Duals t-shirts, albeit certainly unaware that the editor picks a Best T-shirt winner (a tradition since 2013). Last year the Westbank W.C. won hands downs with "DUCKS IN COMMAND" (photo left).

The competition this year was fierce.


| | |
| --- | --- |
| Team Valley showed their colors... | as did Mater Dei. |
| | |
The decision caused a minor rift in the editor's household, and hence for the editor's future well being, WE HAVE A DRAW! And the winners are...
Easton, Pennsylvania and the Oklahoma Rampage!
Easton, Pennsylvania
Easton paid tribute to the musical heritage of the city on the front and back of their shirt, as well as the casual attitude that makes New Orleans the finest city that has befuddled other cities' planners since 1718 when Jean-Baptiste Le Moyne de Bienville decided to build a city on a swamp. Had they added a little green to the purple and gold already on the design, they might have won outright by paying homage to Mardi Gras.

Oklahoma Rampage
The Rampage honored not only the music but also the Vieux Carré and the Mighty Mississippi. Plus, they added Godzilla, which is a much better metaphor than the editor used on Saturday as it encompasses so many past, current and, odds are, future historical aspects of our beloved Crescent City.
---
© 2014 by Louisiana Wrestling News
You may not make electronic copies of these copyrighted materials nor redistribute them to 3rd parties in any form without written permission.